Make Up Forever Duo Mat
August 18, 2011
As you may or may not know, I had a HUGE allergic reaction to something over Sunday night this week, and woke up Monday morning with tons of mini bumps all over my face! I was about ready to cry when I woke up and saw my face in the mirror.

My face was red and itchy, and I couldn't totally figure out why it was just my face that had the reaction.. But I'm so thankful for the power of make up! With the right products, I was able to cover everything up and help treat the little bumps on my face.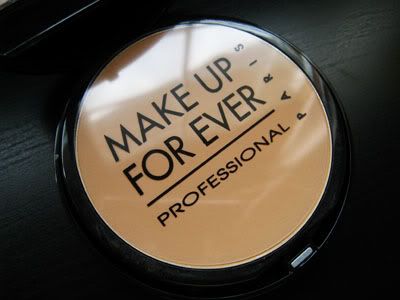 MUFE Duo Mat in shade 205
I had ordered the Make Up For Ever (MUFE) Duo Mat back in April during the VIB discount, but never had the chance to try it out yet. I used it on my face only because I knew it was a high coverage powder foundation - and it was so useful! The powder is very soft, but it is long lasting, with great coverage (it covered EVERYTHING), and best of all it leaves a matte finish on the face. No one could tell I had a zillion bumps on my face unless I told them :) While I wouldn't use this everyday, its nice to know I have a backup incase something bad happens to my face!
Sephora is the exclusive retailer of this product, so go check it out!