For dinner last night, some friends and I decided to try out Dadeo on Whyte Ave. Self proclaimed as a New Orleans Diner & Bar, it was definitely what I expected it to look like. A classic retro 50's American diner, jukeboxes and pink toned furniture included.


The inside of the restaurant was dark, and relatively dim. It was rather full when we arrived, full of hungry customers that seemed to be enjoying what they had ordered. For me, the most important thing to try out was the jambalaya. Clearly I'm obsessed with it, since I order it when I go to places like Boston Pizza & Cactus Club.. so I wanted to see how this Southern style restaurant served it up.
Compliments of the restaurant, our starting dish consisted of little biscuits served with jalapeno jelly. The biscuits were cold when I wished they were warm, but the jelly was a nice touch. Although sweet, there was a bit of spice from the jalapeno and prepped us for the meal we were about to eat!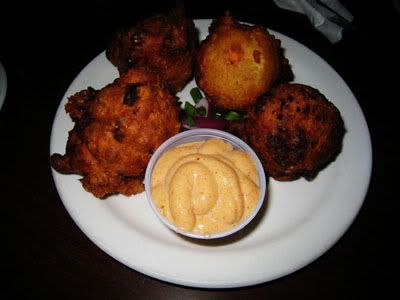 To start off our meal, we ordered the Four-Tune fritters. I've never tried a fritter before, but they describe them as "deep fried dumplings". For me, they were more of deep fried dough, where the inside had a bread-like fluffiness. Our order had four different fritters: crab & parmesan, jalapeno cheddar, sweet potato & corn. I'd have to say the best were the crab and jalapeno ones, because they brought a different flavour to the fritter. Corn & sweet potato didn't really do much for me, because they are relatively sweet/bland to begin with, so the little chunks added little impact. The best part I would say is the sauce - garlicky and to die for!! Star of the dish.

blackened catfish po'boy
Vince, Crystal & Andrew all ordered different Po'Boys (Cajun style sandwiches), and I can't say they were impressed with what we received. Although the sandwiches themselves were delicious, the sweet potato fries were not. I had read previously that they had the best fries in Edmonton.. but I beg to differ. Although breaded nicely, half the fries were uncooked, and the waitress wasn't around often enough for us to say anything about it.

fried oysters po'boy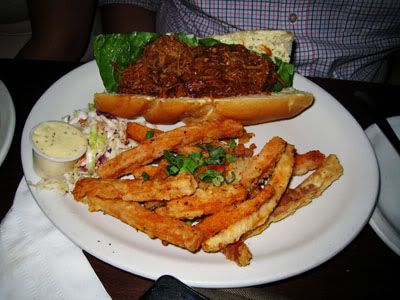 pulled pork po'boy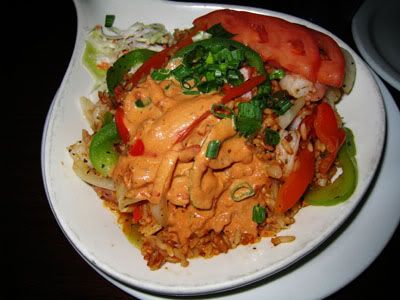 I ordered the Bayou Jambalaya, which is with andouilli sausage, shrimp, chicken, smoked ham, and veggies. Unfortunately, I was less than unimpressed. There were tons of herbs in the rice, don't get me wrong, the only thing is that it was so bland. No salt in this dish whatsoever. It's like they forgot to use anything salty to cook it! I just don't understand... I basically lost hope in this restaurant, because jambalaya is something they should have perfected!
The service at this restaurant was underwhelming.. it took a while to order the food and receive it, and our waitress didn't visit us too often. Everyone I know always says that this restaurant is fantastic, and I'm sad that I didn't feel the same way. I don't know if I have the confidence to try this place out again based on what happened! We'll see in the future, I guess.
To end off our unimpressive dinner, we headed to the Dessert House to have food we know is actually good...

mango & pomelo dessert

black glutinous rice w/ coconut milk dessert

crispy egg balls

fresh raspberry milk smoothie

Taiwan style almond milk tea
At least our night ended well :)