Electric Blue
August 25, 2011
Ever since I laid eyes on the J Brand 811 Skinny Jeans, I've been coveting them. The colour is so bright and fun, and I can see so many outfits working with each colour, but in particular, the colour 'Bright Royal'.

But the rational brain in me kept advising me to forget about them, because I would never wear them. I don't like attracting too much attention to myself, and in a city like Edmonton, the fashion sense is nowhere near the likes of LA or New York, where you see eye-catching pieces everywhere.

About a month ago, I revisited these particular jeans at Aritzia, and went as far as to try them on. They feel like a dream. The material is amazingly smooth and soft, I felt like I was wearing my PJ pants and lying in bed. But at the $220 price tag... I knew I wouldn't wear them often enough to justify the price.

Lo & behold.. I found a similar pair online at F21, at a price that I could justify...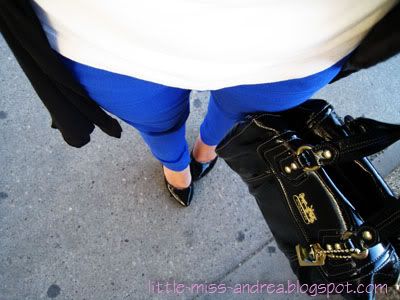 Lucky for me, the particular pair I found is meant to be an ankle jean. They fit pretty well on little ol' me :) I'm contemplating if I should get them hemmed up (they're about 2.5" too long, I wore them tucked in here)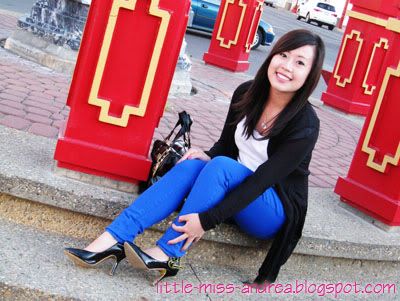 The colour of these is almost a dead on dupe for the J Brand jeans - I'm just wondering how the colour will hold up after a couple washes!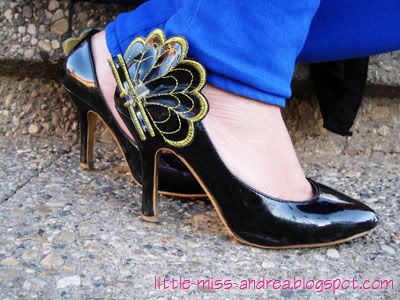 I've had these heels for about 2 years now, and I still love them so much. They're made of a faux patent leather, and I always get compliments when I wear them. The stitching detail is so unique, but because they're my go-to pair, I've scratched them up terribly :(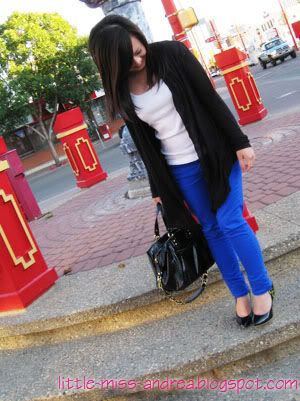 Sweater: Talula | Shirt: Joe | Jeans: F21 | Heels: Asia
If you have been looking for a pair of bright denim, I suggest you check out the offerings of Forever 21. Brightly coloured denim continues to be a huge trend this upcoming fall, as companies like Citizens of Humanity, Gap, and Paige Denim are jumping aboard the coloured denim trend. If you feel like you'll get lots of use out of them, I highly suggest the
J Brand's
that come in the widest range of colours. The pair I purchased can be found
here
, while longer variations can be purchased
here
and
here
.
Gap currently has a 50% off denim code online, and their coloured denim can be purchased for about $35 after discounts. Check it out :)