Rose Bowl
August 26, 2011
Ah, the Rose Bowl. Just a little over a year ago, I was here at this restaurant to send-off one of my besties Lucy to school in Vancouver. I always find it weird to think that this resto-lounge establishment is well known for it's Pizza!

Rose Bowl / Rouge Lounge - 10111 117 Street - Edmonton AB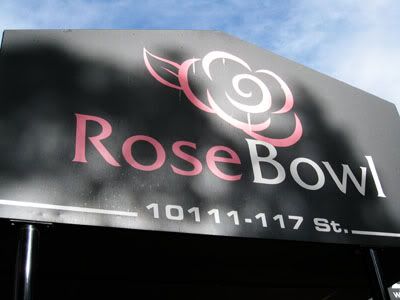 Walking in this time was a little different, I noticed that the interior had changed a bit and probably went through some renovations. Talking to our server, I found out that they are actually planning on multiple renovation projects, staggered out over a long period of time. In other words, this place is
always
being renovated, hah.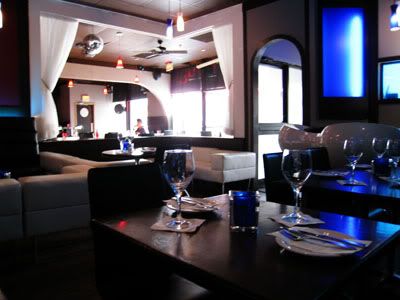 At a restaurant like this, I always go with their signature menu items that they are well known for. At the back of the menu was a little blurb about how Wayne Gretzky frequented this restaurant, and how it is still his hometown favourite, especially for the pizza.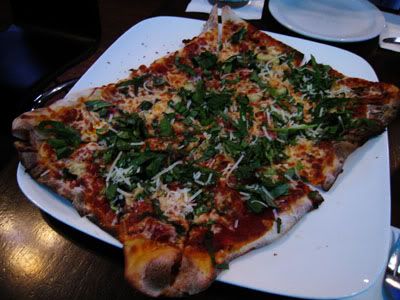 Booklyn's New York Style Pizza - RB marinara, roasted zucchini, capicola, cured pepperoni, mozzarella, fresh basil and parmesan ($15)
With all the ingredients spread atop of a thin crust, this pizza looked really big! In reality, it's not super filling since the crust is so thin, but the pizza tasted delicious. The marinara sauce was slightly spicy, giving a nice kick, while the fragrant basil really kept all the flavours together. I highly recommend this one!

Grilled Chicken Pesto New York Style Pizza - Fresh and fragrant pesto topped with chicken, mushrooms, sundried tomatoes, artichokes and mozzarella ($15)
This pizza may resemble the other we ordered, since it is covered in fresh basil leaves, but the taste was quite different. I would call this a 'white sauce' pizza, since the base was mostly pesto & olive oil. The only thing I did not like about this one was how thin the crust happened to be. It was so thin, and the moisture from the pesto made it soft & incapable of keeping its form. When eating it, I practically used the palm of my hand to support the pizza in order to prevent all the toppings from falling off (they still did!). The flavours were delicious, but I think these toppings are better off on a thicker crust.
The Grilled Chicken Pesto is normally served on their signature pan crust, but when we went, it was a special for the night. The server informed us that the pan crust pizza normally takes around 30 minutes to fully cook and allow the flavours to develop - just a heads up in case you ever choose to go with that crust option. I can't imagine sitting around for 30 minutes to wait for my food.. I get hungry quick ;)

Sweet Potato Fries - Crispy sweet yam fries straight from the east coast to your plate, served with an aioli and chipotle sauce ($7)
Even though I'm pretty much sick of sweet potato fries now (or anything similar), these fries were so appetizing. The batter on the outside was nice and crisp, and the two sauces were perfect compliments. The chipotle sauce had a spicy/bbq kick to it, nothing like the sauces I've tried before with sweet potato fries!
I'd have to say the quality and flavours in the food here are phenomenal. They really take the time to let the flavours develop, and you can taste every little bit of the ingredients they use in the pizza. Big thumbs up to them! If they weren't so out of the way for me to get to, I would probably be here often for their food.
Now onto the bad news. Big thumbs down for service. There was pretty much just one server and one manager on duty, manning both the restaurant and lounge sides. Even though they really weren't busy, it was difficult to get their attention. Just waiting to get the bill and pay for it took a full 30 minutes. While our server was really nice, it just doesn't make up for having to wait and constantly try to flag someone down to help at our table. The table of customers beside ours waited a full 40 minutes before they received their food. Now, that folks, is patience.