OPI Touring America: Are We There Yet?
August 24, 2011
This week I was planning on trying out 'French Quarter for Your Thoughts' as I've been dying to sport some grey on my nails (I never have!), but the sunny weather and the end of summer just wouldn't allow me to do so.

Instead, I tried out the other second last shade I picked out from the OPI Touring America collection: Are We There Yet?

I find this polish is quite suitably named, for road trips always evoke that question out of children. My parents were huge fans of driving around the country when I was a child - almost all of my trips were completed using the family vehicle, with the exception of our trip down to Disneyland. My sister and I would just sleep, then wake up, asking that all too familiar question, are we there yet?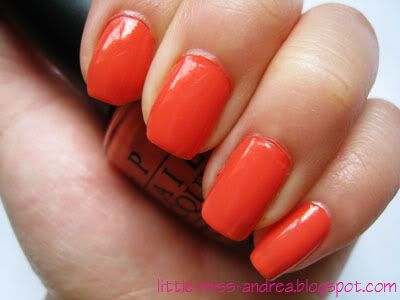 But then again, maybe it's a calling for Autumn to arrive. As the polishes in this line are intended for fall, maybe the fashion industry is just done with summer, and yearning for fall. As we all know, companies think ahead, and release previews one season ahead. Either way, I'm loving this beautiful coral colour.
Like it's sisters 'My Address is "Hollywood"' and 'I Eat Mainely Lobster', this shade is yet another creme looking polish, packed full of golden/pink microshimmer. It is absolutely gorgeous when shining in the light! I would describe it as a salmon coloured coral, leaning towards a true orange colour.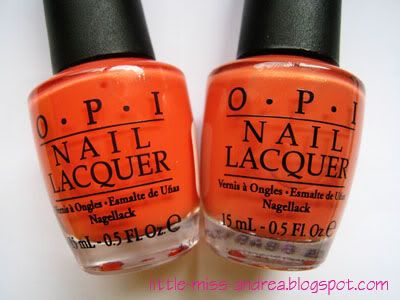 Hot & Spicy | Are We There Yet?
Looking at the colour on my nails, I felt like I had something just like it in terms of colour. OPI's
Hot & Spicy
is a very similar colour, but just a smidge darker. It is definitely more of a true orange than Are We There Yet?, and so different when shone in the light. The shimmer in this polish makes this polish a star, and will look fantastic with your Autumn wardrobe!