Tutti Frutti now open in Edmonton!
August 26, 2011
My first experience with Tutti Frutti was over a year ago, in beautiful, sunny California. It was my first self-serve frozen yogurt experience, and one that I'll always remember. I thought it was so unique in that you could pick any flavour combinations, and an unlimited amount of toppings. At the time, there was nothing like that in Edmonton.

Flash forward to a year later, and there are a couple locations of Twisted Yogurt, Kiwi Kiss downtown, and now comes Tutti Frutti!

Tutti Frutti Frozen Yogurt - 10422 82 Avenue - Edmonton AB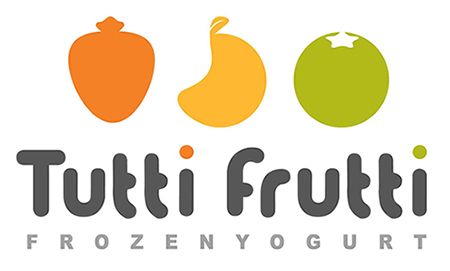 This new fro yo establishment opened up this past Saturday, and happens to be the first Canadian location for the California based yogurt chain. As their store occupies a once upon a time clothing store, I was curious to see how they had renovated the space.
When you enter the door, you will see a small seating area to your right, followed by a staircase leading down to the general area. At the bottom of the stairs, I was greeted by an employee who explained how the whole self-serve process works.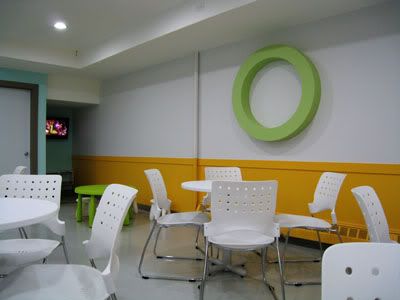 I love that the space is brightly lit, and the colour scheme is quite bright and refreshing. There's nothing worse than entering a store below ground that is dark and dim - its boring & makes me so tired! The space is large, and the many tables & chairs are capable of accomodating quite the crowd. I love that they have a little corner with a TV & small seats for children - it goes to show that they are family oriented and consumer conscious!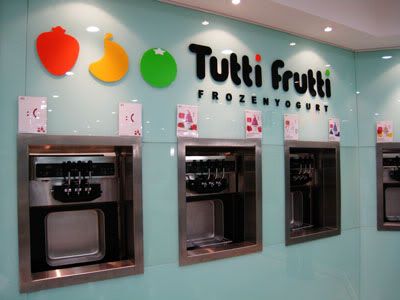 Now, onto the star of the show: the frozen yogurt. Looking at the 10 or so options, each machine contained two flavours that could be served alone, or swirled together for a combined flavour - nothing too different, since Twisted Yogurt uses the same type of dispensers.

sample flavour tag
But what I appreciated was the flavour description card that accompanied all the different flavours (seen above). They were informative, stating things like whether the flavour was supposed to be tart or creamy, an image of what the yogurt should look like, which toppings would compliment it, whether it contains dairy, and other ingredient information. This is perfect for anyone who has a diet restriction or allergies - there is no hidden information! If I remember correctly, the flavours available while I was there were: Tart, Melon, Mango, Pineapple, Green Apple, Pistachio, Chocolate Peanut Butter, Taro, Raspberry & Blueberry.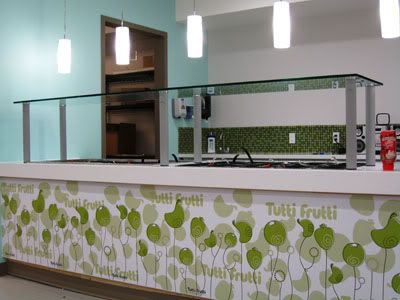 Now onto my favourite part, the toppings. While Twisted Yogurt has fresh fruit and dry toppings, I have yet to see anything special like mochi, jellies, or exotic fruit at their locations. Mochi is one of my favourite toppings, and I've always had to add my own from home into my yogurt each time I visit them. I have asked them in the past whether they would ever have it, but the owner has always told me he has not found a reliable source for the popular topping.

TF Tart Yogurt with blueberries, mango, mochi, mango mochi & mango jelly
But fear no more, Tutti Frutti has got us covered. Their topping station is kept clean, brightly lit, and each ingredient is labelled so as to avoid any confusion. They have rainbow jelly, lychee jelly, mango jelly, mochi and mango mochi (WHAT?) in addition to the regular fruits and dry toppings. My favourite topping in my bowl had to be the mango mochi! Albeit a smaller and a little chewier than the normal mochi, it really did have a nice mango flavour to it! The mango jelly was good too - it shared the texture of rainbow jelly, rather than the traditional lychee jelly.
When all your yogurt and toppings are in your bowl, you bring it over to the register to be weighed & paid for. They charge the same competitive price as Twisted Yogurt ($0.49/oz.), but I think I like this place quite a bit more, based on the environment and topping variety. They have the advantage of a prime location on Whyte Ave, and I'm sure they will have lots of business throughout the year. All in all, I would make this my new go-to frozen yogurt place if I lived a little closer to it! I really hope to see them expand throughout the city in the upcoming year :)
Check them out on their Facebook Page
here!
*psst I also tried a sample of the mango flavour - it's delish! Highly recommended if you're a mango fan :)
& Vince had the taro flavour - it tastes just like taro bubble tea!