Sonia Kashuk Eye Makeup Remover
July 01, 2011
After hearing some good reviews about this particular makeup remover, I had to check it out!

Sonia Kashuk has been a long time makeup artist, and one of the first to ever put forth a premium beauty brand into the "mass market". Her line is available exclusively at Target stores across the USA, and I really hope to see her line here when Target begins to open up in Canada.


This particular makeup remover is one of the dual layered oil & water removers, that require shaking before use in order to mix it all together. The bottle is made of sturdy plastic, and the liquid looks purple in the bottle, but comes out clear.. tricky!
The bottle has a relatively large spout, but nothing a cotton pad or cotton ball can't cover. I find the opening is actually the perfect size for me to get the liquid out for use. And this product is amazing! One swipe, and ALL my makeup is off! No rubbing or tugging, and off all in one go. On my eyes I usually wear MAC fluidline, which can be tough for some products to remove. I love this!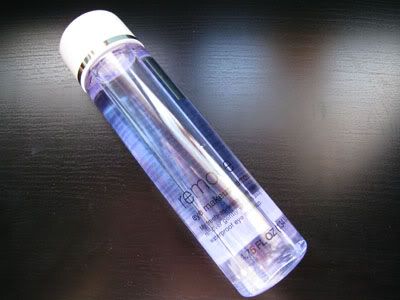 The product doesn't bother my eyes at all, is very gentle, and in my opinion, VERY comparable with the Lancome BI-FACIL eye makeup remover. Lancome's can be rather pricy, running about $30 for 4.2 oz here in Canada. Sonia Kashuk's version costs $9.99 for 4 oz., and if you ask me.. I would much rather use this one! The bottle will last a very long time.. hopefully long enough so I don't run out before my next trip to the states!