Capital Exhibition 2011: Midway
July 30, 2011
Following the culinary adventure inside the EXPO Centre, we headed out to the fairgrounds to stuff our stomachs full of fair food, and to play lots of games.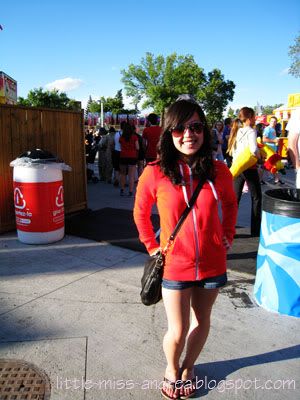 Hoodie by H&M, Shorts F21, flip flops, sunnies & bag by Coach
When I head to the exhibition, I like to be comfy and prepared! I have recently fallen into an obsession with all things coral. The other day shopping with the ladies, I saw this hoodie in coral.. thinking that it would be warm & comfy to wear for class this upcoming semester, I had to pick it up!
First up on the fair menu was a new addition to ridiculous foods available at carnivals: the doughnut burger. This little phenomenon is basically your everyday hamburger, with the bun being replaced by a glazed doughnut. I must admit I was intrigued by the burger, if you can call it that, but Philippe was the one that took the plunge into the doughnut hole.
Verdict? It was gross. The sweetness of the doughnut was completely overwhelming, and the patty was basically bland. A sweet burger is just a big NO in my books!
After some walking around, we saw another intriguing truck serving 'Those Wicked Waffles'. The thoughts of having a 'waffle dog' crossed my mind, but after having the doughnut burger, I just cringed at the thought of having another savoury food tasting sweet.
One goal in mind for me at the exhibition was to win one of the minion plushies from Despicable Me.. lucky for me I got two that I wanted :)
After a long night of walking around and having fun, we finished off with some fair food before heading home.. can't leave this place without having some fattening elephant ears! Funniest thing ever, was that the guy who ordered his elephant ears after me asked for napkins to soak up the 'puddles of grease'.. in reality, the puddles are the butter they pour on top. Think about that sitting in your stomach.... :)