Stampede Weekend
July 18, 2011
Sorry for the lack of updates! I've been super busy prepping for my MCAT exam this past little while, and now it's finally over!! Yay, summer is pretty much just starting for me now, hah!

As my exam was Saturday morning, I decided to head down to Calgary to celebrate for the weekend. Gunning it down the QE2, we made it to calgary in 2h 10m (crazy!!), checked into the hotel & headed out for AYCE sushi at my fave, Sushi King!

Sushi King Restaurant - 320 16 Avenue NW - Calgary AB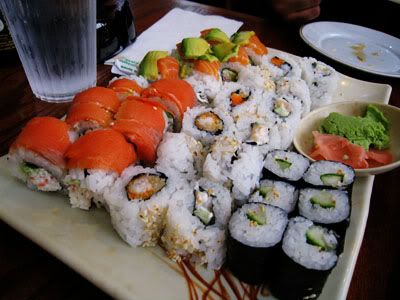 Adam decided to order too much food in the end, and it was so painful to try to eat it all without getting charged for wasting food. Want a good tip? This is what Vince does - eat only the inside of things: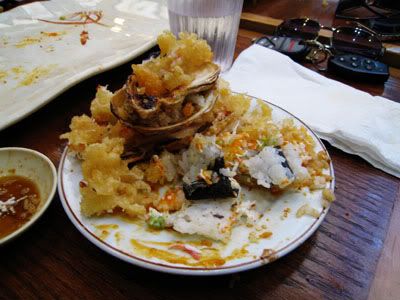 GROSS, but effective.
2011 Calgary Stampede
There's just something about the stampede I love. I know that the rides and the games are all the same, but it just seems so much better than Capital Ex up here in Edmonton. Maybe it's the spirit of the exhibition there. They have a real theme - everyone is decked out in their Western gear, and its just so lively! Dangit, Edmonton.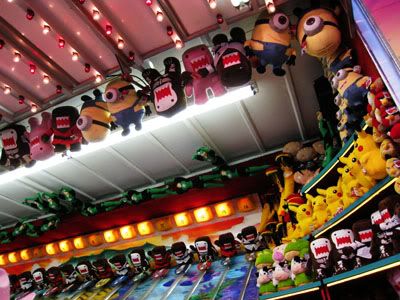 The prizes at the game booths are so cute this year too! Ranging from smurfs, to minions, to Domokun's with costumes, there's definitely a toy for everyone this year! I really wanted to win a minion, but totally forgot and got absorbed into gambling games.. LOVE playing over/under 7!!
Sunny Vietnamese Restaurant - 107 2 Avenue SE - Calgary AB
A couple months ago, my parents raved about this particular Vietnamese joint in Chinatown. Being the Asian parents they are, they brought the soup home for me to try and I was shocked.. of course I had to check this place out!
The interior of the restaurant is brightly lit by natural sunlight filtering through the window in the roof, but the inside of the restaurant is reminiscent of a typical pho place - plain walls and table tops graced with hoisin & chili sauce.
The restaurant offers two different sizes for pho, regular and large, each differing by approx $1.00.. looking at the tables around us, it seemed like the bowls were huge! I went with the regular beef balls pho for $7.50 while everyone else went with large pho dac biet for $9.00 (? I think! Don't remember hah).

regular pho bo vien
My regular size pho was definitely the size of a large that we get here in Edmonton - the broth was fragrant and flavourful, and definitely worth the money in my opinion. The servers are friendly, and the food came out quick.. but I think my favourite in Calgary is still Pho Hoai - the broth is a bit tastier in my opinion, but their servings are not as generous as the ones here at Sunny. Life is tough ;)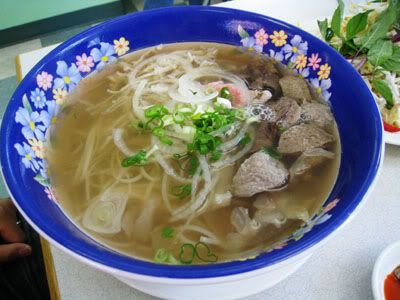 large pho dac biet
The Dessert House - 111 2 Avenue SE - Calgary AB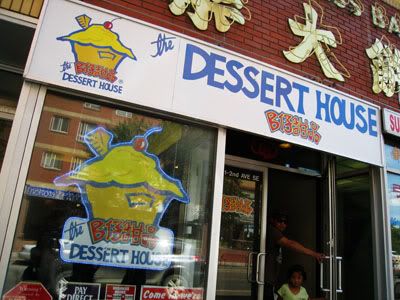 Located conveniently next door to the Vietnamese restaurant, I had to check this little place out. The sign from the outside was so cute and inviting, and my ritual is always to have some bubble tea after my pho. Call me a fatty, I don't care!
It wasn't too busy inside at the time, so all seven of us were able to get a seat together, after maneuvering a couple tables around.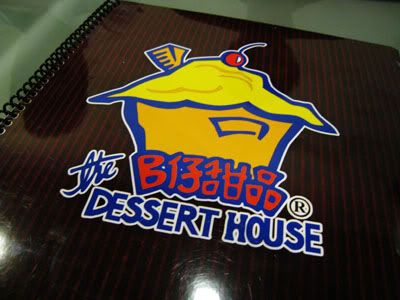 The menu was overwhelming, with hundreds of possible drink and dessert combinations. I went in totally unprepared for what I experienced! They have a variety of hot and cold dishes to eat, ranging from curry fishballs and takoyaki, to dessert soup (tong sui) and shaved grass jelly desserts. Next time I would totally come on an empty stomach in an attempt to try everything out..
I had a chance to meet and talk with the owners. They're a very cute Chinese couple, and they are so nice! We were told that their Edmonton location was slated to open on Tuesday, and that they would be offering the full menu there as well. Upon ordering, we learned about "pop boba", which is basically a flavoured drink bubble.

pop boba
Totally different from tapioca/sago though - its the latest phenomenon from Taiwan, in which the outer coating is similar in texture to a fresh lychee fruit, while the inside is filled with juice. The one I was given to sample was the lychee flavour. The outside is able to hold it's round shape well, but upon popping in your mouth, it releases lychee juice! Yum! It's also available as passion fruit flavoured, and probably goes best with flavoured teas.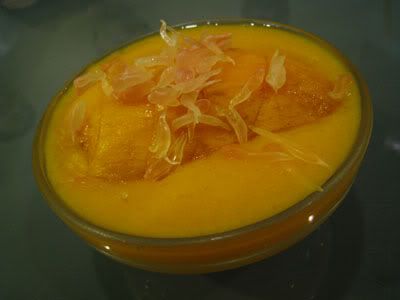 I ordered my all time favourite dessert, mango pomelo sago dessert! I'm so glad that this place offers it! Tasty choice back in Edmonton has always had this on the menu, but it was never available everytime I tried to order it. The one here is perfect. The mango puree isn't overly sweet, the tapioca has a bit of bite, and a whole half mango is sliced into the dessert. It was perfectly ripe and naturally sweet.. nothing can beat this!
Vince ordered the fresh mango milk smoothie in the small size. The small was bigger than I anticipated, and was definitely sweeter than the mango dessert I ordered. But it was delicious. Best fresh mango smoothie I've ever had.. for real.
Everything else ordered at our table: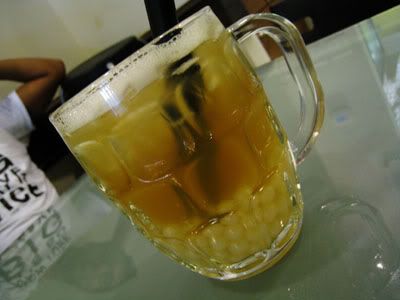 Chrysanthemum tea with lychee pop boba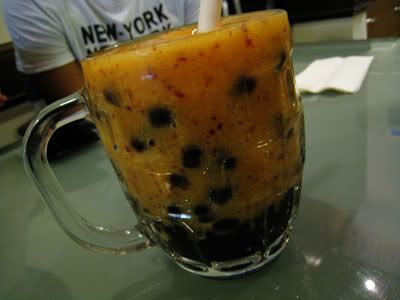 fresh peach smoothie

watermelon juice with thai basil seeds

fresh lychee milk smoothie

Shaved grass jelly with fresh fruit & strawberry juice
One thing I love about this place is their lack of powdered bubble tea. Everything is made from fresh - none of that high calorie powdered flavouring that is SO bad for you! I fully expect myself to be at their Edmonton location on Tuesday.. yes, I am predictable!