About four months ago, *super late post, I know!* I finally looked into Kim Kardashian's shoe & fashion style website, Shoedazzle. With her at the wheel and her team of stylists, every month you receive a selection of shoes and accessories that they feel are most suited to your taste and style, based on an initial questionnaire you fill out when signing up for the website.

Every month, they charge you $39.95 for one pair of shoes, but you have the option to skip for the month if you do not see anything you like, and you will not be charged. It's a super simple concept, and I'm so glad that they ship to Canada! Although shipping and returns are free within the US, Canadians have to pay an additional $9 each way (only downside, I think!)

Anyway, about 1.5 months ago, I finally made my first purchase through the website because they sent me a 50% off code to use! Woo hoo, $19.95 + $9.00 shipping for a pair, I'm down!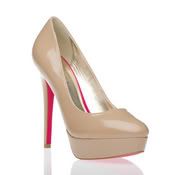 I've been looking for a nice pair of nude pumps that fit, and are comfortable. For the last couple months, I've been looking high & low for just the right pair, and I haven't been able to find something I like until now. Enter: Chanelle.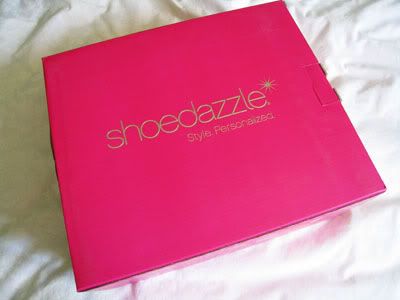 After a mere couple of days, the shoes arrived. I was really impressed with the shipping time! When this pair of shoes made their way to my mailbox a couple weeks ago, I was super excited! Upon opening the box, I found that the shoes are shipped in a bright pink shoebox, complete with a matching pink dustbag to store the shoes in as well.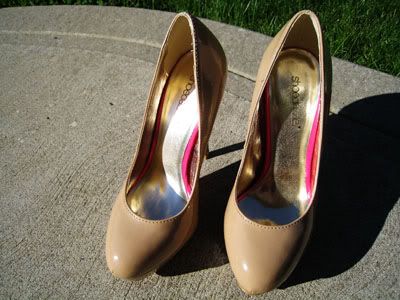 The Chanelle pumps are made of faux patent leather, and are available in black, grey and nude. When I opened the box, I was surprised to see just how high the heels were! They have a 1" platform for comfort, and a 4" heel. Holy moly, these are the highest heels I own for sure! They give me close to a 5" boost when I wear them!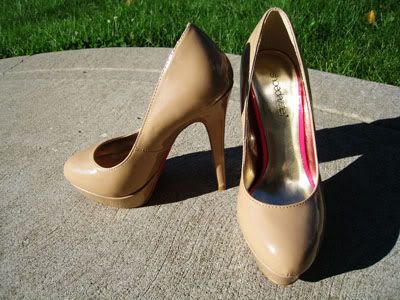 I have small feet, and it's really hard to me to find shoes that fit well, that aren't too heavy for me to walk around in. The Chanelle style runs 1/4 size small, which was stated on the website. I was really hoping that the sizing was correct, as my feet are usually a size 5 or smaller. The smallest size available from Shoedazzle is a 5.5, so that's something to keep in mind for all the ladies out there that also have small feet! Make sure to read up on the sizing info before ordering :)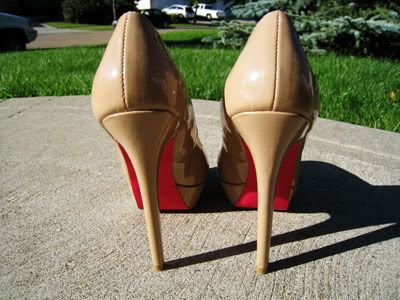 Last but not least, the Chanelle pumps featuring the Shoedazzle "signature sole" - A hot pink sole, mimicking the classic red of Christian Louboutin. This I could care less for, but it gives the shoe a edgy, chic vibe! It stands out in the crowd from other nude pumps out there.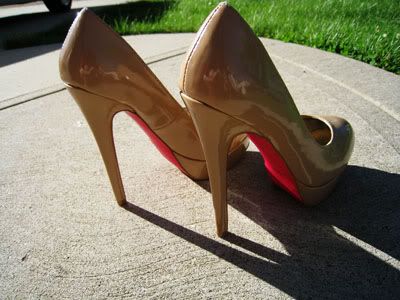 I haven't personally worn the shoes out yet, since they are so high, but I have walked around in my house with them on, and haven't felt any discomfort at all. From what I have seen with my own eyes, the quality is very good for the price you pay. The shoe is sturdy, and should hold up for a decent period of time. I would definitely consider ordering from Shoedazzle again, just because of the great customer service I experienced, and the quality of the shoe I received. I will do an updated post soon on how the shoe holds up!
If you're interested in signing up, check my invite link
here
.