My First Glymm Box: December!
December 23, 2011
Anyone here heard of Glymm before? I really wasn't aware of this program until one of my friends informed me of the program back in the month of November. In the states, there's companies like Birchbox, Eco-Emi, Test Tube, and many more that offer a box of deluxe samples every month for a fee of around $10. I never knew Canada had started such a program, so I signed up right away and just received my box yesterday!

Glymm offers a box with 4-5 deluxe samples each month for $10, which is inclusive of shipping. I honestly think it's a great deal if you're looking for a new beauty product to try out, or if you're still trying to find the perfect product that works well with your skin. I mainly just like getting stuff sent to me in the mail ;)


The box arrived well packaged, but was a little bit difficult to open due to the positioning of the tape on the box. After breaking a nail and prying it open, you'll find a beautiful pink box on the inside, waiting to be opened.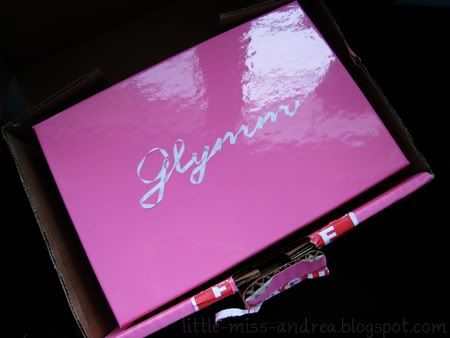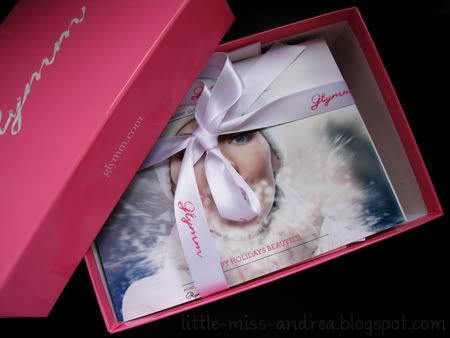 Inside this month's box, I received...
Caudalie Vinoperfect Enzymatic Peel Mask, Ahava Mineral Hand Cream, Yves Saint Laurent La Parisienne, Sula Beauty Natural Lip Gloss, a $10 gift card to use on Glymm.com, and a cute jar of jellybeans.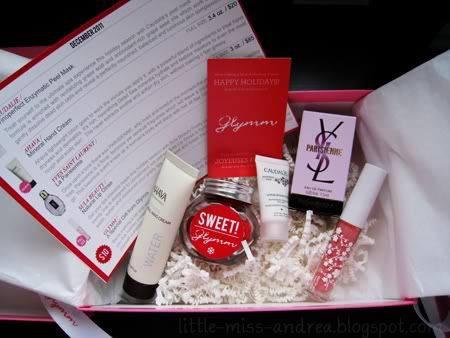 The box itself is accompanied by a card with information about each product, and the price it sells for at retail for a normal size. Seeing as the Sula lipgloss is full sized ($8), that one sample alone almost pays for the entire box. I will be testing these out within the next week and will let you know how things go!
So far, I'm pretty impressed with the packaging and the way everything was sent to me. There was an email confirmation sent to me following the purchase, as well as an email with tracking information in it when the box was dispatched out for delivery. Subscriptions to the service can be done in monthly or yearly installments. For the monthly program, after the first box, you will be
automatically
billed once a month on your credit card without notice, until you decide to cancel your subscription. I just want to put this out there ahead of time in case any of you get confused with their system, because I sure was! I saw two charges on my credit card, and found out afterwards that I would automatically be billed.
If you are still looking for a Christmas gift for the makeup junkie on your list, Glymm has got you covered. There is an option to gift a subscription to anyone, in 3, 6, 9 or 12 month subscriptions. Perfect for the beauty and makeup obsessed.
The Glymm box is exclusive to Canadians - so
sign up for the program if you're interested
! (referral)