This is the last of the birthday posts that you will be hearing about this year, I promise! I was so happy on the day of my birthday that it was nice and warm.. above 0 degrees celsius! Totally unheard of at the end of November in Edmonton, but who am I to complain? I'm loving it!

I wanted to have a small, quiet dinner with my close friends, and Niche had the perfect setting. I had heard many great things about this restaurant so I was pretty excited to sit down for some good food.

Niche Restaurant & Cocktail Bar - 11011 Jasper Avenue - Hardwood Plaza - Edmonton AB

The restaurant itself is tucked away along Jasper Avenue, and doesn't quite stand out along the busy street. There is a small amount of parking along the side of the building, but what I appreciated was the option of parking at the Edmonton General Hospital upon acquisition of a parking pass from the restaurant. One thing I hate about dining along Jasper Ave is the limited amount of free parking available!


Upon entering, the restaurant was dimly lit, and I realized it was actually quite a small establishment. The environment was cozy, with contrasting characteristic elements placed around the restaurant. Weird explanation, right? Well, what I mean is that the bar area looked very modern, feeling almost cosmopolitan as it wass brightly lit to showcase their selection of wine and spirits. It's where I would love to go after work for drinks. The tables around the restaurant, however, featured candlelight and tulips for decoration, while a large portion of the walls were decorated with brick, giving it an almost rustic feel.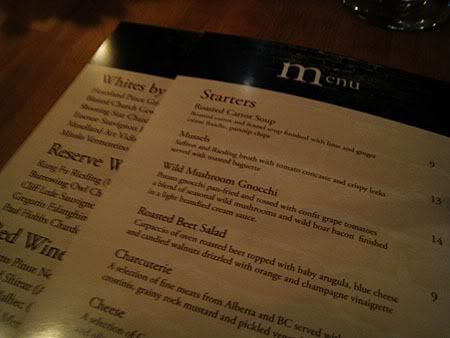 The menu itself is not big, but still provides enough options for a variety of dishes to be ordered around the table. From what I understand, Niche changes up the menu every once in a while to keep things interesting. I personally prefer smaller menus, because you're not plagued with tedious decision making, and the kitchen is able to focus on cooking and perfecting dishes.
Mussels: Saffron broth with tomato concasse & crispy leeks served with toasted baguette
Wild Mushroom Gnocchi: Potato gnocchi pan fried and tossed with confit grape tomatoes, a blend of seasoned wild mushrooms and wild boar bacon, finished in a light brandied cream sauce
I shared the gnocchi to start, and quite enjoyed the dish. The gnocchi had a nice soft texture, which contrasted nicely with the chewy nature of the mushrooms. The cream sauce was a nice compliment, and not overpowering to the dish. I don't recall actually encountering any tomatoes in the dish though.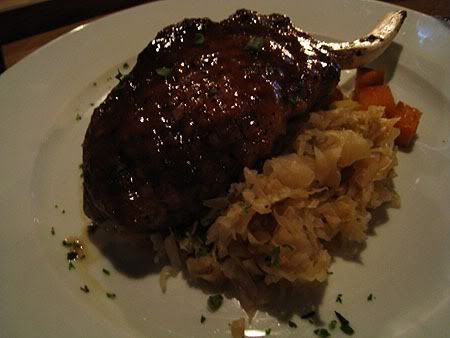 Wild Boar Chop

Vegetarian Anglonotti
Braised Beef Cheeks: Braised in rich red wine sauce served atop smashed fingerling potato with seasonal wild mushrooms and finished with a lemon caper creme fraiche
For my entree, I chose to go with the beef cheeks, as did two of my other girl friends. We didn't really know what to expect with the beef cheeks, but I felt they turned out to be similar to what I would find in an Asian beef stew. The meat was tender and full of flavour, but there was quite a bit of excess fat that I could do without. There was a prominent wild game taste to the meat, but the dish was well tied together with the mushrooms and mashed potatoes. The portion of beef cheeks on my plate was a bit overwhelming, but I did get some help from forks around the table to finish it all.
To round off the meal, I ordered the infamous flourless chocolate brownie. It was simply divine! The brownie itself was not too sweet, and most of the sweetness came from the thick layer of chocolate espresso mousse on the top. The mousse itself wasn't as light and airy as I would expect, but ended up being more of a ganache. Combined with the dallop of whipped cream and the salted caramel lining the dish, I was a pretty happy camper.
The entrees you find at Niche can be quite unique, and not too common amongst restaurants in Edmonton. Beef cheeks, boar, pheasant, and bass aren't regulars amongst many menus, so I would suggest making a visit to Niche if you're seeking out something a little different for dinner. They do charge on the more expensive side, around $35 - $50 per person for a filling meal, but the service is nice and the environment is warm and inviting. This isn't a restaurant I would frequent, but I would recommend it if you're out to celebrate something special. They recently began offering a lunch service, so I hope to be back to check that out and see what the restaurant is like in the daytime!