Bubbi Brushes!
September 28, 2011
I've had these brushes for a little over three weeks now, testing them and what not, so I feel like it's time to give them a proper, thorough review! And just to get it out of the way, I purchased these brushes on my own.

For months now, Bubz of Bubzbeauty & makeup guru on YouTube has been talking about releasing her own line of brushes, and that she had lots of influence in the design process, from the brushes themselves, and what materials they were made of. I was excited for the release of the brushes (if you can't tell already, I get just a tad excited when it comes to makeup brushes..), but honestly, a little skeptical. When things get hyped up, I almost always expect too much, and end up being disappointed. It's rare that something actually lives up to my expectations when it's praised and talked about so often.


So the day came for the brush release, and I was a little hesitant to order them. I ended up doing so anyway, and a couple days later, a cute little package made it to my house.
I only ordered three brushes from the collection, mostly the ones that I find myself using a lot - my powder & kabuki brushes. I chose the buffer brush, powder brush, and kabuki brush.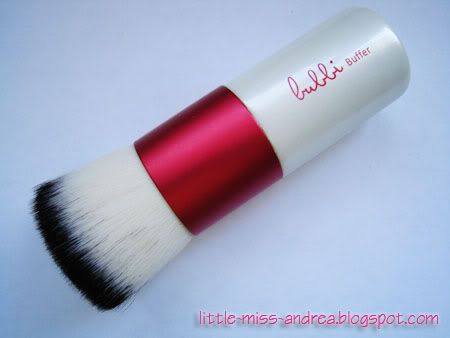 The buffer brush is designed to work with powders, whether foundation, blush or bronzer. The brush itself has a flat top, which works very well to pick up pigment and lots of product with a brief swipe.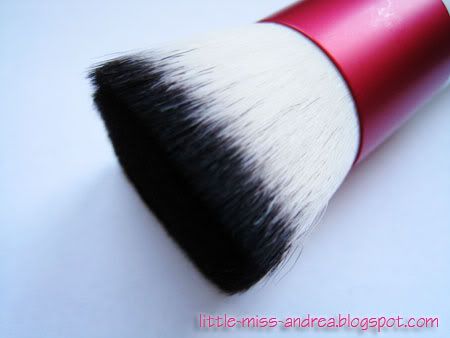 As you can see, the brush hairs are packed and very dense on this brush, but the synthetic bristles are SO soft. They are flexible, but durable, and the way they taper outwards allows for reaching smaller spots around the nose area. As it is meant to be a buffer, it makes your product work better and blend into skin seamlessly, giving my face even and fantastic coverage.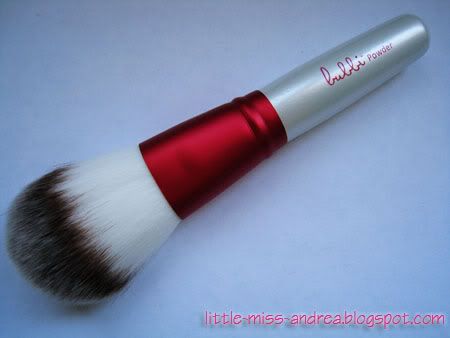 The powder brush on the other hand, features longer synthetic bristles that are flexible, yet sturdy, to allow for proper control during application. Due to the longer length, it is not as rigid as the buffer brush, and much more flexible, giving it the ability to work over larger areas with one sweeping motion.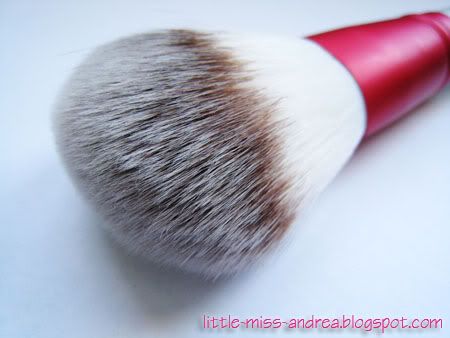 Because the bristles are spread further apart, it does not force the product to work into the skin as nicely as the buffer brush, giving a lower amount of coverage. However, this is probably one of the softest brushes I have ever felt on my face, and I love just feeling it sweep across my cheeks! The handle is easy to hold for good control - there isn't anything really bad about it! Bubz has said it can be used for blush, but I find that the brush covers too much of an area, putting the blush in places I didn't intend for it to go. In my opinion, it's best for setting powders.
Last up is the kabuki brush, which features its own zip up carrying case for travel. Unlike the other two I picked up, the kabuki is made of goat hair, so it feels a little rougher than the synthetic bristles. They are, however, still quite soft.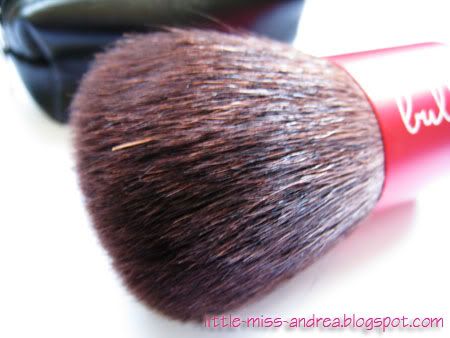 The hairs form a nice dome shape, allowing the brush to get to smaller areas, and those that are hard to reach with bigger brushes. The bristles are dense like the buffer brush, giving a higher amount of coverage for a flawless, even finish. This brush works well with blush as well, but be cautious as the bristles pick up quite a bit of pigment!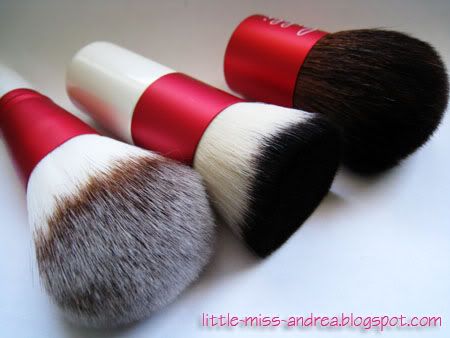 I have experienced no fallout with these brushes so far, which is amazing! I hate when I get bristles left over on my face. The brushes were hyped up for good reason, and did nothing less but impress me. Although I haven't bought the other brushes, I wouldn't hesitate to pick them up based on the performance of these three - thank you so much for making amazing brushes Bubz!!
The price for all three brushes including shipping to me was approximately $60 CAD - not a bad price for wonderful brushes!
Here is a
link to the video
Bubz made about all her brushes. Enjoy!