Suga Suga
September 21, 2011
A week ago, I went out for breakfast with my mom before heading off to class. The sun was shining bright, but the winds were strong outside. It seemed to be a nice day to go out.. except it was FREEZING. Don't you hate when the weather deceives you?

I wanted to go somewhere near campus, just to make sure I would be on time for school. Upon countless recommendations from friends, I decided to hit up the Sugarbowl - surprised that I haven't been here before?

Sugarbowl - 10922 88 Avenue - Edmonton AB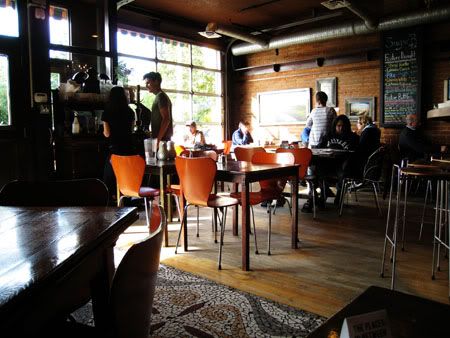 The Sugarbowl looks like a cute little place to enjoy meals, with a patio outdoors, and many small tables indoors to accommodate the crowds. The inside reminds me of an old style restaurant - all the tables are wooden, and decorated with only the essentials: salt, pepper, and sugars for your coffee. Daily specials are written up on a blackboard, and the vibe of the restaurant was laid back and relaxed. What I was surprised about though, was the huge variety of beers and wines they have available - the list took up 2/3 of their menu!
For breakfast, my mom ordered the famous cinnamon bun - everyone that I talk to about the Sugarbowl raves about this thing!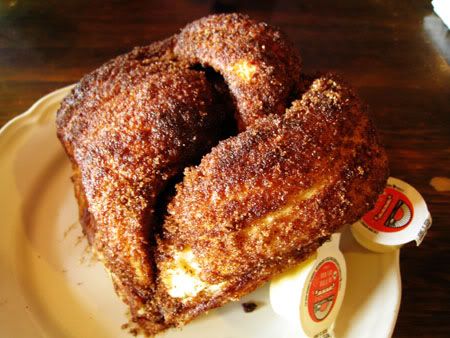 Unlike others found around the city, this particular cinnamon bun ($3.50) is MASSIVE, and isn't served with icing on top. Instead, the top is covered in a light syrup & brown sugar, and served up with butter on the side. I thought that the bun might turn out to be a little dry, since it didn't really look sticky or all that moist, but I was proven wrong! The cinnamon bun itself has a slight crunch to it on the outside due to the sugar, but the inside is oh so soft. It is just the perfect amount of sweetness, but due to the size, I'd say two people are required to eat the whole thing. Do try it if you have the chance!
For my breakfast, I ordered the Sugarbowl Benny ($12):
Poached egg w/ back bacon on cornbread topped with thyme béchamel sauce & potatoes
. When I go out for breakfast, I often order eggs benedict as I'm way too lazy to cook them up myself at home. It's hard to get it just right, and the cooks at the Sugarbowl failed to impress me with theirs.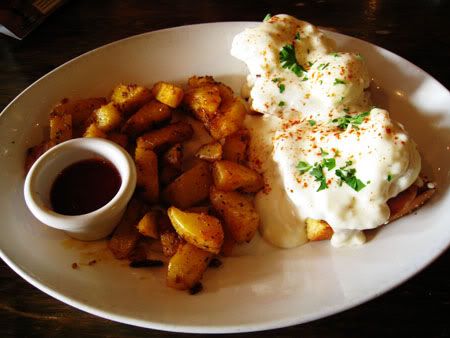 My eggs were way overcooked. The yolk was solid, and the whites were so chewy and rubbery that I had to leave them on the side. The béchamel sauce had a great consistency, but it just doesn't live up to the hollandaise sauce I prefer. Because the eggs were topped on cornbread, the sweetness was overwhelming for me, and the back bacon didn't balance it out. In other words, I feel that the flavours of each portion didn't work well together. The potatoes on the other hand, were flavoured very well, and borderline salty - but I liked them. When eaten in combination with the eggs, the dish tasted fine - but I'm not sure if it was meant to be eaten together.
Although breakfast wasn't fantastic, I'm curious to see how their lunch is. They have great lunch specials served with soup/salad for $10, which is very affordable if you ask me. Once I check it out, I'll be sure to let you know!