Transition to Fall: Skull & Glossbones
September 07, 2011
So, I thought that this week would cool down a bit, given that it IS the beginning of a new school year. But nope! This week, Edmonton has been hit with a heat wave, reaching highs of 31 degrees C! That's outrageous for September in Edmonton. Not that I'm really complaining though, it didn't really feel like we had a proper summer this year. Better late than never, I always say!

Because I thought that we would be transitioning into Fall, I chose a pastel grey hue from the OPI Pirates of the Caribbean collection to cover my nails.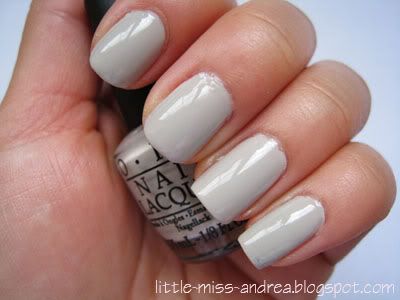 Skull & Glossbones is one of the colours that came in my mini set of polishes from the collection. I previously complained about the small brushes in the mini bottles giving me a hard time, but I'm beginning to think that it may have been the polish that was the issue last time. With this shade I still used three coats, but it was much easier to apply and work with compared to
Planks A Lot
.
Skull & Glossbones is the first grey I have owned, and I feel like it is going to be a favourite of mine for a long time to come. I would describe it as a dusty, putty grey creme, with a hint of green in the base. Three coats ensured full opacity (I would have done fine with two), and the formula was smooth and easy to work with.
This shade is a beautiful colour to use and transition into the darker shades for Fall & Winter. I just look silly with it on my fingers this week.
Please excuse me while I run out & buy the full sized bottle!