Electric Blue v 2.0
September 04, 2011
A couple weeks ago I picked up this bright blue blazer from Zara.. I've been hesitant to wear it with anything though. The material isn't ideal for me in a blazer - it's a soft cotton blend that reminds me of soft t-shirts & sweatshirts.



Blazer: Zara | Top: Joe | Jeans: J Brand | Shoes: Asia
I like my blazers made of suit material - but something about this blazer just kept calling my name.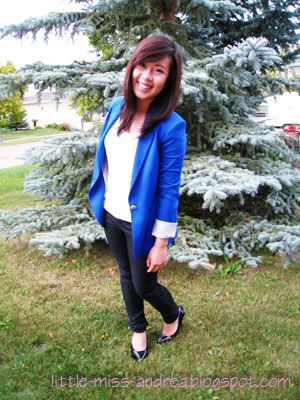 After taking it home & contemplating, I still don't know if it will be kept or returned. The blazer is fully lined and quite heavy in comparison to all my other blazers. Although the sleeves are folded up, the arms become just perfect in length. The shoulders look a little big on me too.. what do you guys think?
Also, why did my camera make my hair look red? Hmm..