Bare Escentuals Jet Set Mini Brush Collection
September 15, 2011
Just wanted to say a couple quick words about this cute little brush set I picked up at Sephora lately!

Whenever I go on my travel adventures, it can sometimes be a pain when I have to clean my brushes, and put them into my makeup bag. Although I use brush guards to protect the brushes, there is the possibility of them shifting around and having the bristles bent! It's a mess sometimes.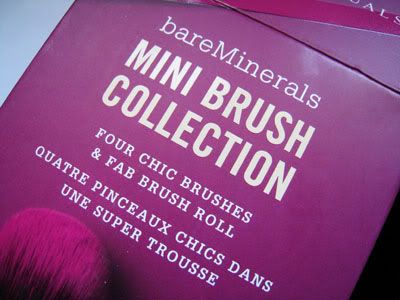 With my last Sephora order I picked up the Bare Escentuals Jet Set Mini Brush Collection, which comes with 4 mini brushes and a brush roll that can be used to tote them around.
The case itself is relatively sturdy, but I know someday it's bound to fall apart. I love the hot pink lining on the inside though! It's such a beautiful contrast to the black. Only thing I don't like is that it smells like cheap plastic.. with time I do hope that goes away.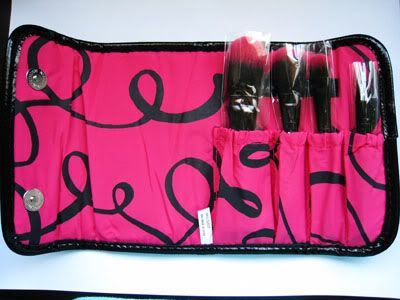 But the case isn't what I bought this set for - it's for the brushes. The bristles on each brush are super soft and fluffy, the way I like my makeup brushes. There's nothing that irritates me more than bristles that are course and make my skin itchy. Like really? Things like that should
never
be allowed to leave the manufacturer's factory.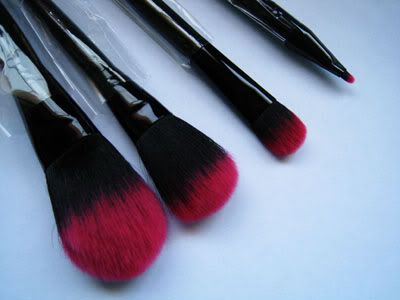 The set comes with a line diffuser brush (4"), blush brush (4.5"), shadow brush (4.5") and a face brush (4"), all of which are easy to maneuver and pick up a good amount of product. Each handle is stamped with the brush name, and the company name in the same shade of hot pink as featured at the brush tip and inside the brush roll. I love this!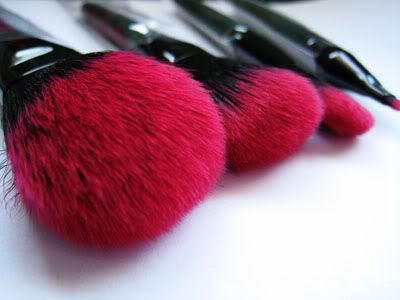 If you have a chance to pick it up in stores, do so! It retails for $25, but is on sale right now at Sephora for $15
right here
. For the price and functionality, you really can't go wrong :)