FNO: Fall Bag Reveal
September 08, 2011
It's Fashion's Night Out tonight in cities across the world, and I'm so jealous to be stuck here in Edmonton! Boohoo. Nothing new & exciting ever happens here haha! So as a pick me up and to celebrate the world of fashion & style, I'll share with you my new fall beauty!

-------------

I'm a seasonal bag type of girl. A girl that loves to change things up when the weather changes and the seasons come & go. Of course, I do love my staple bags that I can use all year round, but I also give my bags labels, and use them in certain instances, or during specific times throughout the year.

This little beauty that I ordered a couple weeks ago? She's perfect for the fall, but I just might be tempted to flaunt her all year round.

Coach Madison Flagship Embossed Croc Caroline Dowel Satchel

The latest bag I've picked up is from none other than Coach. I often hear things along the lines of the following phrase: "hah, Coach? They're poor quality and cheap cause they're made in China". I don't think that the bags are poor quality, nor cheap. As an affordable luxury brand, I commend their ability to make a bag for any woman or man out there - there is so much variety that any one bag is bound to tickle your fancy.

I've always been a fan of Coach and their innovative design team. They source high quality Italian leathers and other materials to craft their bags, which, by the way, are handmade. Every time I walk into a store, I know that there is a bag for everyone.

Anyway, enough about my rambling. My admiration for this company has been put out there and I stand behind my own opinions & beliefs. Introducing my new Caroline! There's little snippets for you to piece together before seeing the whole thing!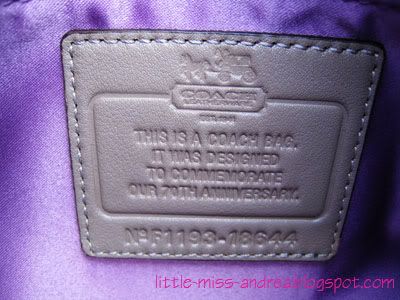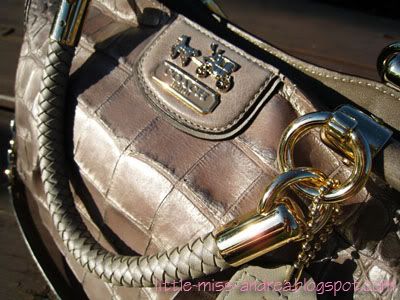 This particular bag is a limited edition bag, designed to commemorate Coach's 70th Anniversary. This particular bag, along with other Caroline styles will be available in Flagship stores this upcoming October, given that there are any left! When I received this baby, there were only 20 left.
Yikes!
There's so much texture to the leather on this bag, and the different pieces that put it together make it a showstopper. The bag is all cow leather (no crocodiles harmed in making this bag!), where the pattern is stamped on, giving it's name - croc embossed leather. The particular colour is called light pewter, and has a metallic finish to it, giving it a slight sheen. Personally, I would say the leather is taupe coloured, with a light pewter metallic finish.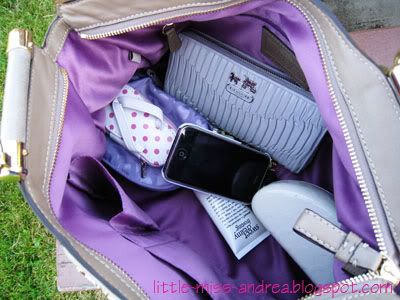 Sneak peek at what I usually carry :)
Despite being petite, I love to carry my big bags. This one is no exception, with measurements of 15" x 11" x 6" - you can carry everything! The lining is also a beautiful lilac purple which compliments the pewter accents beautifully.
When empty, the bag does not maintain it's shape fully, but it holds up rather nicely. My favourite things about the bag are the attention to small details - the braided leather handles, 14K gold hardware, commemorative hang tag, pleated detailing, and of course the amazingly soft leather used to create this bag. Can't wait to wear her out with different outfits!
If you're interested at all, this bag is available for order right now, retailing $1000.