Reader Request: Swatch Comparison
September 03, 2011
A little while ago, I got a request from Kohl to post up a comparison between OPI's two shades, Hot & Spicy and Are We There Yet?, just to see the little differences.

In the pictures below, Hot & Spicy is on my middle finger, Are We There Yet? is on my ring finger, whereas my pinky has Essie's Tart Deco (from my current mani - sorry for the chips Y__Y )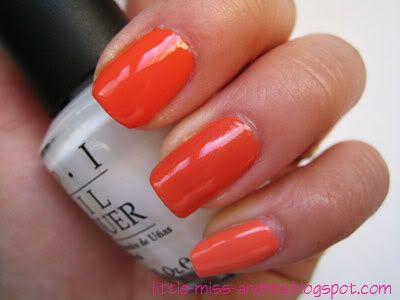 In full sunlight, Hot & Spicy appears to be a neon orange, whereas Are We There Yet is dustier, and not so bright. The camera seems to pick up more orange out of the colours than what you see in real life.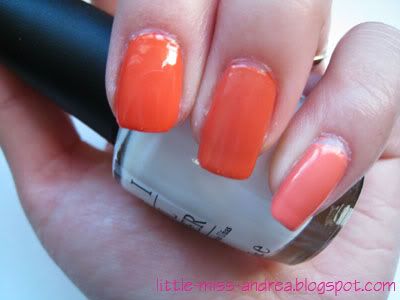 This picture is the truest depiction of what I see with my own eyes when looking at my nails. Hot & Spicy doesn't look neon under normal circumstances, but definitely a coral that leans orange. Are We There Yet is muted in comparison, and I think it is due in part to the microshimmer in the base.
The last two pictures depict best the differences between the shades. Hot & Spicy is much more vibrant when comparing the two. I feel like my camera made Are We There Yet look more orange than it is in real life - it has more white in it than Hot & Spicy. It's almost like a softer version of Hot & Spicy, but packed with microshimmer, which I believe is another factor that contributes to the lighter colour. There isn't a HUGE difference between the two shades though, it's a subtle but noticeable difference.
Kohl, I hope the pictures helped you make your decision about the polish :)