Recipe: Homemade Plain Frozen Yogurt
March 28, 2012
It shouldn't come as a surprise to you if I say one of my all time favourite desserts is frozen yogurt! I always favour frozen yogurt over ice cream, and I love making stops by local self serve yogurt shops like Tutti Frutti or Twisted Yogurt.

But, when it isn't a stop along the way home, or if I'm too lazy to go out, I have a solution: make it at home! This past Christmas, one of my gifts was the ice cream maker attachment to my KitchenAid Stand Mixer. I was ecstatic and so excited to try making some froyo! Don't have an ice cream maker sitting at home? No problem, you should be able to make frozen yogurt as long as you have a freezer and some patience.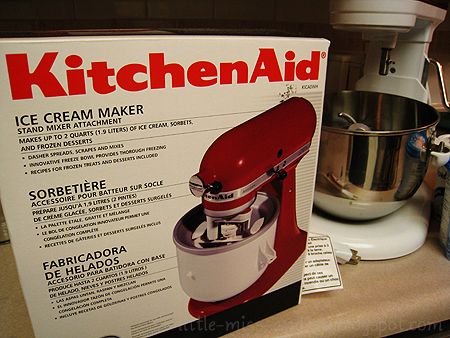 TOOLS

KitchenAid Mixer, KitchenAid Ice Cream Maker, Bowl
Whisk, Measuring cups, Measuring spoons, Spatula



INGREDIENTS

2 cups plain Greek yogurt
2 cups plain yogurt
3 tbsp corn syrup
1/2 cup berry sugar (superfine sugar)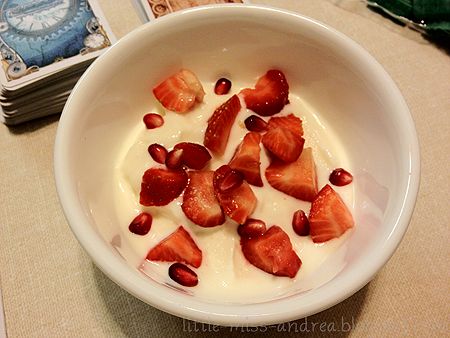 RECIPE

Freeze the ice cream maker attachment 15 hours in advance.
Place all four ingredients into a bowl.
Whisk together ingredients until fully combined - place mixture into fridge for 5 - 10 minutes.
Assemble the ice cream maker and turn it on to the 'Spin' setting.
Pour in the mixture and allow to mix until desired consistency is reached.

Garnish with any toppings you like, and eat up!

If you want to make the yogurt without an ice cream maker, place the mixture in a freezer safe bowl (or pan), and put it in the freezer. Every 20 minutes or so, take the mixture out of the fridge to mix it around until you are satisfied with the final product.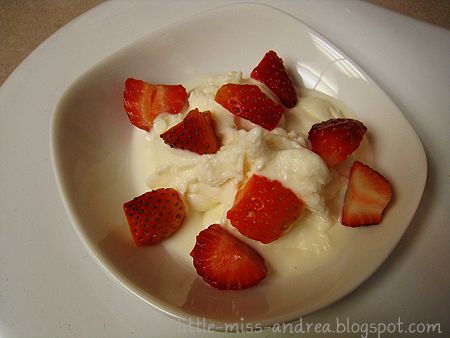 The ice cream maker attachment is awesome! The frozen yogurt that comes out of it is the same consistency as that from local frozen yogurt shops, and tastes almost exactly identical. It just isn't beautifully swirled into the bowl :) For any leftover yogurt, it can be placed in a container and into the freezer, where it will freeze into a hard block. To reachieve the soft consistency, take the container out of the freezer and allow it to thaw for a minimum 30 minutes before mixing manually and eating it! Super simple, and good for you!
If you do choose to buy the KitchenAid ice cream maker attachment, just let me mention that the only part I dislike about it, is the mess that can be created when you pour the ice cream mixture in. The mix is poured in with the paddle attachment moving, giving the opportunity for the mix to go everywhere. This can be minimized by pouring the batter in with a bowl that has a spout or tip for pouring.
Froyo lovers, let me know if you try this!
This recipe is from the Food Network