An Indulgent Weekend, Part One: Pho So 1
March 10, 2012
Over the family day long weekend, Vince and I headed down to Calgary to just take a break and enjoy being away from Edmonton. His number one mission was just to relax. Mine? Eat as much good food as I could in a span of 30 hours. Yeah, I'm kinda gross sometimes :)


Pho So 1 - 1609 Centre Street N - Calgary AB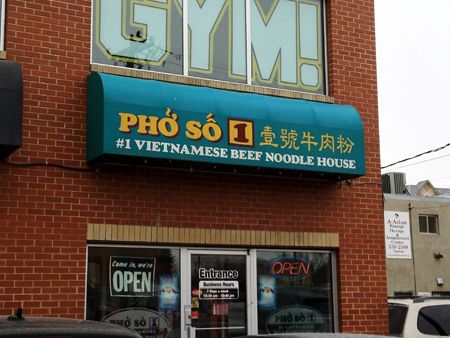 Whenever I'm in Calgary, having a hot bowl of pho noodle soup is a must! After driving 2.5 hours down the highway, we found ourselves standing outside Pho So 1 on the recommendation of one of my coworkers.
When you enter the restaurant, it's your run of the mill Vietnamese restaurant. Minimal decor on the wall (definitely Asian inspired if any!), a fish tank, and tables stocked with condiments for your soup. For 12 PM on a Sunday, the restaurant was quite empty - uh oh.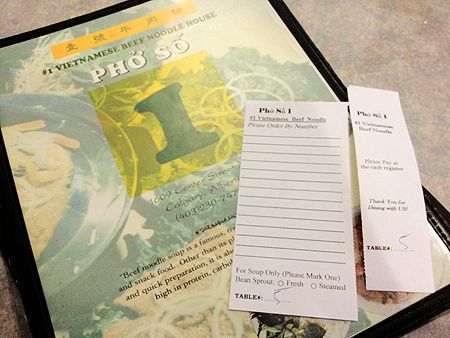 The ordering process here is reminiscent of that at Pho Tau Bay in Edmonton, where you are given a little sheet to write down your order. I've never quite understood why something like this needs to be in place at a restaurant where the service is already bound to be at a bare minimum anyways. How hard is it to take down an order for pho? I absolutely understand this process when you will be ordering say, all you can eat sushi or hot pot, where there are multiple items that need to be gathered and put together. I just don't get it. How lazy can you be?!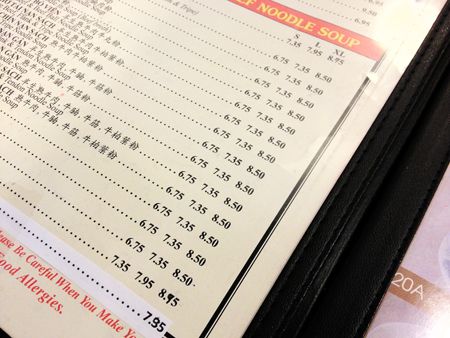 Pho So 1 offers three different sizes for their noodle soups, and at very reasonable prices. I'd say the average for a small bowl of pho in Edmonton right now is about $7.50 - $8.00, so it's refreshing to see cheaper prices! I went with the small beef ball pho ($6.75), while Vince picked the large pho dac biet ($7.95).

small beef ball pho
After taking our order, the steaming bowls of soup were at our table in under 4 minutes. And what a relief! The bowls are rolled out on a cart to the table, avoiding my pet peeve: the waiter's thumb getting in the soup. I've seen it happen so many times and it makes me feel sick to my stomach when that happens!

large pho dac biet
With the steaming broth sitting infront of me, I quickly sipped the soup and it was delicious. The broth had a nice depth to it, and a natural sweetness that reminded me of my favourite soup at Thai Son in Vancouver. The beef balls had a very nice bite to them, and a peppery taste that I loved.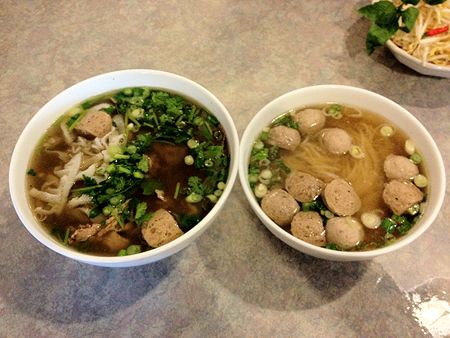 comparison of the large vs. small
Vince enjoyed his soup as well, but the beef was a little on the tough side for his liking. It wasn't quite the perfect bowl of pho for us, but pretty good especially when you factor in the price! After the meal, we didn't have any serious thirst issues, so the MSG content here seems to be pretty low. Check this place out if you're in the area.
I was quite full from my small bowl, but Vince was left wanting more food. So off we went, looking for something more...
To be continued :) Have a wonderful weekend, everyone!