Dior Hydra Life BB Creme
March 03, 2012
In comparison to yesterday's post, I'm sharing an American BB cream with you today that was just launched this week: the Dior Hydra Life BB Creme with SPF 30 PA+++ protection. For a description of what BB cream is, please check yesterdays post :)

I received an email from Sephora on Wednesday about the new BB cream from Dior. From the American BB creams that I've tried thus far, most of them were not BB creams at all, but merely tinted moisturizers. This one from Dior doesn't differ much from the other ones produced thus far, but it sits higher above the rest in my opinion.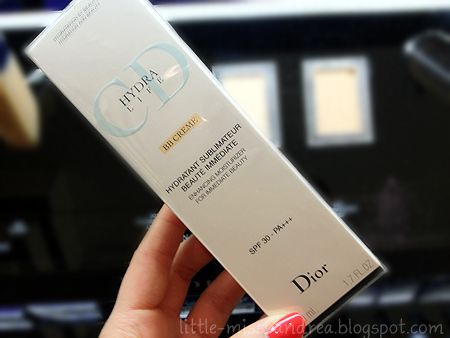 The Hydra Life BB cream is contained in a tube, but features a pump dispenser. This way all the product will move to the bottom of the tube, allowing you to use as much product as possible. Now why is it better than the other American BB creams? The reason being that it is the most pigmented and has the best coverage out of the ones I've tested (Smashbox, Boscia, Dr. Jart).
The only problem is that when I put it on, my face was fine.. and moments later it looked like I had just returned from Mexico! I was pretty scared when I looked in the mirror before I left my house. The product when dispensed from the tube is fairly light, but obviously warm toned. After application, the product immediately oxidizes and becomes a deep, warm colour with orange undertones. It's probably about two shades too dark for me - a possibility for me to use in the summer if I absorb lots of UV.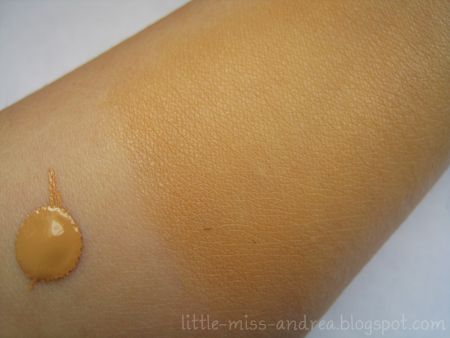 Dispensed product, with product blended on the right (indoor lighting)
The product itself is thinner and more on the liquid side. It dries fairly quickly with very good coverage like a BB cream, and is relatively moisturizing. It doesn't have much of a scent, if any, and dries to a matte finish on the skin. Because the product isn't exactly creamy, and doesn't include any skincare benefits, the amount of pigmentation would lead me to think this is more of a foundation than a tinted moisturizer. On the plus side, it does have nice sun protection. I feel like the best way to use this product is to mix it in with your morning moisturizer, but whats the point when BB cream is meant to be convenient enough to replace a variety of products in your daily routine?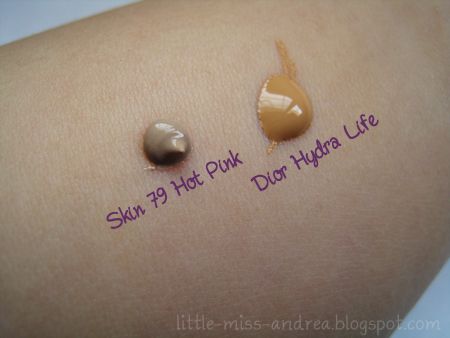 I thought it would be fun to compare it to the Skin 79 Super+ BB cream that reviewed yesterday to give you a better indication of the huge differences. As seen in the photo above, you will realize that the Dior product is thinner and more water based.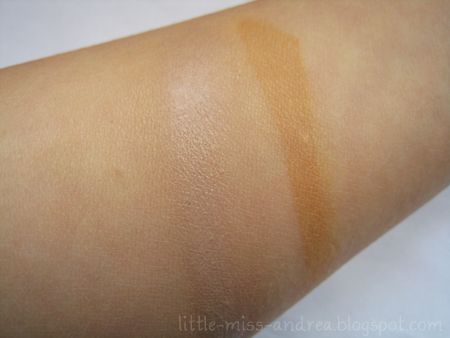 When the products are swatched, it is evident that the Skin 79 BB cream is pale and grey based, in comparison to the warm, orange based Dior BB cream. Do keep in mind that these pictures are taken indoors, where the colour will look a little darker.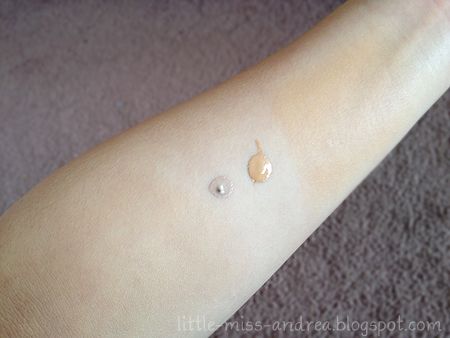 Product blended out (natural lighting)
This picture is the best depiction of what the colour will look like when averaged out. Under natural lighting, the colours are a little lighter, and you can probably understand why I said I looked like I had just come home from Mexico, rather than saying I became an Oompa Loompa working under Willy Wonka..
The Dior BB Cream may be a good option for anyone with a darker skin tone, looking for a new foundation to try out. I honestly cannot call this a traditional BB cream, but I can call it an American BB cream. I really like that the product is lightweight with great coverage, and contains the essential protection against the harmful UV rays we are exposed to everyday. Before you purchase, make sure to get a sample to see if this is the right product for you.
Dior Hydralife BB Creme is available for purchase at Sephora for $56 USD/$65 CAD (can you believe the Canadian pricing?! We are AT PAR, ugh!)