Anti-Bullying
February 29, 2012
Here in Canada, the last Wednesday of February is National Anti-Bullying Day. Bullying is a definite problem within the schooling system and in our everyday lives, no matter where you live around the world. I think the reality of it is that we don't always realize what constitutes bullying. It doesn't have to be physical aggression, it can be as simple as verbal harassment. And with the proportion of our lives dedicated to being online and invested in social media, cyber bullying is on the rise - the hurtful insults don't even need to be said aloud. More individuals participate in this form, as it can be anonymous and perceived to have no consequences if they themselves cannot be found. We've all read the news stories, seen the videos made by victims on YouTube - too many people have been affected and we've lost one too many lives.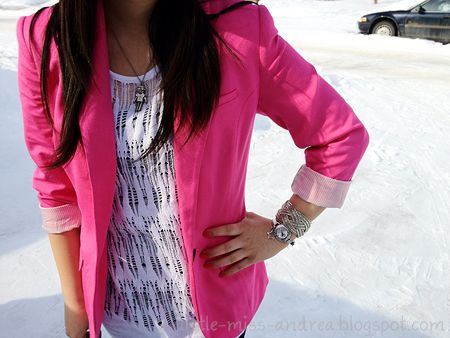 Blazer: H&M (similar) | Shirt: F21 | Bottoms: Old Navy Rockstar Jeggings
Boots: purchased in Asia | Cuff & Necklace: F21 | Watch: Coach Phoebe
Anyway, I could go on and on about this, but I guess I'm leaving you with something to think about. For Anti-Bullying Day, Pink is worn as a stand against bullying, and an attempt to spread awareness. We wear pink to support breast cancer, and sport moustaches to support prostate cancer research - so why not wear pink to support victims of bullying too?
Any thoughts?