January Boxes: Glymm vs. Loose Button
February 22, 2012
My apologies for this super late review! Due to midterms, and the delay in shipment of January boxes, I finally have put together this post for you.

After receiving my first Glymm box back in December, I was interested in checking out other companies within Canada that offer the same type of cosmetic and skincare sampling services. Aside from Glymm (First box review here), Loose Button offers their Luxe Box program to Canadians, offering 4-5 deluxe samples each month for the price of $12, compared to the $10 subscription fee to Glymm. For the month of January, Loose Button was kind enough to send me the box for review.

What should be noted, however, is that Loose Button did have a set back in the shipping of boxes for the month of January, due to a delay in shipment from one of their partner brands. As a result, their shipment was delayed, so they sent an extra goodie box this month as an apology, in addition to upgrading to expedited shipping free of charge.

Now, let's get on with the review!


PACKAGING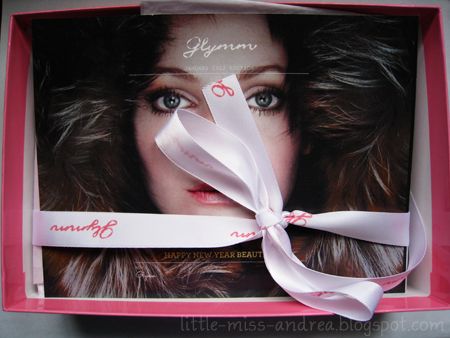 As per usual, the Glymm box arrived in its sturdy pink box with a removable lid. The items on the interior were wrapped nicely with a ribbon, and cards describing the contents of the box. All the items inside arrived safely, sitting snug atop of shopping confetti.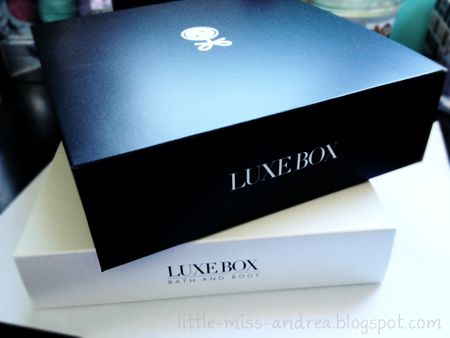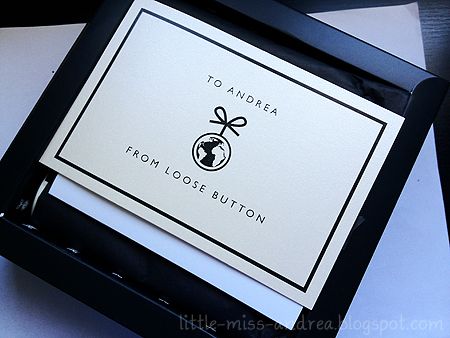 The package sent out by Loose Button was a pleasant surprise to open! The box was personalized with my name printed on a card, and all items were wrapped with tissue, secured with a personalized sticker. The box also came with cards describing the products and where to purchase them. The opening of the box was lackluster for me when compared with the elegant ribbon packaging of the Glymm box, but the personalization was definitely a nice touch! All the items also arrived safely, sitting atop packaging confetti. What's different about the box though, is that it is a pull out style versus the removable top of the Glymm box. After you use up the samples inside, both boxes are great to her around the house to store things!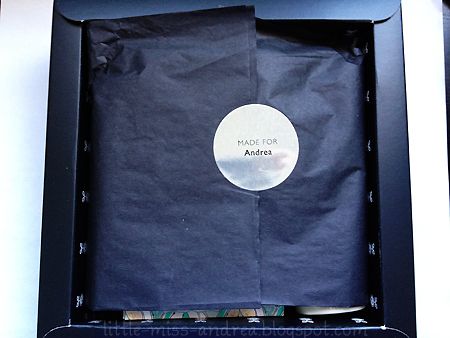 PRODUCTS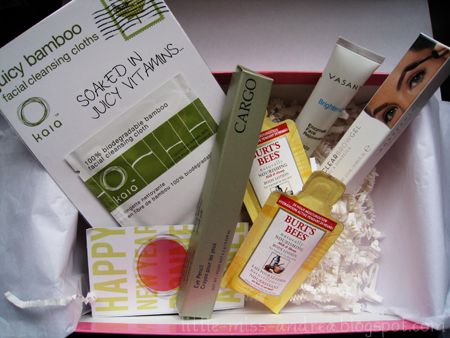 For this month, the products in the Glymm box were: Kaia Bamboo Facial Cleansing Cloths, Anastasia Brow Gel, a Cargo Eye Pencil, Burt's Bees lotion, and Vasanti BrightenUp! Enzymatic Face Rejuvenator. Of the products, one was full size (Eye Pencil), which has a normal value of $16, making this month's box worth the $10 subscription price.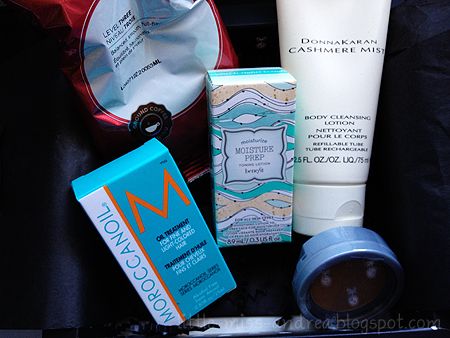 In the Luxe Box, I was sent: a sample of Seattle's Best Coffee, Moroccan Oil, Benefit Moisture Prep, Donna Karan Cashmere Mist Body Cleansing Lotion, and Purminerals Powder. For $12, I would say the samples this month were quite worthwhile, as I can see myself using them often. There's nothing that bothers me more, than receiving tons of perfume samples that I know I will never use!
In the extra box was a sample of the new Schick Hydro Silk Razor & Fekkai Advanced shampoo & conditioner. Yes, definitely worth the $12.
SHIPPING
For as long as I've been subscribed to the Glymm box service, each box has been sent out via Canada Post expedited shipping. I usually receive my box within 2-3 days from Quebec, which is within the delivery standards. I am currently unsure of the shipping method utilized by Loose Button, but I'm assuming it is not expedited, as they automatically upgraded shipping for all boxes this month since they were behind schedule. Either way, shipping for each service is "free" and included within the quoted subscription price.
PRODUCT AVAILABILITY
For Glymm, each month they try their best to send out the same products to each and every customer, so as to maintain constancy in all their boxes. Loose Button, on the other hand, tends to send out different products to each individual, catering to their beauty profile created when signing up for their services. Thus far, I have not received any repeat products, but I have read that some Loose Button subscribers have received the same samples more than once. Personally, I would want to receive different products each month, so as to have the chance to try out a variety of brands. But when you think about it, each company can only collaborate with so many brands, and convince those brands to bring about different products for their customers to sample. It may be quite difficult to secure different products every month, and not have something repeated once within a year.
All the products sent out in Glymm boxes are available for purchase on their website - an easy one stop shop for all your needs. In comparison, Loose Button does not currently have an online store, but each box sent out contains the information about where to get the full size versions of the samples if you so desire!
PRICING & REWARDS
As stated above, Glymm boxes are $10/month, while Luxe Boxes are $12/month. Both are very affordable options, and each subscription is renewed automatically until you request to cancel. Members of each service can also be rewarded! Glymm features a points system, in which points collected can be used towards the purchase of products. Points can be earned through product purchases, referrals, product reviews and subscriptions. The program at Loose Button is a little different, where the referral of three friends gets you a free box.
CUSTOMER SERVICE
From experience, I can say that that customer experience at both companies is excellent. Their representatives work hard to reply to each email, and answer any concerns that customers may have. Each company can be found via email, or through Facebook and Twitter, giving customers access to representatives through a variety of methods.
OVERALL
All in all, I would have to say that both companies are excellent choices for sampling different products in the makeup and skincare field. However, in order to choose and stick with one subscription service, you should definitely take into account the aspect of personalization. For me, I find that the $2 price difference can be accounted for in the way that Loose Button caters to their clients. It takes a significant amount of manpower to personalize each box (lots of printing and organization of the cards & stickers!), and put together products that target the needs expressed in the beauty profile.
If you like to purchase items and be rewarded for doing so (like me, being a hoarder of points!), I would recommend Glymm. They try to provide a wide range of products to test out each month, for anyone looking to just try something different. Loose Button, on the other hand, would be a better option for anyone looking for products to target a specific concern. But of course, it would be good to check out their featured brands ahead of time, to see if they even interest you at all.
TO JOIN
Both services are easy to join! Here's my personal invite link to
Glymm
. For Loose Button, they currently are sold out of subscriptions, so you can sign up for the waitlist
here
.
Are any of you subscribed to these services right now? Let me know!
*this post contains a sample provided by PR for consideration of a review
PS - if you haven't done so yet, enter my
appreciation giveaway!