Manicure Monday: Revlon Whimsical
February 13, 2012
Hi everyone! Hope you all had a wonderful weekend. Today will be the first installment to something I want to do on this blog: Manicure Mondays! Since I do paint my nails once a week, this will be perfect for a more regular posting schedule - it motivates me, and gives you all something to look forward to.

For any of you nail polish fanatics, I'm sure you're no stranger to the amazing glitter polishes that Deborah Lippman produces. Over the past couple months, Revlon has been producing nail polishes to mimic and almost be perfect dupes for Deborah Lippman shades. Although I'm not a big glitter fan, Deborah's shade 'Glitter In the Air' (GITA) was a beauty that instantly captured my attention. Looking at it just makes me happy, and I think of cotton candy!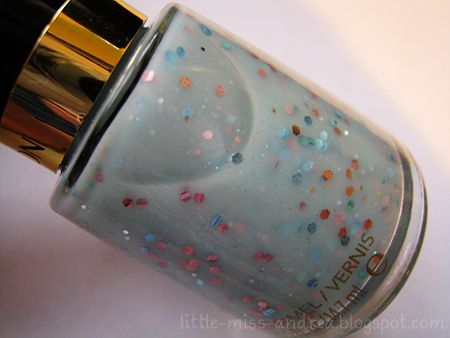 In Canada, Glitter in the Air would cost you $20+ for a bottle.. something that I'm not exactly fond of spending on if I don't have to! When I found that Revlon had produced Whimsical, which on the surface looked exactly like GITA, I set out to hunt it down. I finally found it, and at just under $5!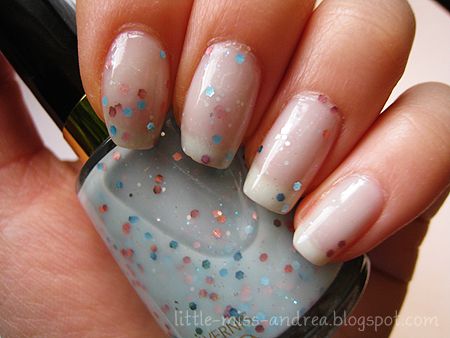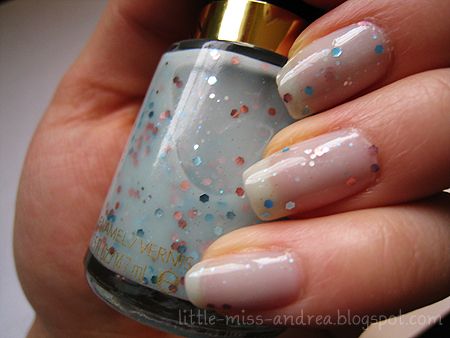 In each picture, Whimsical is seen at three coats, and finished with a top coat to add extra shine. The polish itself is actually quite sheer, and takes time to build up to reach even a degree of opacity. What seems to be a pastel blue base, is actually a faintly blue tinted jelly. This polish would have no problems being layered over any colour, since the base is just that sheer.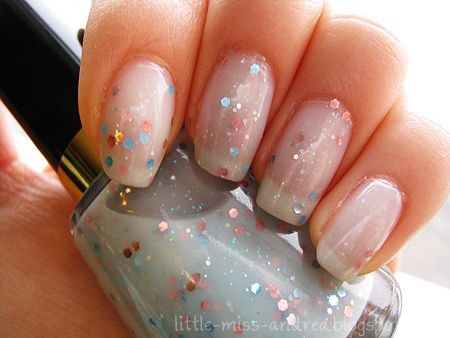 The formula is smooth and easy to use, but I found the polish tended to cluster in an area of the nail if there were any particles on the brush! The formula is a little runnier, and the sparse glitter particles may not always appear on the brush. Take a good look before swiping the colour onto the nail. What's nice is that the formula is easy to maneuver, so you can move the glitter around to your liking.
From what I've read, Whimsical is just about a dead on dupe for Glitter in the Air. And for a quarter of the pricetag of a DL bottle.. I'd say, snatch this up if you see it! Each display only carries two bottles.