Ahava Deadsea Water Mineral Hand Cream
February 10, 2012
Ah, it feels good to be blogging again. Today I have a fantastic hand cream to share with you! To be truthful, this Winter is the first time I've been having issues with dry hands. Sure, your hands can become dry throughout the Winter months, but that usually doesn't happen to me. My skin has been acting up this year, possibly because Winter hasn't decided whether to stay or to go. One week, the weather will dip down to -41 C, and the next the snow is melting and its +5 C. Personally, I like having mild temperatures this year. My skin? Not so much.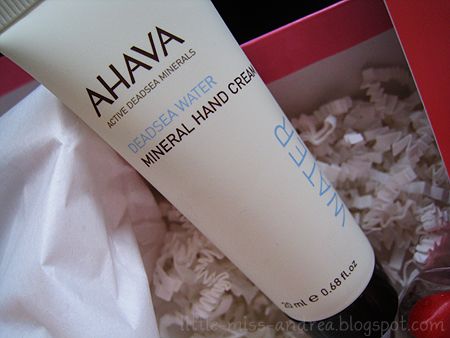 I received the Ahava hand cream in my
December Glymm Box
. I had never heard of the brand prior to receiving it, so I didn't know what to expect.
This particular hand cream is on the thicker side, and is heavily scented. I want to say it smells floral, but my nose likes to trick me. The scent is pleasant, and prevalent for a couple minutes, but you instantly get used to it and continue on with your day. Despite being rich, it spreads very smoothly and absorbs into the skin instantly, without leaving behind a greasy residue. I
hate
when lotions make my hands greasy.
My skin is instantly moisturized and softens up! And it is also suitable for sensitive skin. Perfect for winter, and year round. Highly recommended.. as long as your nose isn't overly sensitive to scented products.
------------
And if you haven't done so yet, enter my
appreciation giveaway!