Up & About Town: Vancouver Day 8
June 08, 2011
Today was about adventure & relaxation. Getting my favourite things to eat, and enjoying the beauty of Vancouver. Sea, sky, mountains, beach, good eats, this place has got it all..

Thai Son Restaurant - Richmond Central - 4653 Garden City Road - Richmond BC


Yet another one of those 'must stop' places for me. You must be getting sick of these. But trust me. If you tried any of these, you would agree.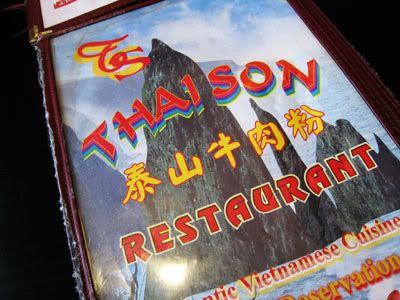 BEST PHO EVER, HANDS DOWN. Enough said.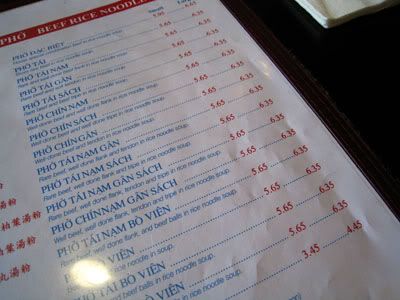 Okay, maybe not enough said. I have to elaborate a little on this one. This place is fantastic. It's a winner in my books for taste, service, price, and celebrity status. Yup, celeb status. They have so many pictures of Hong Kong celebrities coming to their restaurant just to have their pho!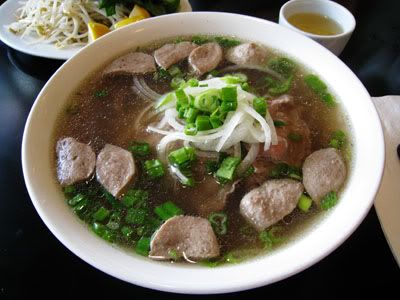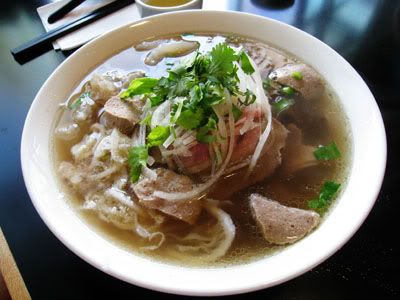 And for a large bowl of steaming hot broth with perfectly cooked noodles at $6.35? If airfare wasn't so expensive, I'd fly down here more often just for this! (well, and my other must stop places too :))
The Boss Bakery & Restaurant - 523 Main Street - Vancouver BC
We headed into Vancouver for the afternoon, and after stopping for a quick haircut downtown, I wanted another bite to eat. What better than my fave pineapple bun with butter?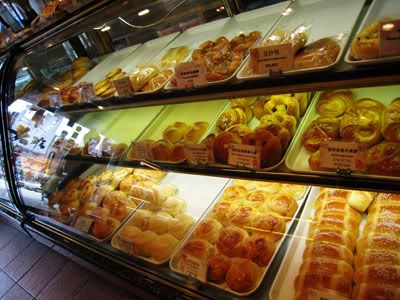 They had an assortment of freshly baked goodies, and all costed around $0.85 - $1.00. Very different to the $1.25 we have to spend at home. And if you buy six or more items, tax is waived!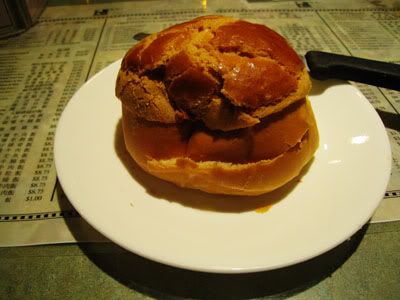 Unfortunately, my pineapple bun was not all I had hoped for. The pineapple bun was perfect. Soft, with crisp toppings.. but the waitress definitely warmed it up too much before putting the butter into the center. Or maybe, she didn't let the bun cool down enough better putting the butter in? Either way, the butter was completely melted and made the bun all soggy! I like having mine warm, but with the butter still solid and cold.. mm, I can feel it clog my arteries. For something I have once a year though, I have no problems with it!
Stanley Park - Vancouver BC
It was a beautiful day in Vancouver, and I wanted to take advantage of the sunny weather by taking a walk by the English Bay, and over in Stanley Park.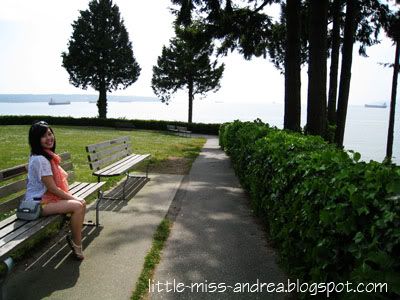 We walked around, and took in the fresh ocean air. I just wish the beaches in our view were a little more sandy, and less rocky. With time, the rocks will erode and produce more sand, I guess :P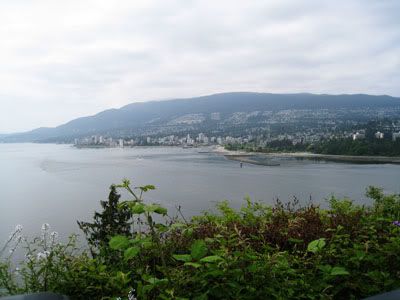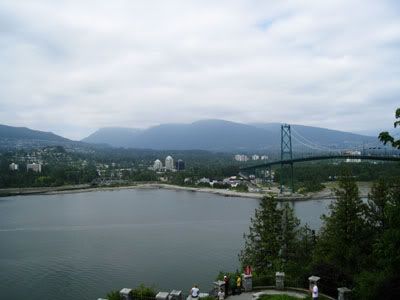 To have such a beautiful preserved greenery in the middle of the city is such a privilege! Stanley Park is one of my favourite places in the city, with the view of mountain, land, and sea. One of my dreams is to own a property facing the ocean! Someday.
Tsawwassen, BC
One of my aunts owns an amazing property out in Tsawwassen. On the drive from Vancouver down to Seattle, you will usually pass by this little area, and it's actually one of the last stops you'll find before getting to the US-CAN border. Nearby her place is actually the border, and there's always signs about trespassing into the US without declaring yourself to a border officer. I've always wondered if immigrants cross the border here into our country, haha. Thought I'd just share a couple pics I took from her backyard.. :) She faces the ocean, and can actually walk straight into it. My dream!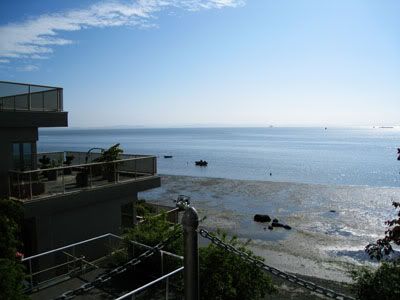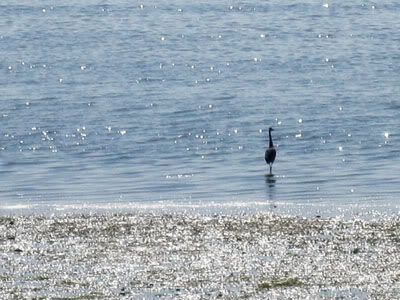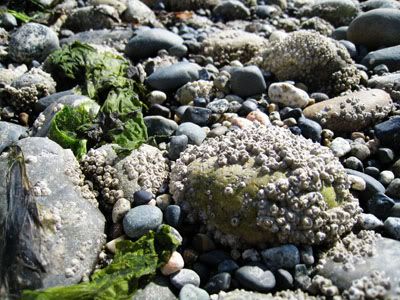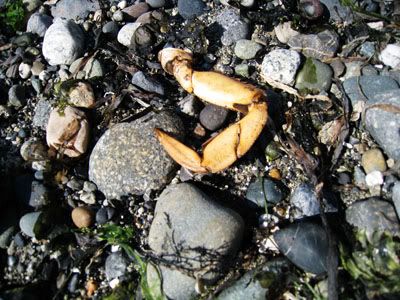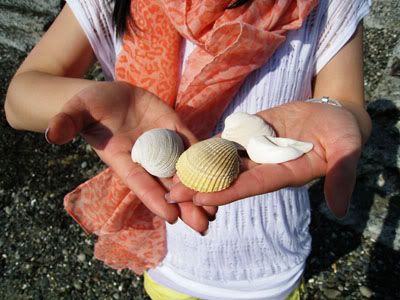 Shanghai River Restaurant- 7831 Westminster Highway - Richmond BC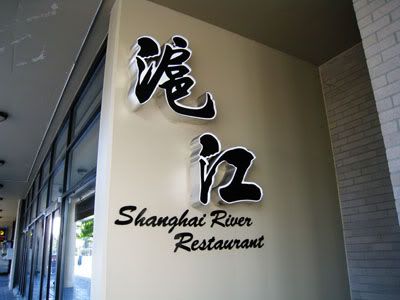 Located right next to the restaurant I ate at the night before, we were up for Shanghai cuisine at the restaurant next door to Happy Sushi.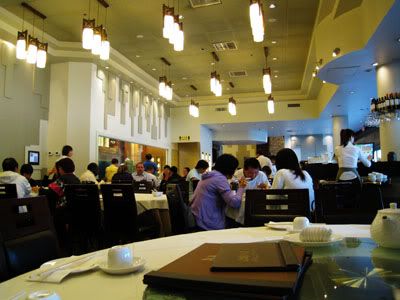 The restaurant was very full, with a long waiting line at the front for those that didn't make reservations for the night. An Asian restaurant bursting with business at dinner hours in Richmond is a GOOD SIGN.
Shanghai food is one thing I look most forward to when I'm in Vancouver. There are maybe 2 restaurants I can name in Edmonton that are classified as Shanghainese, and they are pathetic compared to what can be found here. Generally, I find that food in Edmonton is overpriced, and just mediocre at best. It might be a good thing that I don't live in Vancouver.. I'd be packin' on the pounds everyday!
Although we had a party of 8, we chose to go with the set dinner for 4 people, and add on whichever dishes we really wanted to eat as well.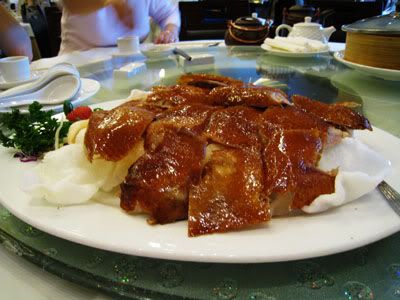 Peking Duck

The necessity, xiao long bao

Stir fried egg with seafood

lettuce wraps

Deep fried dough pastry with condensed milk *favourite!*

Stir fried giant shrimp, given as a replacement dish because they ran out of the baby shrimps (I was devastated..)
The food was great, but I don't think this is my favourite Shanghai restaurant here in Vancouver. My favourite for food would still be Top Shanghai Cuisine (上海一只鼎), but I did find that this restaurant is cleaner, and much more spacious, allowing for a better dining experience. Top Shanghai is much smaller, with cramped seating, but I would recommend their restaurant for the food!

Hard at work making XLB!