IQQU Advanced Sunscreen
June 11, 2011
All throughout this Seattle/Vancouver trip, I took the time to review this sunscreen that I picked up a couple months ago.

IQQU is the brand endorsed by YouTuber and blogger Michelle Phan. I believe that she was the creator of the brand, and had a very influential role in creating the makeup and skincare products that they currently sell. From watching her videos, I learned about the brand, and picked up a couple items back in their 2010 Black Friday promotion (told you I've had this for a while!)

All the products that I have purchased so far are manufactured in Thailand, where the company is based out of. Some of the skincare products have locally sourced ingredients, like tumeric, which is actually supposed to be really good for your skin!


Anyways, my all time favourite sunscreen that I use on a normal basis is the Shiseido Ultimate Sun Protection Lotion SPF 60 PA+++. I love that it has a thin, liquid consistency which makes it easy to apply, and dries completely matte on the skin, giving a nice, smooth finish. It has full UVA/UVB protection, and is waterproof, which I love! This one was recommended to me for my combination skin, and is also ideal for oily skin. If you have drier skin, the cream version is a better alternative.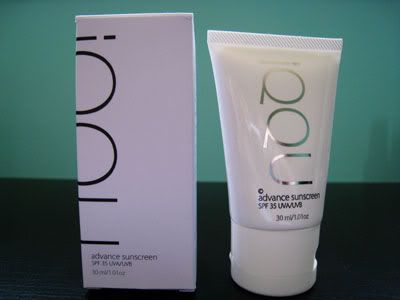 I picked out IQQU's particular sunscreen because it had so many positive reviews on the website itself. When it arrived, I was pretty surprised with the size - it was much smaller than I had expected ($25 for 30 ml)! But for skincare items, I do tend to splurge, and if it's a good product, the money is worth it in the end!
So over the past two weeks, I've actually enjoyed using this product. It has a mousse-like consistency, and spreads out evenly on the skin to leave behind a silky smooth, matte finish. However, it does seem to leave a bit of a white cast behind, which I wasn't too fond of, especially on days where I was putting makeup overtop. My skin did dry out a little bit, but I'm not sure if that was due to the product, or my skin adjusting to a more humid climate.. but shouldn't a place with higher humidity give skin more moisture? Because of this, I would probably use this sunscreen in the hotter summer months, like July & August!
The product will last a long time (expiring in 2014, wow), and feels nice on the skin. I would definitely check it out if you're looking for a mattifying sunscreen for the summer. It makes your skin feel oh so nice :) I am in no way affiliated with IQQU, but you can check out the products at
their website here.