Gorging: Vancouver Day 7
June 07, 2011
Man. I even surprise myself at times. I seriously cannot explain where all the food I eat goes. Having such a small frame, I wonder exactly how large my stomach happens to be... And yes, everything in this post was eaten today.

Good Eat Seafood Restaurant - 8111 Leslie Road - Richmond BC


Dim sum, why can't you be delicious and at a good price up in Edmonton? Back at home, I rarely go out for dim sum with family and friends because the food is pricey, and it just doesn't taste good. It's incomparable with the amazing counterparts that you can find in Vancouver, not to mention Calgary beats us in the dim sum category. If I have no choice, I go to Delicious Delicious in the west end of the city, but I've heard they don't taste as good as they used to anymore. Where will I get my fix? I guess I should come down to Vancouver more often..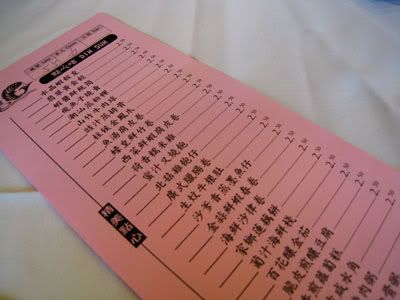 At $2.50 a pop, my eyes were bigger than my stomach. This is nothing compared to the $3.95 back at home!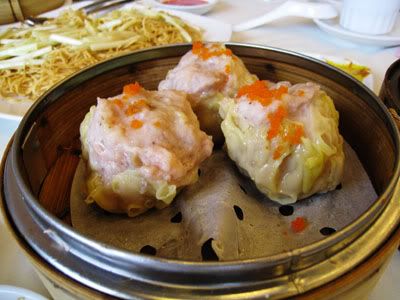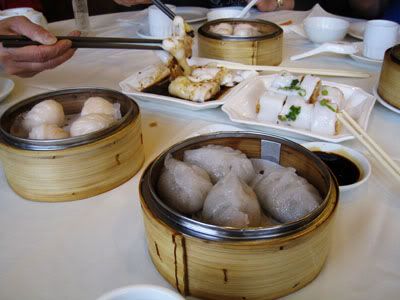 Aberdeen Centre - 4151 Hazelbridge Way - Richmond BC
Another must visit place on my trips to Vancity! I only had 2 goals to achieve at Aberdeen, one was to visit Daiso, the second was to hit up the food court.
I picked up a couple goodies after checking out their thousands of items spread between two floors, and proceeded to the food court. I know I wasn't hungry, but I really wanted to get my favourite dessert!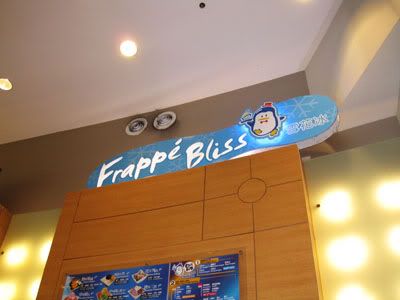 Mmm, Frappe Bliss. Here they serve a unique twist on the traditional shaved ice, by making a flavoured, creamy ice. They have a special machine that shaves down the ice to give it a light, feathery texture, and you can choose from a variety of toppings to add on and enjoy.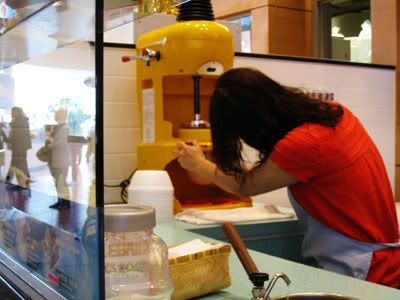 Once you put it in your mouth, it melts into a delicious cream, reminiscent of ice cream! My favourite combo is the mango shaved ice, topped with aloe vera pieces and slices of peach. So good, especially in the summer time when its hot out!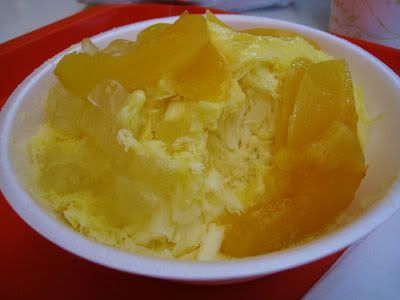 As you can see, the shaved ice comes in a huge portion, and looks really fluffy. It is! It's really light, and a lovely dessert. Their ice comes in multiple flavours, like yogurt, strawberry, green tea and peanut, just to name a few :) You can only find them in BC right now, so make sure to try them out when you visit Aberdeen!
Vince's snack of choice was found at Qoola, the self serve frozen yogurt place. I thought he was being really weird, considering that the frozen yogurt concept was nothing new to him, and he loves being adventurous...
They did have unique flavours available, and he went for peach mango. I guess that's what drew him in. They only offer four different flavours, but a bounty of toppings that were new to us.
Unlike places such as Twisted Yogurt and Kiwi Kiss up in Edmonton, this frozen yogurt place offers what I like to call "Asian inspired" toppings, which you can't find anywhere else. Their toppings included the popular mochi, an assortment of coconut and lychee jellies, grass jelly, dragonfruit, and condensed milk, just to name a few of their 20+ toppings. I wasn't too impressed with the flavour of the yogurt itself though, which is why I always stick to classic tart :)
Happy Sushi - 7831 Westminster Highway - Richmond BC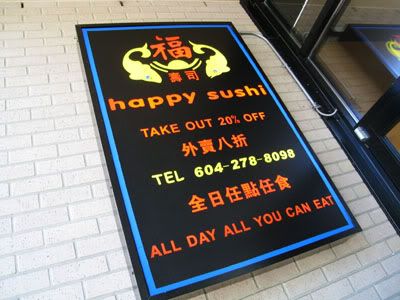 Anyone noticing my trend yet? Everything I eat is in Richmond! After a quick break back where we were staying, it was time to head out with some family and have dinner. We went out early around 6:00 to check out a sushi restaurant I had never been to before: Happy Sushi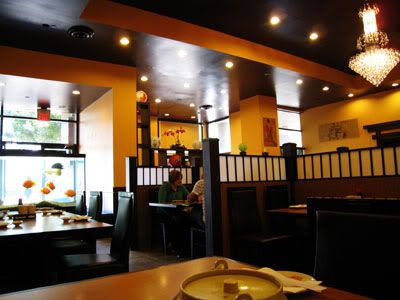 It was nice and quiet inside the restaurant, which had be worried for a moment, before remembering that people in Richmond tend to eat dinner later in the night. As time passed, the tables rapidly filled up and the restaurant was busy!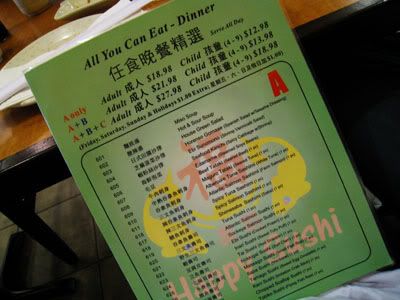 For the dinnertime All You Can Eat (AYCE) sushi, there are three options available. Their menu consists of three sections, A, B, and C, and the price that you pay per person depends on the combinations of menu items you'd like to order. So basically, going with menu A amounts to $18.98 per person, whereas choosing menus A, B, and C amounts to $27.98 per person. Menu B & C featured sushi on the more extravagant side, using things like shark fin and sea urchin, but we all thought menu A was sufficient enough, since it already featured over 120 different items.
I was a little too busy stuffing myself, but here's a peak at what we had..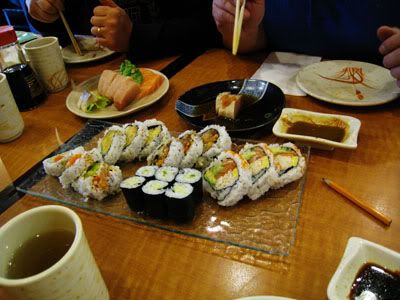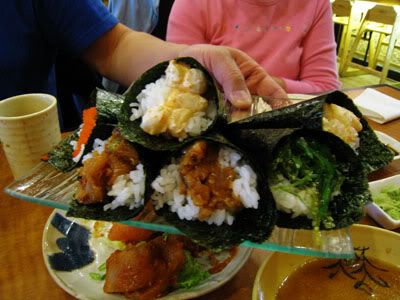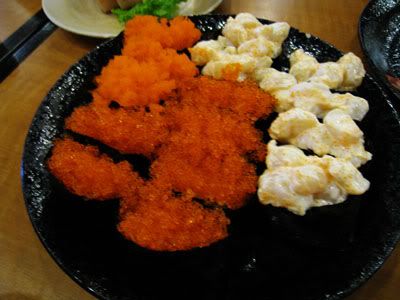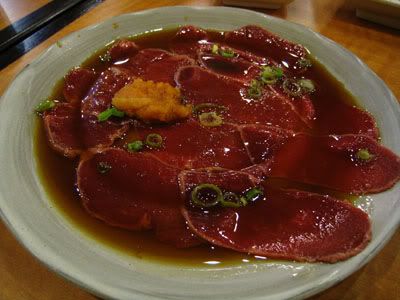 I highly recommend checking out this restaurant! The quality of food and service was great at the price of $19. The sashimi was fresh and cut thickly, and the beef tataki was tender and tasted amazing (you know I had tons!). I can't wait to come back here!
West Dyke Trail - Richmond BC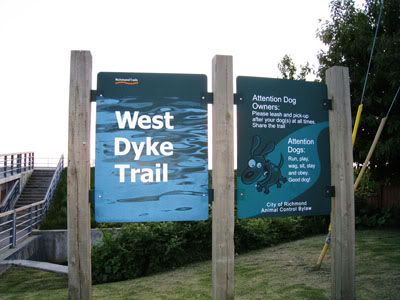 After dinner, I really needed a walk to make myself feel less bloated. We drove around Richmond exploring the area, and ended up at this beautiful spot to watch the sunset.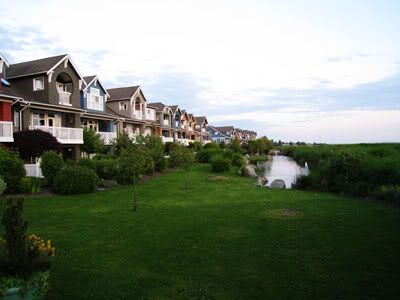 Although the housing here is beautiful and faces the ocean, the dykes contain water that will not flow, and it makes it kinda stinky. I guess it's a trade off for the people that live here! In the past, the dykes were built to prevent flooding, and keep the seawater from coming near the housing. But now that areas are being redeveloped, many of these ditches are being covered up instead. My uncle actually told me there used to be a dyke outside of his old home, and watercress *the vegetable* grew in there!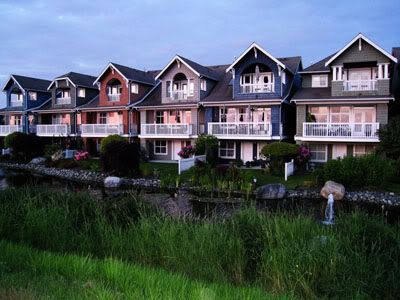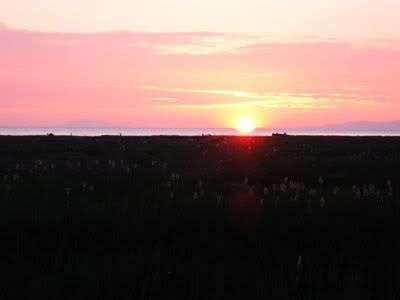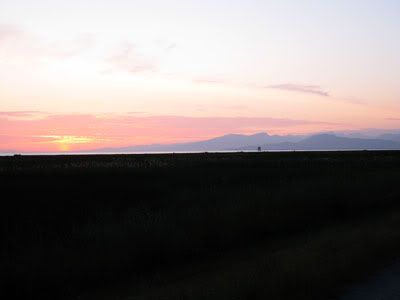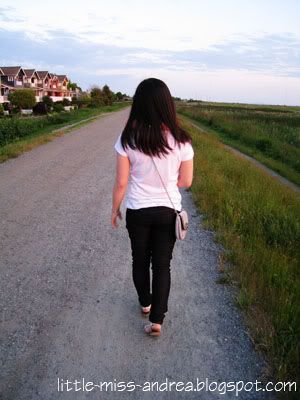 T & Jeans by F21 - Shoes by Aldo - Bag by Coach
Tomorrow's our last day in Vancouver, stay tuned for more good eats!