Headin' Home: Day 9
June 09, 2011
End of the trip already? Time really flies when you're just relaxing and having fun.. work days always seem to drag on forever. But I'm really thankful to have had this opportunity to spend some quality time with my family and see relatives that I haven't seen in 4+ years!

Kam Do Restaurant & Bakery - 8391 Alexandra Road - Richmond BC

I know that the drive back to Edmonton from Vancouver is approximately 12 hours, and with the time zone difference, it seems like it's 13! But yesterday night, we decided to get adequate sleep, and leave the city around 10 am, targetting to be home around 1130 pm local time.

Road trips with my family equate to driving long distances with as few stops as possible. We pack large amounts of food to be eaten in the car, and stop only when nature calls! That's why we found ourselves here this morning.


Good ol' Kam Do Restaurant.. back in the day this place was bustlin' full of people, we had to stand and wait for a table! Nowadays, the place is a little run down, and you can be seated at a table immediately. I suppose it's because more and more HK style breakfast places have opened up in the area, but we still stay true to this place. Plus, they have some of the best wife cake pastries around!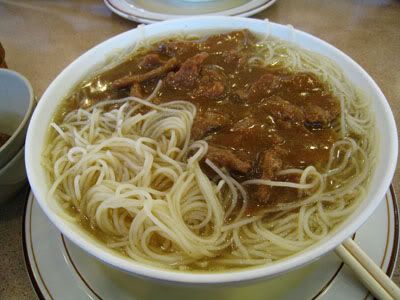 Vince and I ordered the big bowl breakfast to share - satay beef vermicelli noodle soup with a side of sirloin steak, eggs, and a bun. How could someone eat this entire meal?! Altogether this costs about $8, and a heck of a deal if you ask me. Both of us were full!
Although Kam Do is not the most exciting place to be anymore, it's still a nice place to visit time & time again. It's like that one shirt you keep in your closet that you always wear, even though it's worn out, sheer, and maybe with a couple little holes. It's comfortable, and something you go to! Well, that, and also that we will be able to last in the car for a longer distance before stopping, hah.