Benefit Hello Flawless Oxygen WOW Liquid Foundation
August 01, 2012
Oh, Benefit. My very first high end beauty brand I purchased from, and definitely one of my favourite companies out there - both for products and packaging.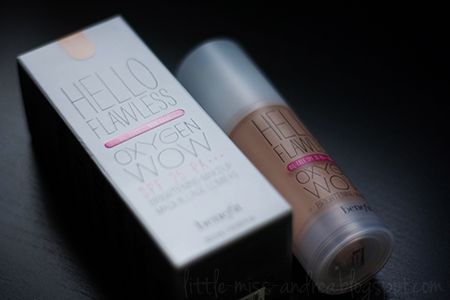 I'm a big fan of Benefit's Hello Flawless Powder Foundation, so when the liquid version came out at the beginning of this year, I sought out to buy the product. However, this product is not available in Canada (boo), so I had to ask a friend in the States to bring it home for me. Whether fortunate or unfortunate, it was too dark of a shade for me to wear in the winter/summer months, and now I've finally picked up enough natural colour to match the foundation shade.
What really got me interested in this particular foundation though, is that the description put out by Benefit made it sound almost like a BB Cream. The product promised to have brightening effects, sun protection, coverage and moisturizing capabilities, while having anti-aging properties as well. Sound familiar? Basically the textbook definition of a BB Cream.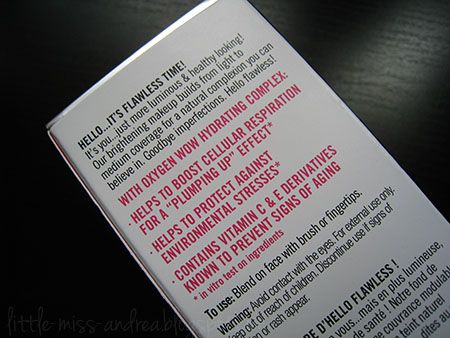 The powder version of this foundation that I use is in the shade 'I'm Cute as a Bunny, Honey", which is the perfect shade for me right now. Based on the colour swatches available on the Sephora website, I figured the Honey shade in the liquid would be too dark for me, so I went for Champagne. Definitely a good call on my part, since Champagne is a good shade on me right now.. but things will change come winter time. It's really unfortunate that the powder and liquid foundation shades do not correspond to one another, as it makes purchasing so much more difficult.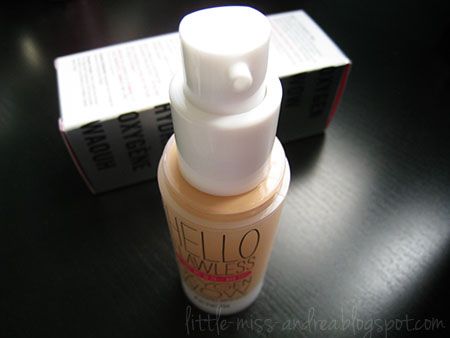 Now to the packaging. When I opened up the box, the size of the product was much smaller than I had imagined. With the
Skin 79 BB Creams
, the pump dispenser is substantially sized, and it feels like you're getting a lot of product. The Benefit pump dispenser is quite small in comparison to the box, and you're not getting the amount of product that the box size conveys. What I do like though, is that you are able to see the amount of product remaining, and the pressure pump mechanism ensures that you are getting use of all the product, as the bottom will slowly rise up and show the decreasing amount overtime with use.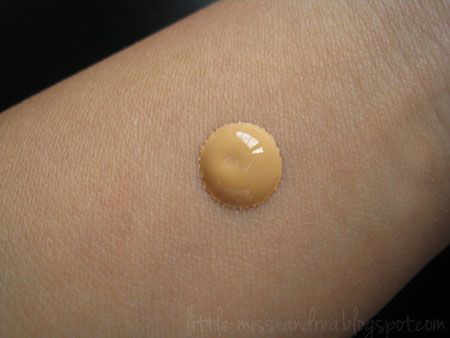 As you see in the picture, 'Cheers to Me Champagne" is fairly dark, and probably the darkest that I will become all summer. The yellow undertones compliment my skin very well, making it a great shade for the summertime. As you can see, the product is very wet and liquid - almost runny, but by no means watered down as it is quite pigmented. I only use about a third of a pump to cover myself entirely, which allows the product to even out my skintone and give it a bit of colour. A little extra dabs here and amount of product lead me to full coverage, so I don't even need to use a concealer for the day.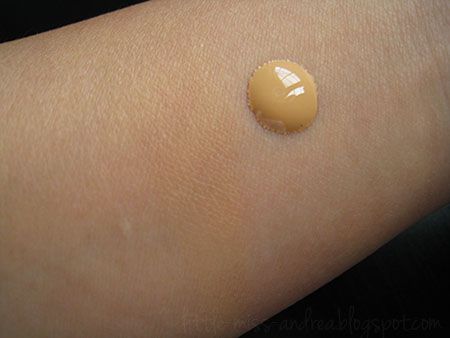 The product is blended out to the left of the swatch in the picture, and you can see that the product does blend out quite smoothly. There is enough time to fully blend it in with your fingers (which I find to be better as the product will adhere better and is longer wearing) before fully drying. I am left with a dewy finish on my skin, which is nothing that a translucent powder cannot fix. The product really is moisturizing, but doesn't make me overly oily throughout the day. It definitely lasts a full 8 hours of wear, and does not oxidize or change colours on my skin. The product really is lightweight, and the addition of SPF gets huge marks from me. My skin does look a bit brighter, and for using such a small amount of product, the coverage is amazing. The only real downside would be the price, where you pay $42 CAD for 1 oz of product.
As mentioned before, this product currently is not available in store in Canada (but can be purchased online), but should hit the shelves at Canadian Sephora locations within the next 1-2 weeks. Locations currently have sample sizes and shade matching services available for you to try it out! I definitely will continue to use this liquid foundation as it works well for me, and with the wide range of shades available, I hope you can find one that works for you too!