A while back as I was driving home along Calgary Trail, I noticed there was a new restaurant on the left hand side, but knowing me, I was driving too fast to figure out what the bright sign was trying to tell me. A couple days later, I realized it was a new Thai restaurant in town and I definitely had to check it out!
Lannathai Cuisine - 7219 104 Street - Edmonton AB
I remember going to Unforgettable Chinese Restaurant which used to occupy this space about a year and a half ago, and trust me, ignore the name cause it really was a forgettable dinner that I had there. It was great seeing a fresh new restaurant in it's place, spacious and brightly lit inside. My mother
always
begs me to take her out and try new restaurants, so this was the perfect option for her birthday dinner with my family.
As we sat down, there was only one other table occupied at dinner time. The table was clean and set nicely, and our server promptly brought menus and informed us of the specials for the night. I typically have a couple favourite Thai dishes, and if you've followed me long enough, you can probably name them out - pad thai, papaya salad, pad kee mao, tom yum soup & mango sticky rice. Lucky for me, they were all on the menu.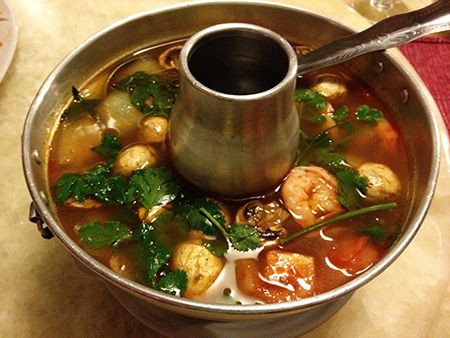 Starting off with the Tom Yum Koong ($13.95) it came out piping hot in the traditional pot to keep it warm throughout the meal. The flavours were strong, the herbs were fragrant, and the broth itself was not too spicy or salty which started off our dinner just right.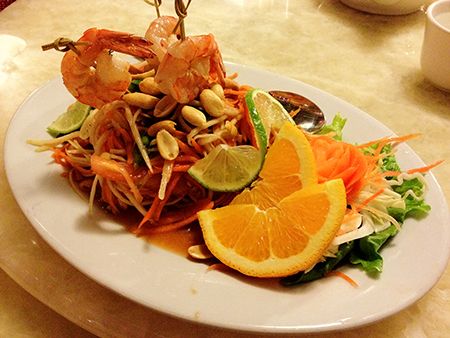 Next up was the papaya salad ($10.95), and this dish really packed the heat. The salad also had lots of julienned carrots, sliced tomatoes & bean sprouts, which is a little different from the salads typically seen in Edmonton. It was nice to have it served with some cabbage leaves which helped with neutralizing the spiciness, but I really could do without the portion of carrots, or have a smaller proportion. I found the carrot flavour to be overpowering, when I really wanted to be tasting the dressing. The vegetables were, however, very fresh, and the dish had a great presentation.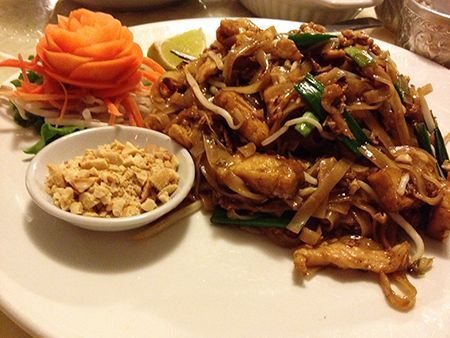 The Pad Thai ($13.95) arrived just as we were finishing up our salad, and we were pretty surprised with the size of the dish - it was quite a bit larger than we had expected. The noodles were tender, not sticky (I HATE when noodles stick together!), and there was a nice ratio of chicken and sprouts to the noodles. The chicken was tender, and with the lime juice added on top it was a nice dish.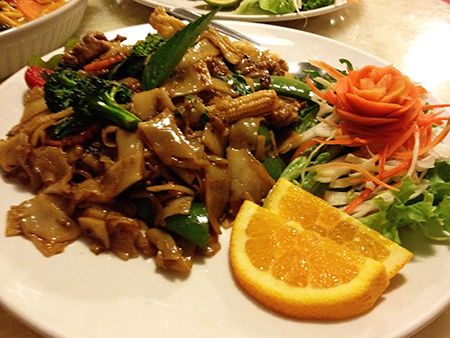 Drunken Noodles ($13.95) are usually my favourite noodle dishes because I love the taste that the basil gives to the dish. Lannathai's version definitely did not disappoint, and it was my favourite dish of the night. The broad noodles were coated nicely in sauce, and not too oily. The vegetables in the dish picked up the flavours really well and still had bite to them, giving a nice contrast in textures in the dish.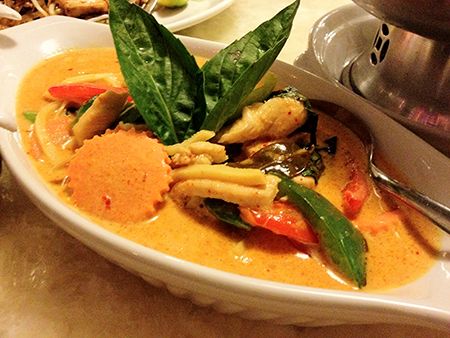 I am not a Thai curry person. The Thai culture is known so well for their curries, but I really don't enjoy curry unless it's Indian curry. We did order the Gang Dang (Red Curry, $14.95) though, for the sake of everyone else at the table, and they agreed the spiciness and flavours worked well together. However, it was a little bit too sweet for their liking - perhaps a little heavy on the coconut milk? We ordered small bowls of steamed rice ($2.00) and coconut rice ($2.50) which both turned out to be really big (capable of serving at least 2 people). Makes me wonder how big a large bowl is.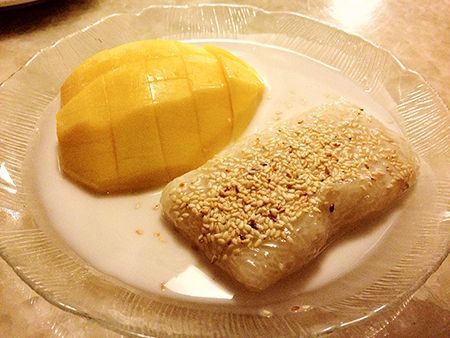 At the end of the meal, we were all quite stuffed, but as always, I had room for dessert. We ordered the Sweet Rice Mango ($5.99) for us to share, but I was a little disappointed. While the mango was sweet, the rice was so salty! So overly salty that we gave up on the rice halfway through and focused on the mango by itself. Typically the rice is supposed to have a bit of a salty taste to it to bring out the flavours of the mango, but they were definitely a little too heavy with the salt on this one.
All in all, it was a nice meal at Lannathai, and the family had a great evening. The server was friendly, and was able to check in on us frequently throughout the meal. What I like about this restaurant is the portion sizes for the price that you pay. Thai food is known to be on the expensive side with small portions, but with competitive pricing to other Thai restaurants, Lannathai has the biggest plates I've seen so far. You get a good deal, and the food is good. It's unfortunate though that they are on Calgary Trail in a location that many people often drive by without noticing. They do have a big sign out in front though, so if you have a chance, stop by and give them a try!