Louisiana Purchase (w/ a Giveaway!)
August 05, 2012
A couple weeks back, I was invited to Louisiana Purchase to check out the restaurant and live entertainment. Having heard many great things about the establishment in the past, it was already had a place on my list of restaurants to try out in Edmonton, so I couldn't pass up the opportunity. With live entertainment scheduled for that Saturday night, off I went for a late dinner with my good friend Ray.


Louisiana Purchase is no stranger to the food scene in Edmonton, having been owned and operated locally since 1989. Just recently they have begun to have live entertainment starting at 9:30 on Saturday nights which can really draw a crowd.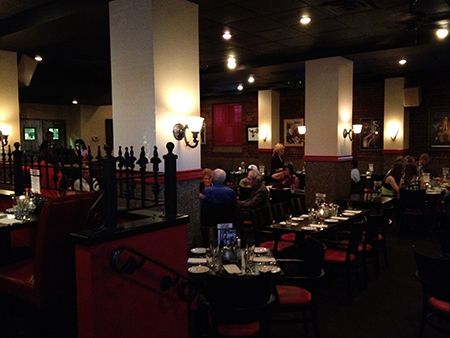 So we arrived around 8:45 PM to settle in and check things out, to find that the restaurant was about half full - nice to see that its still relatively busy past the dinner rush. Louisiana Purchase is located quite centrally in the downtown core, so I honestly was not expecting it to be too busy since the Street Performers Festival was going on. The weather was beautiful that evening, so the doors remained open to the patio, allowing a nice summer breeze to come into the restaurant.
Various portions of the restaurant are decorated in brick, giving it a rustic feel, but the black and red decor inside makes it feel more upscale, like you're dining in a jazz bar. The environment really takes you to the roots of where Cajun and Creole cuisine originate from. Not to mention, the croc printed menu cover makes me think of all those alligators down in New Orleans!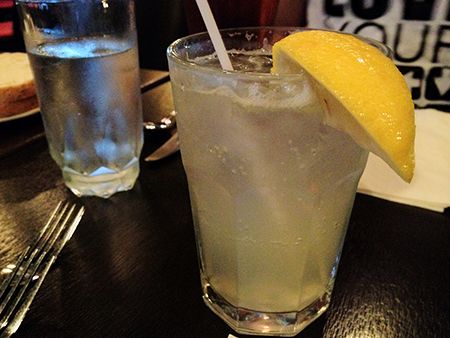 To start off, I ordered a freshly squeezed lemonade ($3.75), and it was definitely packed with fresh lemon juice. My lips puckered from the sour juice, but it ended up working really well to tone down some of the spicy dishes.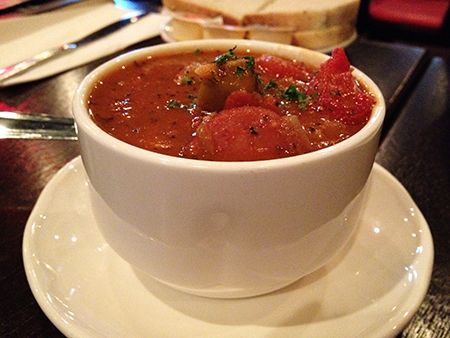 For dinner we had decided to do a sampling of different dishes so we could try out as many items as we could. Or perhaps it was because I couldn't decide on what to order cause I wanted to try everything... :) First up was a cup of chicken & sausage gumbo ($5.95), which arrived nice and hot to the table. The roux-based stew was hearty, with a nice ratio of protein to liquid. I would suggest taking one cup to share between two people if another appetizer is ordered, just because one cup can be pretty filling!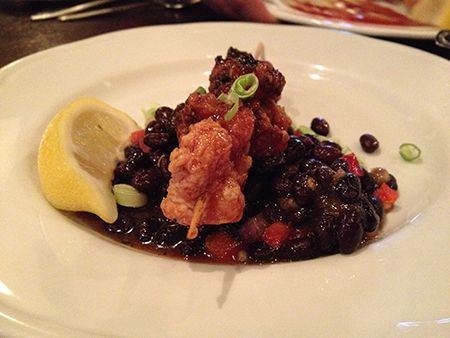 One thing I was really looking forward to trying was the alligator kebab ($10.95) - legit gator meat on a stick! Who doesn't love meat on a stick? I've always wondered if it really does taste like chicken, cause everyone says that. Ladies and gentlemen, yes, it does taste like chicken, but the texture is chewier. I actually quite enjoyed it, as it was tender, and had a bit of spiciness to it. The black bean salsa it was served with was sweet, which added another element of surprise.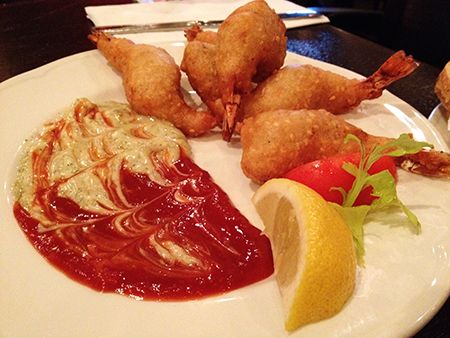 Beer battered shrimp ($10.95) were up next on the sampling tour, and were seasoned perfectly. The fried coating was golden and crisp, and it wasn't necessary to use the provided lemon slice as the shrimp tasted great. The sauce on the other hand was a nice way to change up the flavour.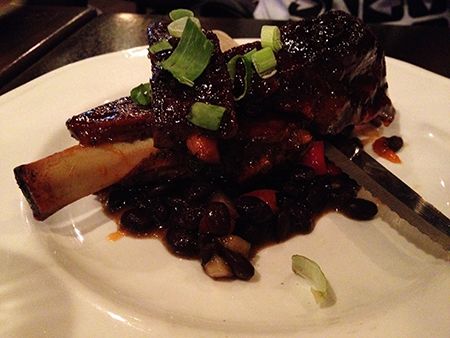 Dem bones ($10.95)! I really just wanted this dish because the name was so cute, but sweet glazed pork riblets were a welcome addition to the table. The ribs were cooked so that the meat easily came off the bone, and it wasn't overly sweet. Served with a black bean & mango salsa, eating the meat and the salsa together made it a little too sweet for my liking. Separate? No problems.
At this point, we were waiting for the mains to arrive to the table when the manager on duty surprised us with fresh oysters on the shell. Uh oh. Seafood for one thing is a bit of a no-no in my life, but RAW? It was another one of those nights where I would be experiencing a first. The thought of slimy seafood was enough to be gag-inducing, but Ray promised to eat his right at the same time as me. On the count of three, there went his oyster into his mouth. Mine? Stuck on the shell.. Ohhh no, a rookie mistake. So yes, I did have to eat it all by myself, and now I am a total convert cause it was quite tasty! Had I not used the provided spicy seafood sauce and lemon, it may have been a different story.. but long story short, it was good.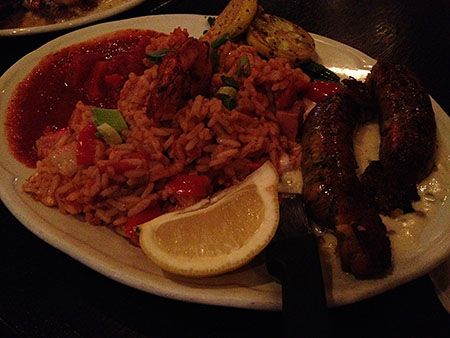 Our entrees arrived at our table as half orders, and the first one up was a combination of the Louisiana Jambalaya and Crawfish-Salmon-Shrimp Boudin. The jambalaya was awesome - seasoned well, rice was tender but not too soft, chicken and sausages were tender, and the dish was served with enough sauce to cover it all. The boudin itself is made with the crawfish, salmon, shrimp and rice, then served with a peppercorn cream sauce. The boudin was spiced very well, not being too strong to overpower the seafood, but I've never been a fan of the texture itself. It was very soft, and couldn't really hold itself together - therefore, eating it was a bit of a challenge.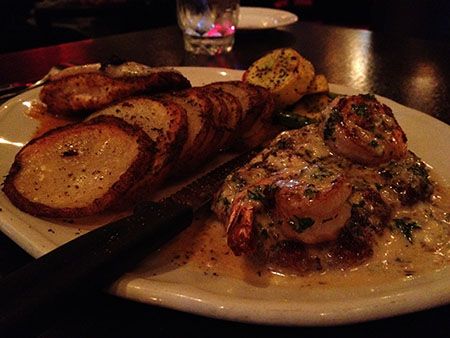 Next up was a combination plate of Cottonpikin' Chicken and Pecan Pork Medallions. The chicken is grilled with smoked back bacon, and topped with provolone cheese, served with an ancho chili sauce. When it first arrived at the table, the cheese was beautifully melted and you could really taste the smoked back bacon. It kind of seemed like a backwards chicken cordon bleu! But once the dish cools down, it really doesn't taste as good and the chicken does harden up - you need to eat this one quick! The pork medallions (pecan crusted pork tenderloin, topped with jumbo shrimp and smoked chipotle pepper butter-cream) were tender, but I was expecting more of a crunch (of the deep fried variety) upon biting into them. Because they're just coated in crushed pecans, you don't exactly get a crunch, but rather a mixture of textures. Had it been crunchy like I expected (maybe adding in some panko?), I probably would have enjoyed them more.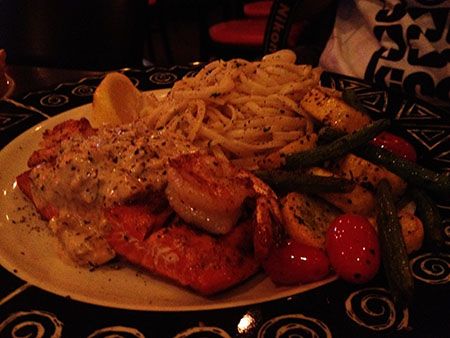 Last but not least, we ordered the dinner special for the night: Grilled fresh sockeye salmon with 3 shrimp, and a chipotle-fennel tartar sauce, served with pasta and seasonal vegetables for $25. Typically there are different dinner specials each night, and from what I've observed, they usually involve fresh fish. All the fish used in the restaurant is sourced from Fin's in Sherwood Park, and I found the sockeye to be cooked perfectly and very fresh. However, the pasta it was served with was pretty bland, and would have been better if served with a sauce on top.
At this point, I honestly was so full and ready to burst (as always...), but one of the owners convinced me to look at the dessert menu as just about everything is made in house! I am absolutely thankful he did, because the dessert was absolutely amazing. First up was Bread Pudding ($7.50), which I can be really picky about - but this one was fantastic. The bread pudding was warm, and sitting in quite a watery sauce. However, the sauce wasn't too sweet, and the spices worked so well to compliment the moist bread portion. Highly recommend this one if you don't like your desserts too sweet.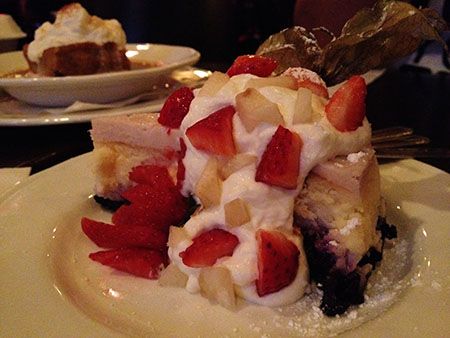 Last but not least, we had the Saskatoon Berry Cheesecake ($7.50). Sorry I have to say this, but holy freakin' amaze balls this cake was GOOD. Not only was it a huge piece of cheesecake, but when you look at it, it doesn't even look like there's saskatoons in there - I thought I just heard wrong and it was supposed to be strawberry. But with the first bite, I was in love. The saskatoons are hiding down at the very bottom, acting as a large proportion of the crust, while the cheesecake is nice and light. It wasn't dense, but just perfectly light and so smooth. I definitely will be back for this cake, and can't even imagine how fabulous all the other desserts probably taste.
All in all, it really was a wonderful meal on a Saturday night, especially when your entertainment is included - great for a date night! Our server was attentive, friendly, and knew the menu inside and out. I should also mention - every Monday and Tuesday is Jambalaya Night! For $10 you can get an order of Louisiana Jambalaya, which is an awesome deal considering it is typically $15.95. I know that I'll be back for more of those oysters.. and of course to try out many more desserts.
Disclaimer: as I was invited to try the restaurant, views expressed in this post are solely mine. This post is 100% my opinion, and as always, my priority is to you, the reader, to present an unbiased, thorough review

-------------------------------------------
Now if you've read all the way down to here, congratulations! I know this was an insanely long review, and to reward you, Louisiana Purchase has offered up two $30 Gift Cards for my readers! That's enough for 3 plates of jambalaya on Mondays and Tuesdays! Hah :)
MANDATORY ENTRY
For one entry, take a look at the
menu at Louisiana Purchase
, and let me know what you would order if you won the gift card! Or alternatively, let me know what you'd like to see on the menu!
ADDITIONAL ENTRIES
1. Follow my blog via Google Friend Connect in the sidebar (+1 Entry)
2. Follow me via Twitter (
@littlmissandrea
) (+1 Entry)
3. Follow Lousiana Purchase via Twitter (
@CajunCreoleEats
) (+1 Entry)
4. Like Louisiana Purchase on
Facebook
(+1 Entry)
5. Tweet "Enter @littlmissandrea's giveaway to win a $30 Gift Card to Louisiana Purchase @CajunCreoleEats! #yegfood" (+2 entries)
RULES
This giveaway is open to residents of Alberta over 18+ years of age, that will be able to make it to the restaurant to utilize the gift card. Entries will be accepted until 10:01 PM MST September 2, 2012. All entries must be entered into the Rafflecopter Widget below to count. That's it! Good luck! :)
a Rafflecopter giveaway