Manicure Monday: Teal the Tide Turns
March 17, 2014
Happy Monday! Or shall I say Happy Green Beer Day? I'm not a huge fan of St. Patrick's day (especially after my elementary school teacher made us clean up the mess that the "leprechaun" left behind), but I'll definitely sport a bit of green to avoid being pinched!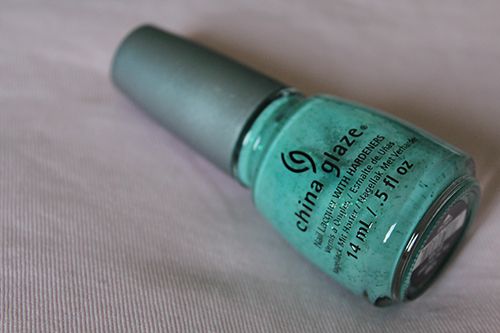 So the green for me today is Teal the Tide Turns from the China Glaze Sea Goddess collection for Spring 2014. Like its counterparts
Tail Me Something
and
Wish on a Starfish
, this polish is textured and chock full of sparkles. Two coats of polish doesn't reach full opacity and it actually has a bit of a shiny finish. If you look closely, it's almost as if there's less of the textured material which gives this polish a glossy look. The texture is same as the other two, but I like the finish of this one better. The formula is easy to work with and surprisingly really easy to remove, so definitely pick this one up if you like the colour! Available via
Nail Polish Canada
.
*Disclosure: This product was sent for consideration of a review.