Wine & Spuntini: BAR BRICCO
March 29, 2014
I could argue that the most anticipated opening of early 2014 in Edmonton belonged to Bar Bricco. And I would probably be right. Right after it was announced that Daniel Costa was getting ready to open a second and third (!!!) restaurant, I was over the moon. Corso 32 is one of my favourite dining spots in Edmonton and I couldn't have been more excited for the arrival of Bar Bricco.

Bar Bricco - 10347 Jasper Avenue - Edmonton AB


Located next door to Corso 32 on Jasper Avenue, Bar Bricco labels itself as an Italian wine & spuntini bar. Modelled after those in Italy, spuntini bars are places where you start your evening or wind down at the end of the night with small plates and a few glasses of wine. I've already joked that I should make a late night reservation at Corso 32 and start off at Bar Bricco... but knowing me, it'll become a reality.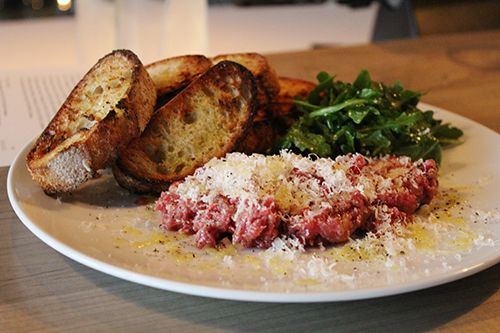 We started off our evening with the Carne Cruda Piemontese ($16), which is essentially steak tartare without the egg. In Piemont they use a combination of lemon juice, olive oil, salt and pepper to season the meat, and Bar Bricco's version is also seasoned with truffle oil and topped with Vache Rosso (a type of parmesan). Served with a portion of arugula and crisp crostini, this was my favourite dish of the evening.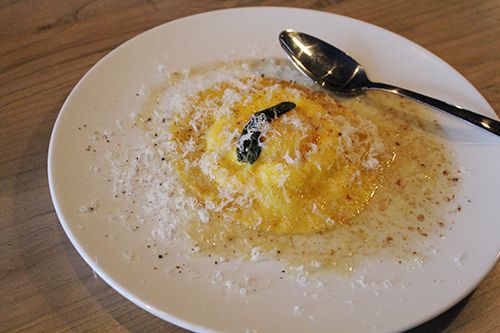 Egg Yolk Raviolo ($13) is one of those dishes that I love to indulge in from time to time. A single egg yolk is surrounded by housemade ricotta before being enveloped by pasta dough. Being so delicate, one single cut releases the delicious, oozing yolk. The raviolo is rich and creamy thanks to the cheese and egg yolk, and is so good paired with the sage butter and grated parmesan.
Next up was the dish I was most looking forward to: The Salumi Tasting Board ($23). On the board was an assortment of cured meats (mainly imported from Italy), which included Speck (smoked prosciutto), Mortadella, Prosciutto di Parma, Finocchiona (tuscan salami) and housemade Porchetta. Four portions of each variety were placed on the board and served with housemade grissini breadsticks and warm slices of bread. It was so great to be able to sit and relax, nibbling on the salumi and taking in all the calories (so unhealthy but so good!). Out of everything we were served, my boyfriend and I both agreed that the two prosciuttos were our favourite. We didn't enjoy the porchetta as much since it was lightly seasoned and felt quite fatty with each bite.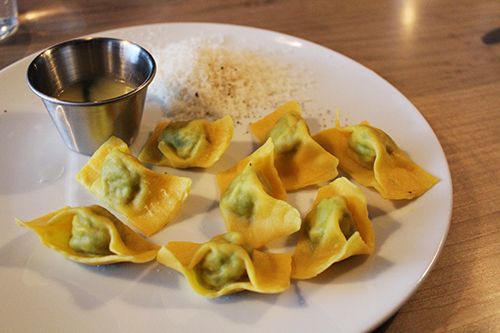 Next up we tried the Agnolotti Dal Plin ($14) served with sage butter and parmigiano. These little ravioli are pinched to assume their rectangular shape and filled with a meat & breadcrumb mixture. Meant to be dipped into the butter then parmigiano, these little bites were so light and easy to eat that they were gone in an instant!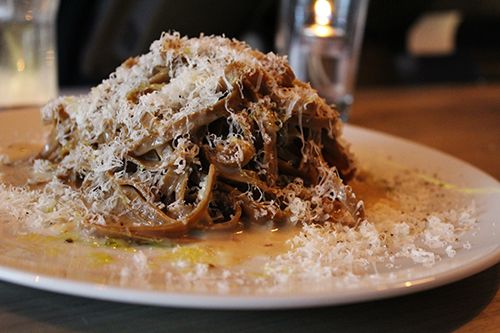 Last but not least we ordered the Porcini Tajarin ($11), which I expected to be a pasta with a mushroom sauce. Tajarin is a popular pasta in the Piemont region of Italy which uses a higher percentage of eggs in the pasta dough, making it quite rich. What arrived infront of us was a brown pasta covered in a cream sauce & parmigiano. With the absence of porcini, I realized that the porcini had been incorporated into the pasta which gave it the darker appearance. The earthy flavours of mushroom were evident in the pasta and sauce of this savoury dish and I really enjoyed it. Both the texture and appearance reminded me of broad wonton noodles, except with this being a bit thicker.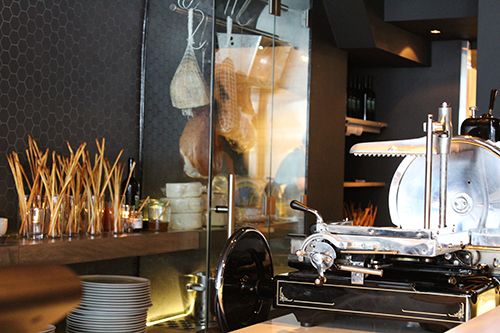 With an extensive wine menu and so much to offer on the menu, Bar Bricco is a welcome addition to Jasper Avenue. Even after trying so many dishes there's still so much I want to eat! They offer a ton of interesting crostini, a prosciutto tasting (!), and I definitely want to have their formaggi tasting board on my next visit. We also had the chance to sample the Culatello (a refined prosciutto) and it was delicious - I want a whole plate to myself!
Bar Bricco is open from Wednesday to Sunday from 6PM-1AM. Being an establishment that does not accept reservations, my boyfriend and I decided to stop by early on a Wednesday evening. We arrived at 6:05PM to find the place almost full! So start your night early or end it off late to make sure you can grab a spot in this 28-seat bar - it will be worth your while.