Manicure Monday: Push & Shove
March 10, 2014
It's Monday and we're at the start of another week! Hope everyone had a great weekend 'cause I sure did with the above zero temperatures here in the city!

Is anyone here a huge fan of Gwen Stefani? I'll admit I've indulged in some of her creations in the past years like her cute Harajuku Lovers line (LOVE the perfumes!), but it's not like I'm a die hard fan. She's a rocker queen fashionista, so I was pretty excited when it was announced she was collaborating with OPI for a mini collection of nail polishes in unique finishes.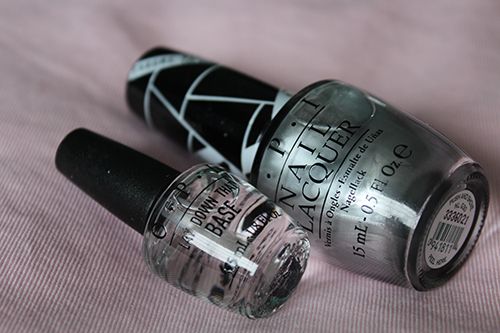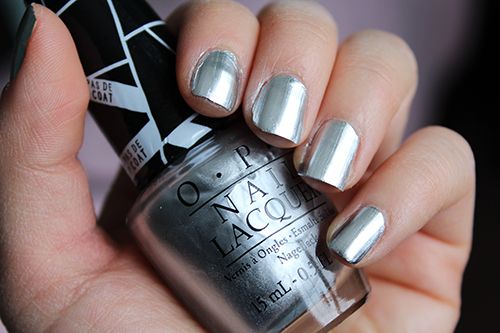 One of such polishes is Push & Shove - a silver chrome polish that comes with it's own special base coat called 'Lay Down that Base'. Cute name, and a necessary product to use when applying this polish. I was hoping that the base coat would be ridge filling and capable of hiding all the imperfections on nails, as that is usually what gives the best results with chrome polishes. Unfortunately it isn't, and application of the polish will catch
every little thing wrong with your nails
. So frustrating, but if its only for one night, I think I can let it go. The instructions recommend two coats of polish overtop of the base coat and no application of a top coat, which allows the formula to dry to a brilliant silver similar to that of aluminum foil. It was so pretty that I couldn't stop looking at my nails! However, this polish dries
crazy
fast and brush strokes are evident if you have to go back. Work quickly and have no regrets!
Push & Shove itself is meant to be worn for one night only, and I was curious to see if it may last longer on me. After all, I get pretty good wear out of my manicures.
Negative
. In under 24 hours of wear, I started to see chipping and imperfections. The finish to this polish is extremely delicate, and any light scratch is going to turn things awry. I honestly can compare this to aluminum foil as it's extremely delicate and easy to tear, so this is one of those special occasion polishes. Although slightly problematic, I can handle pretty nails for just one night.
Anyone else tried this shade from the Gwen Stefani collection?