Eat In, Take Out: Swiss 2 Go
March 01, 2014
Every once in a while I crave a good sandwich. Everyone has their personal preferences for meats, veggies, and condiments. For myself, I love a sandwich with cured meats. It has to be moist (either from vegetables or sauces) and the bun has to be soft with a slight chew.

Swiss 2 Go - 17104 90 Avenue - Edmonton AB


I first encountered Swiss 2 Go at the Avenue Edmonton Party for the 25 Best Things to Eat for 2013. They won an award for their Italian Bride sandwich, and I was able to sample a mini version of it. Being nothing short of delicious, I knew I needed to visit their location for the real deal. Flash forward several months, and I finally stopped by last week!
Swiss 2 Go is a little cafe best suited for takeout orders. However, with little tables scattered around the space you're open to taking a seat and enjoying your meal. Chalkboards overhead at the counter highlight the menu, while a display case on the left houses single-sized desserts and snacks to take on the go.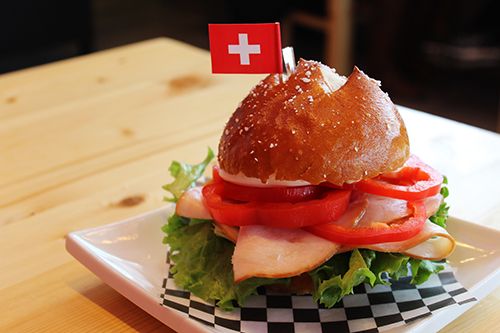 Swiss 2 Go offers a variety of soups, salads and sandwiches as part of their regular menu. All the sandwiches are served on a housemade pretzel bun and are available in two sizes, so you can order according to your appetite.
For lunch, my boyfriend ordered the Thanksgiving ($7.99 - regular):
smoked turkey, French Brie, romaine hearts, red pepper, mayo & mustard on pretzel baguette
. All the ingredients were fresh and there was a kick of heat from the mustard. The vegetables gave the sandwich a nice crunch and also helped to balance the flavour.
For myself, I had to get the Italian Bride ($7.99 - regular):
Italian prosciutto, roasted red pepper, sun dried tomatoes, sliced Bocconcini, fresh basil drizzled with extra virgin olive oil & balsamic vinaigrette on pretzel baguette
. Does that not sound amazing? The flavours work together so well - saltiness from the prosciutto, tangy notes from the sundried tomatoes, and freshness from the red peppers and bocconcini. The pretzel bun itself had a nice hard crust while the interior was soft like a pillow. My only gripe with the bun was how hard the points on the bun were - it hurt when pushed against the roof of my mouth. I do have to mention that you have to be prepared to get a little messy, as the moisture from the red peppers and oil from the sundried tomatoes makes the sandwich slippery and a little difficult to eat. It's totally worth it though!
At $7.99 per sandwich you might feel that it's a bit expensive. However, Swiss 2 Go offers a great deal with their "Sandwich Team Box" that allows you to make a combo of a sandwich, soup or salad, a bottle of water & a bite size swiss chocolate for $12.99 (regular) or $14.99 (large). That's definitely comparable to having lunch at a restaurant. With so many different sandwich combinations I'm sure there is something that will satisfy your tastes. Swiss 2 Go is located in a small strip mall across from West Edmonton Mall and is a great alternative to eating in the food court or a restaurant in the mall. If you drive by too quickly it's easy to miss, but trust me, you don't want to drive past this place.