Have you Eaten a Ford Lately?
March 23, 2014
A few weeks ago I had the opportunity to attend an event hosted by Ford of Canada and Focus Communications here in Edmonton. With a tagline like "Have You Eaten a Ford Lately?", I was definitely intrigued and wanted to find out more. Apparently, you are what you eat and drive!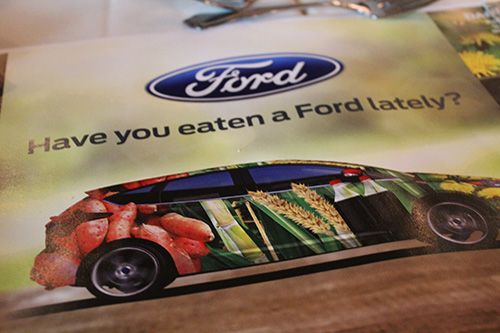 It's no secret that I like driving the vehicles manufactured by Ford. I used to laugh and poke fun at the saying "
F
ound
O
n
R
oad
D
ead," but after test driving the
Escape
,
C-Max Hybrid
and
Fusion Energi
- I've gained quite a bit of confidence in the Ford brand!
The event that evening was meant to highlight Ford's ongoing commitment to using sustainable materials in their vehicles - someone has to think of the environment, right?! And what better way to talk about sustainable materials than to showcase them in the form of food? All attendees were in for a treat with a menu planned by NAIT culinary students featuring just some of the biomaterials currently used by Ford.
Our appetizer for the evening was a Pan Seared Bay Scallop served with sweet potato purée with dandelion honey, maple bacon and baby arugula. The scallop was cooked to perfection and paired perfectly with the sweet mash. Currently, portions of the Russian Dandelions are being tested as a possible alternative to synthetic rubber, and sweet potatoes are used to create the plastic in the door map pocket.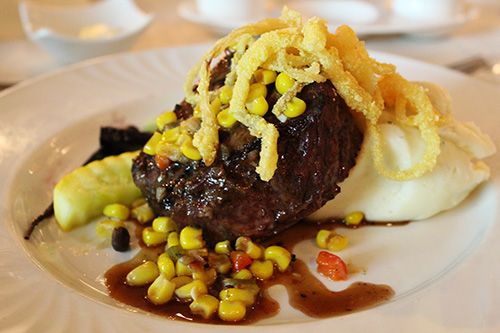 Next up we had Spring Creek striploin of beef with Gruyere pomme de terre purée, corn succotash, and pinot noir reduction. The culinary team cooked the beef to a beautiful medium rare, and the sides were a perfect match for the protein. Research is currently underway to see if sugars made from corn, beet and cane are suitable for biodegradable plastic parts.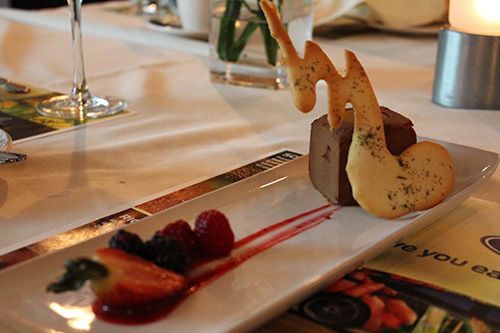 To end the meal, our dessert was a Guittard Chocolate Mousse with melba sauce, lavender tuile and macerated berries. This decadent dessert was the perfect ending - I would have loved another serving all to myself! Nothing in this dish is related to the biomaterials that Ford is using in their vehicles, but during the dessert course I learned a little bit more about Ford's commitment to sustainability:
Using soybean-based foam in seat cushions, backs and head restraints saves about 2.2 million kg of petroleum annually
Ford worked with Canadian universities to recycle wheat straw (a waste product) into bio-based resin for the Ford Flex's storage bin
Rice hulls reinforce plastic used in an electrical harness in the 2014 F-150
Recycled denim is used in Ford vehicles as a sound deafener
A fibre by-product of coconuts is being studied as a replacement for molded plastics
The equivalent of about 22 clear, plastic 20-ounce bottles are in the seat fabric of the Focus Electric
85% of the materials used in Ford vehicles by weight are recyclable
You may have noticed from the facts above that the actual foods themselves are not being used as materials, but rather their waste byproducts are. That way there isn't a competition for food sources, and the waste is actually being put to use! I definitely have to commend Ford for valuing the environment and continuing to fund research to find sustainable, recyclable materials to use in all their vehicles. I'm sure that other motor companies are doing the same, but Ford is definitely leading the way. I can't wait to find out what they come up with next!
Disclaimer: as this was a media launch event, views expressed in this post are solely mine. I was not expected to feature this event on my blog, nor obligated to do so. This post is 100% my opinion, and as always, my priority is to you, the reader, to present an unbiased, thorough review.