The Underground Tap & Grill
January 19, 2013
Beer lover? I for one am not, but even hearing that an establishment in Edmonton has 72 beers on tap, I was definitely curious. Following an escalator ride below ground, you'll find yourself at The Underground Tap & Grill.

The Underground Tap & Grill - 10004 Jasper Avenue - Edmonton AB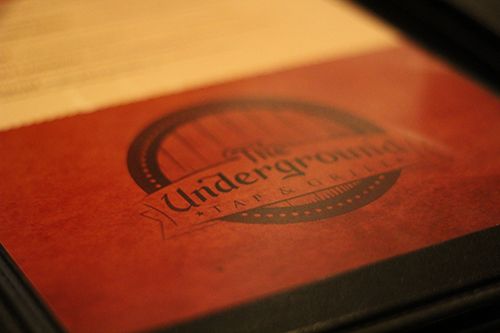 The dimly lit surroundings and comfy booths really make me feel like I'm in an old style pub. Lots of beers on tap, friends around the table drinking pints of beer, and the friendly staff put you in a place where you can truly relax and drink the beer that piques your interest at ease. After all, they're calling all beer lovers to UNITE!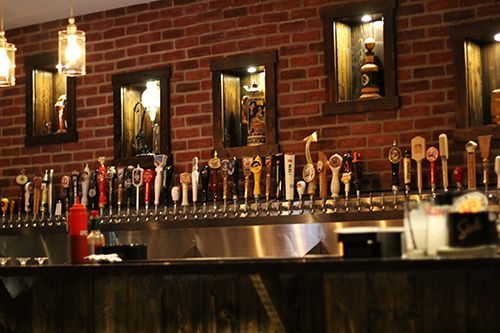 One of the great features available at Underground are the beer flights – if you can't choose just one, try four at a time! Unfortunately many of the ones that my friends and I were interested in trying for the night they ran out of, leaving less of a variety for patrons to choose from. If you're gonna boast that you have 72 beers on tap, you'd better have them ready when people come. Hopefully next time I stop by everything will be available!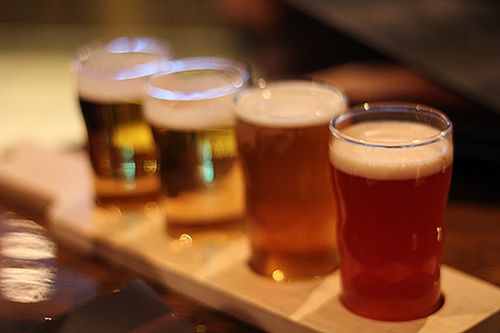 So what are the differences between the beers they have available? The way they split it here is in levels of hundreds. 100, 200, 300, and even 400-level beers, all separated based on their strength, depth, or alcohol by volume (abv). Think of the beer you enjoy the most, see where its listed in their guide, and the beer varieties you choose will be all up to you.
As I'm not the biggest beer fan, I was moreso interested in the food they had to offer – and I was shocked at the lengthy menu! I hadn't envisioned seeing so many different options available, and actually had a bit of a hard time to choose.
To start off the night, we ordered their daily special which happened to be nachos for $7. To my surprise, a huge portion came out to the table, fit for 2 or 3 people to share. Topped with a generous amount of ooey-gooey cheese, the regular fixins and with sides of sour cream and salsa, needless to say I was pretty happy.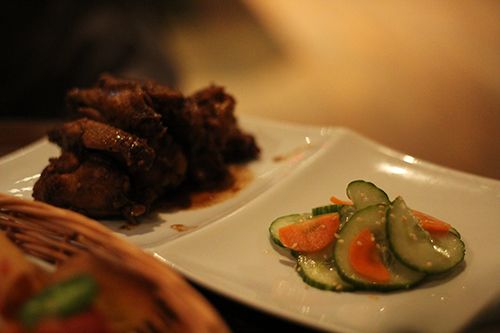 I was starting to get pretty stuffed from the nachos when the second appetizer arrived to the table - Adobo Wings:
(8) Chicken wings poached in a Filipino adobo sauce, served with pickled cucumber salad
. I don't know why, but I had expected the wings to be crisp and doused in adobo sauce, so to my surprise, the wings themselves were marinated for a long period in adobo sauce, so they were served soft with the side of cucumber salad. The cucumbers were a great accompaniment - crunchy, salty, and deliciously garlicky, while the wings were flavourful and reminiscent of the Chinese "master sauce" (I have NO idea how to word this otherwise: 卤水 or lo shui)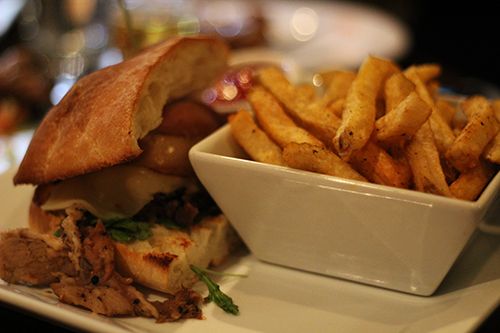 As a main, I had chosen the Porchetta Sandwich –
Pulled pork, capicollo ham, provolone, apple slaw on a toasted ciabatta bun
. The bun was a tad more toasted than I would have liked, but the interior was still soft, and the porchetta had a nice seasoning to it that still allowed the flavour of the pork to shine through. The housemade fries on the side were crisp yet tender, and a nice accompaniment to the sandwich.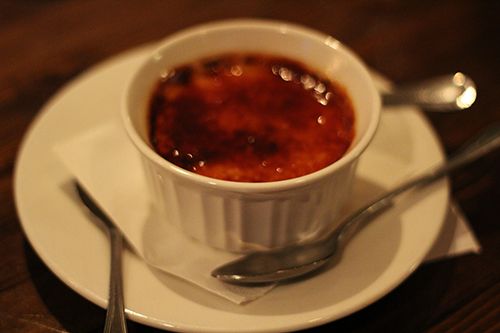 Although I was stuffed, I always had room for dessert. The only real interesting choice to me was the Bailey Creme Brulee. The caramelized layer of sugar on this crème brulee was quite thick, and consequently hard, so it took a lot of effort to crack it open and eat. The custard beneath was quite melty, which could be attributed to the sugar caramelization step, but I'm wondering if the addition of liqueur is actually the culprit. Either way, the custard was delicious and that Bailey's in there was definitely the star of the dish.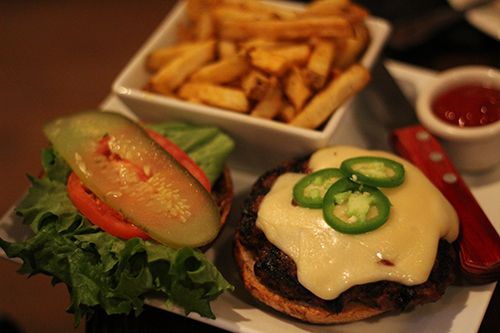 Jalapeno Blue Cheese Burger
From this visit to The Underground Tap & Grill, I was pleasantly surprised about the food since I had no expectations whatsoever. And when they have all their beers available, stop by, and don't hesitate to order something to snack on. We wouldn't want you to get drunk on an empty stomach now, would we?