Blo Me Away
January 17, 2013
Anyone heard of a blow dry bar? Blow dry bars are out there to set and style your hair just by washing and blow drying it - no cuts or colour. I had read about them in magazines and editorials the past, but had no idea that something like it existed in my city until Tracey, the owner of Blo here in Edmonton, contacted me and gave me a run-down of their services.

Blo Blow Dry Bar - 10158 109 Street - Edmonton AB


Blo has been open here in Edmonton since June of 2012, conveniently located in the heart of Edmonton along 109 Street. Thinking about hair services really put me back to the year of my high school grad - I remember paying some crazy exorbitant price ($100+) for my updo! But here at Blo, it costs $35 for the wash, blow, go service, and $65 for updo's which allow for more creativity. The price is definitely much more affordable in comparison with a salon when you need to get your hair done for a night out!
On the morning of my appointment, as per usual, the sky decided it was time for a silly snowstorm - but I was determined to get my hair done! Walking into Blo, I couldn't help but notice the large windows allowing natural light to brighten the entire place - natural light really helps to brighten the mood and help people feel calm, which is great to help you sit back and relax during your appointment. I was greeted warmly by my stylist and given a 'menu' to choose a hairstyle from. From skyscraper straight to boho chic or even rockstar curly, there are so many options available. I opted for the "Holly Would" - volume and fun, flirty curls.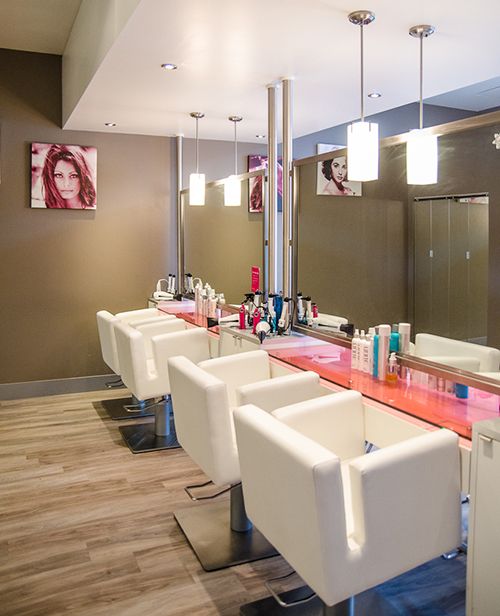 After taking my jacket, my stylist seated me to have my hair washed and prepped. The warm water coupled with a head massage and conditioning treatment was so relaxing, it was so hard not to fall asleep.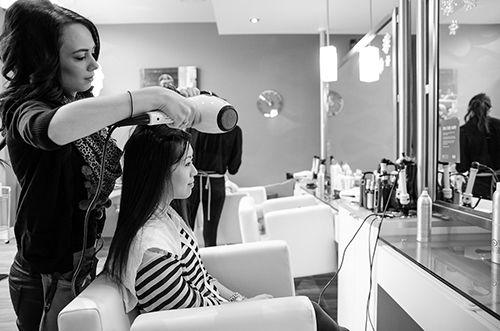 While the girls here at Blo aren't required to have hairstyling certification, each employee goes through a training program called "Blo-U". Everyone is trained in the 7 basic blow out styles, and must accumulate hours of practice before working alone. Everyone does have an interest in hair styling, and I'm sure some have a passion for it! My stylist (pictured above) is actually working towards her hairstyling certification and has a huge interest in esthetics - it really put me at ease thinking she has had lots of practice working with hair, and I knew I was in good hands.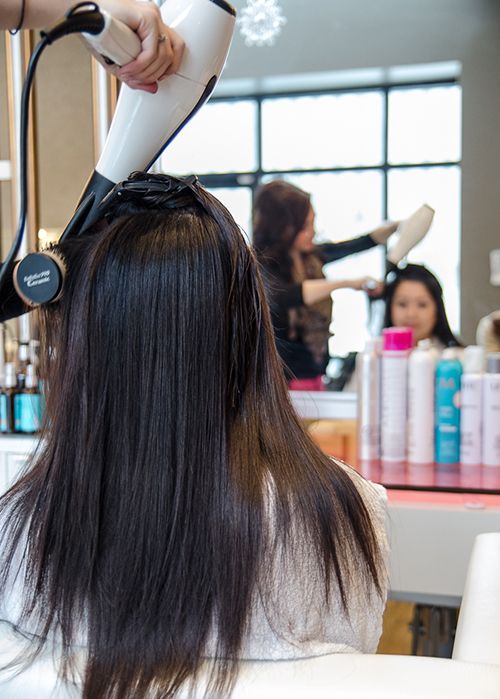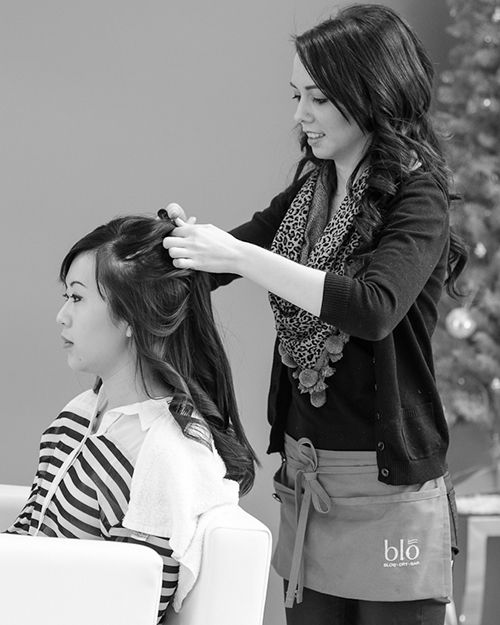 At the end of the day, I would say I left the salon pretty satisfied with my hair - it was glossy, soft, and set perfectly. The stylists at Blo were so friendly, the environment was clean, and the appointment lasted about 30 minutes. It wouldn't take much time out of your day to get your hair done for an event! Blo also hosts 'Blo Parties' for groups, and offers bridal services. There really is something for everyone! Booking appointments are simple with their online system, and at $35 for a hairstyle, I definitely recommend Blo - you'll be happy with your hair and look great for the big night!
All photos thanks to Ray Bulatao Photography
Disclaimer: this hair service was provided for review purposes, but views expressed in this post are solely mine. This post is 100% my opinion, and as always, my priority is to you, the reader, to present an unbiased, thorough review.