Normand's Bistro
January 26, 2013
Normand's Bistro. Related to, but not to be confused with Normand's on Jasper Ave, is located inside the Citadel Theatre. This dimly lit, cozy restaurant is a little hidden, but convenient to visit if you're attending a show.

Normand's Bistro - 10177 99 Street - Edmonton AB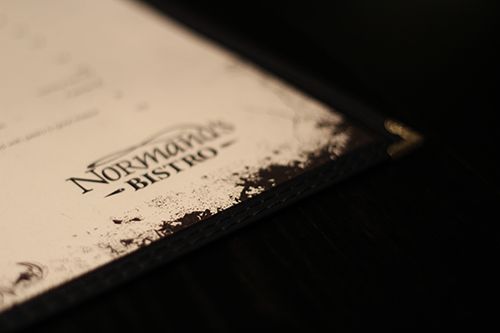 On the particular evening that I went in for dinner, there weren't any shows going on, so the restaurant was quite quiet for 7PM. Aside from my table, there was only one other being served. Not a huge issue for me, but if you are planning on dinner before a show, make sure to arrive early as the waiter did tell me it does get quite busy.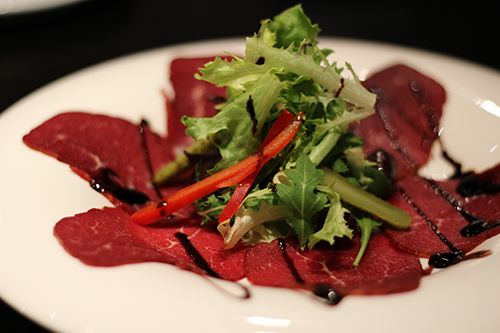 To start off the night, my friend and I shared the Bison Carpaccio ($15):
drizzled with white truffle oil & reduced balsamic
. I liked the slight hint of truffle flavour, and the sweet balsamic contrasted the salted meat. Nothing was overpowering, so the true flavour of the bison really came through. The slightly chewy texture contrasted against the crunch from the greens, making it a great starter for the night.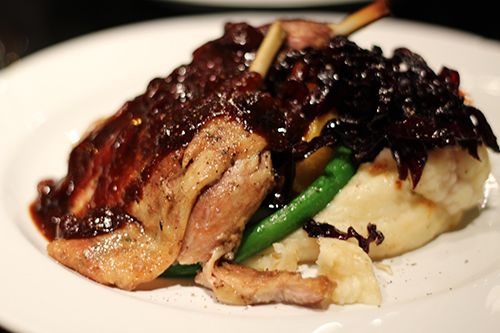 For my main, I went for the Lac Brome Roasted Duck Legs ($27):
served with cranberries and orange port wine sauce
. The portion size was very generous, and the duck legs looked so succulent. The cranberry sauce was tangy, with sweetness from the reduced cranberries, pairing quite well with the duck. The mashed potatoes were so creamy and buttery, I wish I could eat them all day long. However, the duck was slightly overcooked for my liking, making it a little dry, but was helped by the sauce.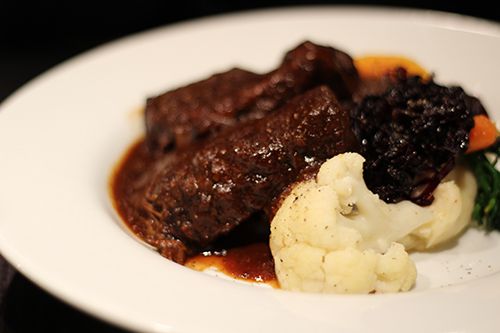 Braised beef short rib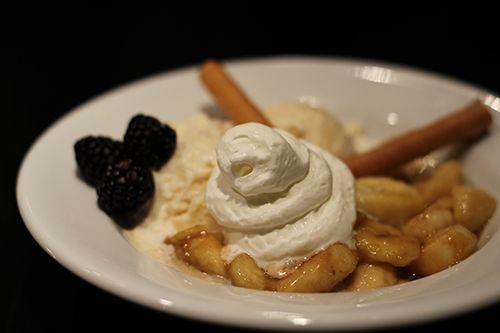 To finish off the night, we went for the Bananas Flambe ($8.50):
butter, brown sugar and dark rum, with ice cream
. To my surprise, the waiter informed me that he had cooked our dessert since the cook had left for the night. Either way, the bananas were soaked in a delicious caramelized sauce, and paired very well with the ice cream. The addition of the crepe like cookie was a great change in comparison to the soft textures to the rest of the dessert.
All in all, Normand's Bistro was a great little place to eat. The menu isn't overly extensive, but has enough variety to cater to different tastes. It would be a great option for date night or a celebratory dinner at a little higher of a price point. If you're dressed up and out to see a play, why not stop for dinner beforehand?