Sephora F&F is Live!
October 20, 2011
If you somehow haven't heard, the Sephora Friends & Family sale has been up and running since the early hours of this morning. The site did experience some difficulties throughout the day - we crashed it! Seriously. I went there and saw this: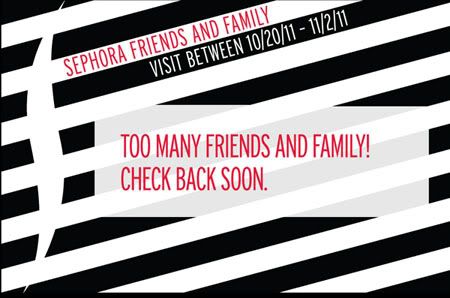 Seeing this seriously had me laughing
People were unable to get their codes, or they were able to and the codes didn't show up like they were supposed to. Either way, it seems as though things are back to normal, but a lot of items are sold out!
To get your F&F code, simply go to www.sephora.com/friends and enter you email address.
It's quite simple, really, but it's such a headache this year. This code is valid only on orders online, to residents of the United States, and does not include Canadian orders *cough* BIG SURPRISE *cough* >_> Seriously, Sephora, please try to make events in the future that include us Canadians up here who give you lots of business! You raise the prices waaay up once the products get across the border, so the least you could do is give us a discount once a year.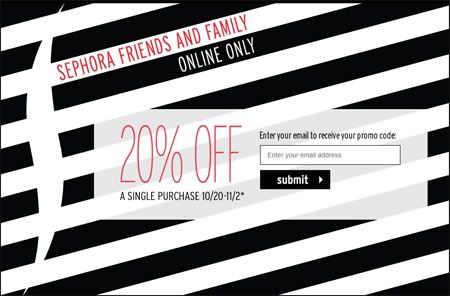 It's such a headache though. Each code is unique and can be used only once. But.. when I went to go place my order, my personal code was invalid and apparently had already been used. Ugh. So I went and entered a second email address to attain a second code. Did anyone notice how the rules state that up to five emails may be used per computer? Doesn't that imply that, if you have five email addresses, you could get five unique codes and use them. Why not just make a universal code as in the past and prevent problems. Silly.
Anyhow, just wanted to share a bit of what I picked out! I'm trying to limit myself :)
1. NARS Nail Polish in Bad Influence
2. Sephora by OPI Nail Polish - Going Nude, Eh?
3. Philosophy Purity Cleanser 32oz (huge!!)
4. Sephora Favourites Lashstash
5. Philosophy Parties for Hosting Duo
6. Benefit Cosmetics The Big 10
7. Philosophy Twinkle Berry Body Lotion
8. Clarisonic Deep Pore Cleansing Brush Head Replacements

And I want this NARS blush palette SO BAD but it was out of stock by the time I went to make an order. Hopefully it restocks before November 2nd.. I NEEEEED this!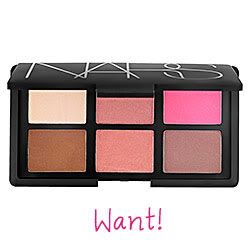 Let me know what you guys pick out! :)