Sephora 2 in 1 Flex Kabuki Brush
October 19, 2011
Another brush review for you today! My collection is steadily growing again.. augh. I picked up this kabuki brush with my recent Sephora order back in August because the reviews were decent and it was on sale. This brush is still available online for the sale price and I would highly recommend you pick it up!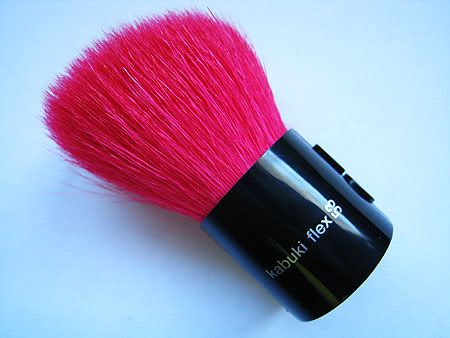 The name of the brush is derived from it's useful applications - the brush can be used as a powder or blush brush. There are two different conformations the brush can be used in, which is open or closed. The flexibility of the brush makes it as though you are getting two brushes for the price of one, but I really would recommend using it for either powder or blush, not both at the same time.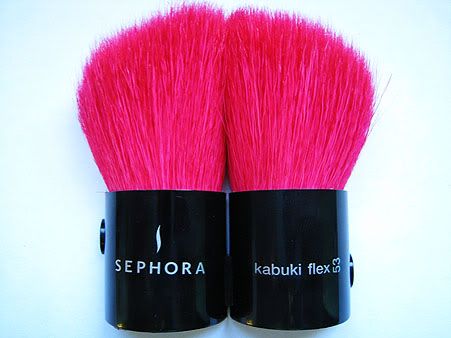 The reason being that .. I find the brush is most useful when closed, resembling a regular kabuki brush. When in the open position, the brush can cover a huge area, but it's almost the size of my face. Sephora designed this brush to be used for blush in the open position, and powder in the closed position, but I'm not a fan of mixing products onto one brush simultaneously. In the closed position, it is angled, and can nicely reach the areas around the nose and apply powder evenly over the entire face.
The hot pink bristles against the black handle of the brush are so eye catching as well. The bristles on this brush are natural goat hairs, so the brush is very soft! The bristles are not densely packed together, but there are enough there to make application easy and effortless. I haven't had any issues with fall out at all!
The only thing I would caution you about before using the brush is to make sure to
wash it
. When I first washed my brush, the water was pink! A lot of the dye in the brush seemed to be loose, so it was good to get that washed out instead of applied on my face. The size of the brush is perfect for travelling, or keeping in your makeup bag for on the go touch ups.
You can purchase the brush
here
on Sephora's website. Original price of the brush was $26, and at the sale price of $9, this brush is a steal! :)