We Love You Sam!
May 23, 2011
As life goes on, some doors close in order to allow others open for us to grow and reach new opportunities. Wow, I sound philosophical today.

Anyways, a month ago, one of the assistant managers at work got promoted to manage another branch in Vancouver! So exciting! I wish I was the one moving down to Vancouver. Except, I feel like when you live in a boring place like Edmonton that is Winter 3/4 of the year, it gives you an excuse to get away and enjoy everything that your city lacks. Maybe I'll stay in Edmonton for just a little while longer ;) Makes life seem more exciting when you leave.

Her going away party was held at Boston Pizza in WEM. It's always nice to get together with coworkers outside of the work environment - its relaxing and theres no pressure at all. Leave work behind and just have fun!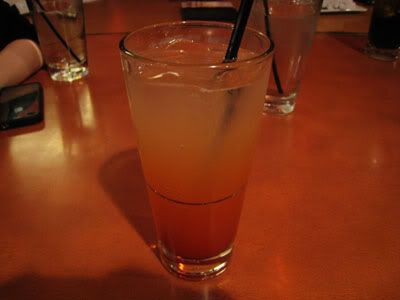 I ordered the strawberry pucker to drink, which is supposed to be a strawberry flavoured lemonade. First sip gave me a punch of flavour. Flavour so intense that it was a little too much. The lemonade was overly sour, but that went away after the ice melted, and it became perfect. Not a bad choice if you like sour & tart!
For the main, I went with their Cajun rice bowl. I think I tried this out before, but knowing me, I'll always order what I think sounds appealing. This was an interesting take on the traditional jambalaya though.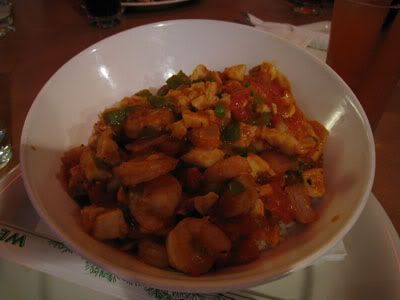 The rice bowl is desribed as:
A dish inspired in Louisiana! Tender pieces of chicken breast, prawns, tomato, green pepper and red onion sautéed in our spicy cajun tomato sauce. Served over rice.
Honestly, I was expecting it to taste exactly like the jambalaya that I know and love, but I probably shouldn't have. It honestly wasn't that bad, but now that I look at the description again, I know why. The sauce itself tasted like pizza sauce, with a little extra kick. Something like an upgraded pizza sauce. This makes sense though, since they described it as a spicy tomato sauce. But what bothered me the most was the "chicken breast". The so called chicken breast seemed to have been replaced by cubes of mush. I even got Jodi to try it, and it was just a clump of soft mystery meat. It almost seemed like it was cubes of processed meat, turkey roll in a cube if you will. It made me think that the chicken was uncooked, because it almost had a raw texture to it. Just plain weird. It brought an interesting texture into the dish, but I don't think I would order this again. Gotta make a mental note now, because I might just order it again if I forget. Maybe I should stick to what they're known for: pizza.
Also, if you read this Sam, I wish you all the best in Vancouver. I'm so excited for you and what's to come out of this promotion! You'll have so much fun in your new city, don't forget about us up here in Edmonton! Come back to visit anytime, we'll be missing you everyday (L) And I'm definitely going to be visiting you!
Boston Pizza
Bourbon Street, West Edmonton Mall
Edmonton AB