Karma [CLOSED]
May 05, 2011
Everytime I have a meal with Indian cuisine, I must endulge in large portions, and eat until my stomach feels like it will explode. You got me. Everytime I have Indian food, it's gotta be buffet style, or no Indian food at all.

Luckily, I don't eat it often. Or I'd be in big trouble, and gain lots of weight after engaging in a seriously rich meal. I usually find myself at New Asian Village about once a year, but today I branched out and tried a new place: Karma The Indian Bistro. Like the name implies, Karma will get back at me by making me gain weight if I force too much food into my stomach! Vince & I planned to eat here before heading out for some shopping.

Located in the heart of downtown, I thought this place looked like a former little house transformed into a restaurant. Cute, with lots of windows, I was glad it was a nice sunny day today :)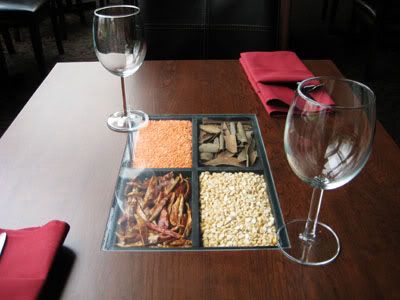 When we walked in, we were guided by signs to head upstairs for the lunch buffet. They have the lunch buffet Monday to Friday from 11-2, which is quite a big time gap, allowing them to accomodate the varying lunch hours that people working downtown may have. We asked to be seated by the large windows, so that we could enjoy the gorgeous weather and people watch while we ate.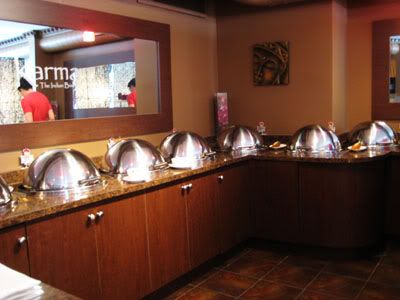 Their serving area is decently sized, although smaller than the one at New Asian Village. They still have a wide variety of dishes to choose from, and had some that I've never seen before. Their proteins consist mostly of beans, chicken and beef, so no lamb for those of you that love it!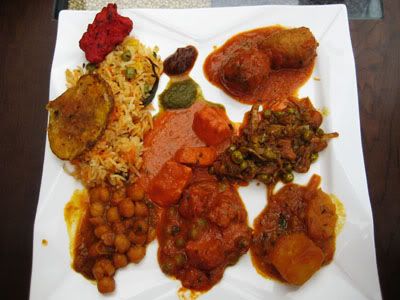 One thing really surprised me. I liked
every single dish they had to offer.
Um, what? I'm such a picky eater that such an occurence NEVER happens! I know that the food is laden with cilantro, but I don't care! Everything tasted amazing. At New Asian Village, I'll stick to eating maybe half of the offerings they have in the food trays. But at this restaurant, I loved the flavours of each and every dish, and made sure not to leave one drop of sauce behind, thanks to the delicious naan bread they provided at our table!
The naan was fluffy and crisp. None of that silly naan softened by steam and kept warm in a tray, but the naan was brought to us in a basket, straight from the kitchen. Delicious. Do yourself a favour and please check this place out! The buffet is $13.95 per person, you won't regret it!
Karma - The Indian Bistro
10523 99 Avenue
Edmonton AB