River Cree Kitchen Buffet Bistro
May 16, 2011
Okay, I'll admit that buffets are my weakness. Unending portions of savoury food and bottomless desserts just get to me. So. Delicious.

I think the last time I endulged in a buffet was in Vegas last summer. Oh no, I lied. I forgot about Karma from 2 weeks ago. Oops, hard to forget when it was just a few posts down from this one. Piglet confessions :(

For lunch today, I went with my parents to the River Cree Kitchen Bistro to check out their daily lunch buffet. I've tried their breakfast and dinner buffet, but lunch was completely foreign to me.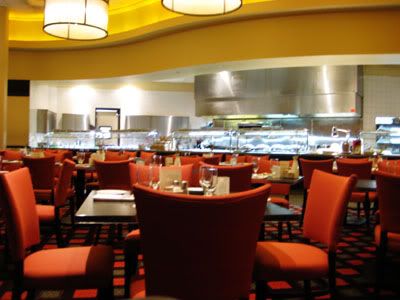 It's not surprising that the restaurant was basically empty when we got there around 12:30. Out of the 30 available tables, I would say maybe 4 were occupied when we arrived. The location is quite a bit out of the way for people that work, it's not as convenient to get here as it is to walk into a food court. However, the selection of food was pretty good for lunch.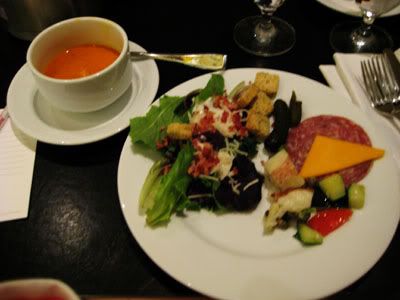 To start, their buffet selection included soup (red pepper & tomato), a DIY salad bar featuring romaine lettuce or spring mix, with various toppings ranging from mandarin orange slices to cheese curds (wtf?), and a sandwich station complete with all the fixins like egg, potato, tuna, and chicken salad amongst cold cuts and cheese slices.
The soup was way oversalted. Just one spoon in my mouth, and I knew not to have anymore. The soup was rich and flavourful. If it were more diluted, I know I probably would have had two bowls! Such a shame. The Greek salad was a hit or miss. Scooping from the top of the bowl gave a plain, bland salad, but the portions beneath sitting in the dressing were perfectly seasoned and delicious. And yes, I do like eating salami by itself with it's greasy goodness.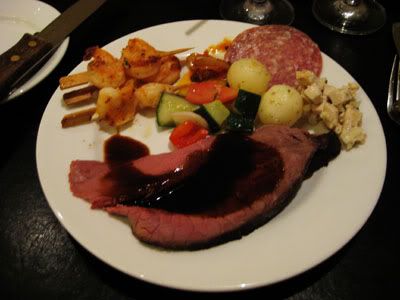 yes, I got another slice of salami to eat!
Their mains were more diverse, which included a roast beef carving station, along with made to order omelettes and pasta. Steamers of food contained vegetable ratatouille, Parisian potatoes, garlic butter shrimp skewers, and chicken (in a sauce I can't recall at the moment, oops).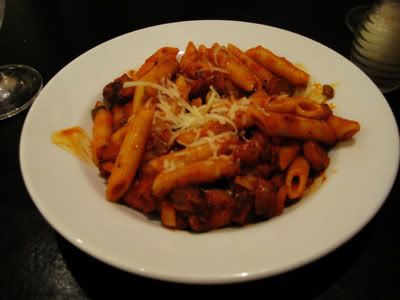 made to order penne
Dessert was not too enticing for me, as I was very, very, full. Not to mention, some of the cake portions were gigantic and I didn't want to waste the food! Their selection included hazlenut, chocolate, carrot and maple cake.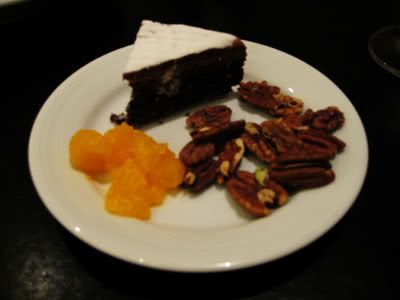 Chocolate cake, sugar glazed pecans & mandarin orange slices
Food quality was quite good, but I still think I prefer their breakfast buffet on Saturdays, which runs until 2 in the afternoon. It also seems a little less lonely in the restaurant on weekends. At $15.95 per person, the buffet includes tea, coffee, and pop. If you are a member of their players' club, you get 20% off, bringing the price down to $12.76. Quite a good deal if you ask me, considering lunch can usually set you back anywhere from $15-$20 depending on where you dine.
River Cree Casino Kitchen Buffet Bistro
300 East Lapotac Blvd
Enoch AB