Hello Kitty has Arrived!!
January 07, 2011
After making my order with Sephora mid-December, and losing some hair trying to track down my package (Canada Post said it was delivered, when it hadn't been!), my Hello Kitty order has finally arrived!!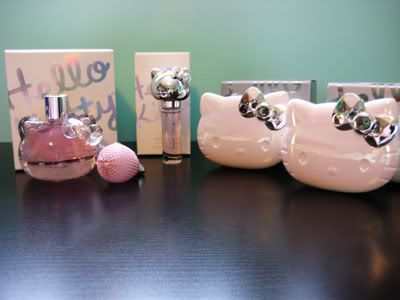 HK Order!!
As stated before, I ordered the perfume rollerball, full size perfume, and the two eyeshadow/lip gloss palettes.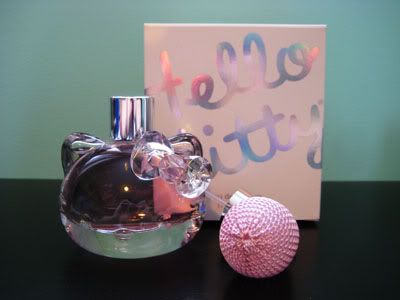 Full size fragrance
The fragrance full size fragrance and the rollerball contain the same scent. On Sephora, it was described as being made with some of Hello Kitty's favorite things, such as green apple and Japanese fruits to "make you smile inside". As listed, the perfume is supposed to contain notes of Cassis sorbet, Italian mandarin, apple, magnolia blossom, freesia, orange flower, tonka bean, vanilla, and musk.

Rollerball
On first sniff of the fragrance, I could immediately sense the floral notes, but not so much the apple or citrus. Despite being floral, it was still sweet, and I actually really like this scent. After a bit of wear, you start to smell the sweetness of the vanilla, and the deeper musk scent. Although I don't need two of the same perfume, I can't resist the packaging! The rollerball will be nice to carry around in my bag as well, it's a great size!
Now onto the palettes. The eyeshadow and lipgloss palettes come in two varieties - happy fun and super fun. I don't know how they came up with the names, because I don't necessarily see those terms when I look at the colours!
Happy Fun Palette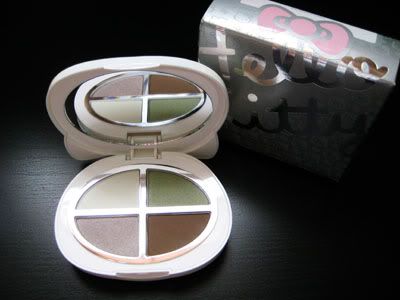 Happy fun eyeshadows

Happy fun lipglosses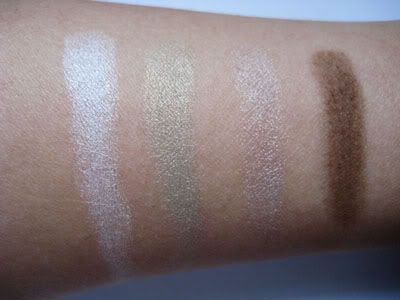 swatches
- Ice Cream (pearl white) eyeshadow
- Airplane (taupe) eyeshadow
- Chocolate Milk (brown) eyeshadow
- Peppermint (sage green) eyeshadow
- Baby Pink (pink) lipgloss
- Peach Pudding (peach) lipgloss
- Strawberry Jam (dark pink) lipgloss
- Springtime (apricot) lipgloss
Super Fun Palette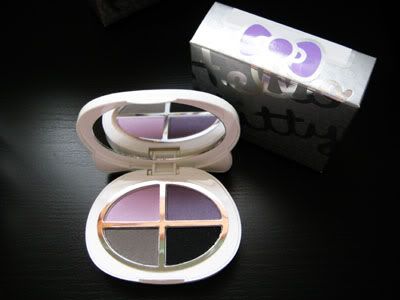 Super fun eyeshadows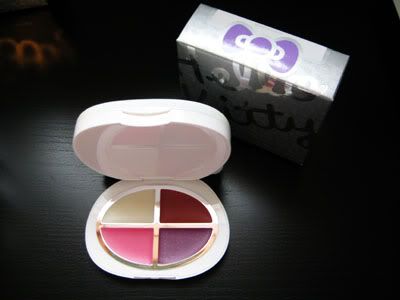 Super fun lipglosses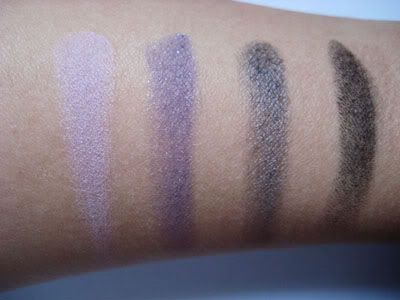 swatches
- Raindrop (grey) eyeshadow
- Sugar plum (pale lilac) eyeshadow
- Sweet plum (purple) eyeshadow
- Goodnight dreams (black) eyeshadow
- Sweet Plum (purple) lipgloss
- Pink confetti (pink) lipgloss
- Strawberry cookies (brown pink) lipgloss
- Snowflake (white) lipgloss
Honestly speaking, these are not the best eyeshadows I own, but they are not the worst I have ever tried. They are actually much higher quality than I had expected. The eyeshadows are mostly matte, some have a metallic character, and contain little hints of shimmer. Upon application, however, you can't see the shimmer. The lightest colors in the palette are not very pigmented, and require a couple layers in order to build up on the colour's intensity. The darker colours, however, are quite pigmented and show up very well on the eyelid. The formula is very smooth, but a little on the chalky side, so I had a few issues with fallout during application. Make sure to wear a primer, and pat some powder on before application, so fallout can be easily brushed off after :)
In terms of the lipglosses, I like the fact that it they are housed in a layer separate from the eyeshadow, so that there is no mess created. The lipglosses themselves have hardly any pigmentation, and putting them on the lips show very little differentiation between shades. They are a tad sticky, but nothing I can't deal with. The formula is hydrating and sweet tasting, so they will be nice to wear on top of a lip stain or lipstick! Don't expect to get any colour out of these though.
In this collection, part of the price you are paying definitely goes toward the novelty of having Hello Kitty makeup. BUT, the packaging is sturdy, and I like the colours Sephora put into the collection in comparison to the black that MAC had used in their collaboration with Hello Kitty. At first, the palettes gave me a bit of a hard time when I tried opening them (I have long nails), but overtime they have become much better.
As I have said previously, this collection is limited edition, and not part of the permanent Sephora collection. Make sure to test everything out before you buy, because this collection is proving to be relatively expensive for make up (the full size fragrance is marked at $77, palettes are $46).
Now what would this post be without a makeup look? I did a smoky eye using the super fun palette - goodnight dreams on the outer half of the lid, sweet plum on the entire lid, sugar plum on the inner corners, raindrop to contour the outer v, and sweet plum lipgloss on my lips (told you there is no colour!)

*muah* love Hello Kitty!
The collection is now available up on the Sephora website for purchasing, and will be arriving to the stores within the next couple days - Sephora at Southgate said they will have it by Monday, January 17. Give your local store a call so they can give you an estimate :)
Also, for those interested, Sephora is teaming up with Ebay to host a Hello Kitty charity auction, with 100% of the proceeds benefitting the Starlight Children's Foundation. More info can be found here at
Beauty Pro Division