Happy Birthday Alyssa!
January 17, 2011
Back in the day when I was a kidlet, I remember mom & dad would bring my sister & I to Swiss Chalet cause we loved it so much! The kids meals were so good, and totally worth the prices too! It was a kid sized entree, bottomless drink, dessert and free toy, all for $5. That was many years ago though, so I have no idea what they are like now. I think what always made me want to go there on the weekends, was their delicious Chalet sauce, and the fact that their shirley temples were the most amazing things I had ever drank in my life. The shirley temples there aren't like the usual ones with orange juice in them, these I think are a mix of syrup and sprite, haha. But they're so good! I don't know why I love them so much!

Anyway, this weekend we saught out our childhood memories, and cravings for the delicious sauce by heading to Swiss Chalet for my sister's birthday dinner.

Since I wasn't able to order a kids meal, I opted for the shirley temple. Still just as good as always!! :) Vince thinks I'm gross for liking it though..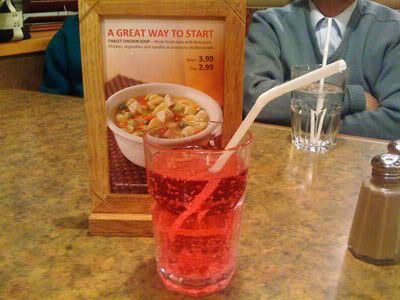 I ordered the quarter chicken with garlic shrimp & rice pilaf, served with a dinner roll. The chicken was tender, and very yummy with the Chalet sauce. Yes, I do understand that the sauce is made with lots of oil and fat, but hey, I come here maybe once every couple of years, so I think I should be allowed to indulge! What I didn't expect though, was how good the rice was! The herbs were mixed harmoniously and just tasted so good with the perfectly cooked rice. Little bits of tomato here and there were a nice touch as well, to switch up the texture.
Swiss Chalet is a nice place to go to once in a while. The food was good, albeit not as amazing as I once though it was as a child. But that's understandable, tastes change, and kids aren't always the best food critics ;) The prices here are very reasonable, and a pretty good deal when it comes down to it.
Baby sister turned 15 .. makes me feel so old! Waitress gave her a free cheesecake for her birthday :)
Swiss Chalet Rotisserie & Grill
2203 99 Street NW
Edmonton AB