Not quite "mmm.. pho" [CLOSED]
January 01, 2011
With the last day of Winter Camp finishing up at one of my jobs, my coworkers and I decided to head somewhere closeby for some New Years Eve pho. After passing by this place numerous times in the summer, I needed to check it out! There's just something about a little boy in a rice farmer hat that I can't pass up! And there I was standing, outside of.. mmm...PHO!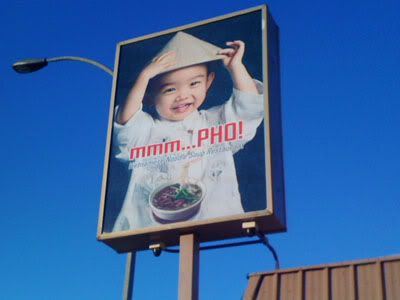 Such a little cutie on the sign!
Walking into the restaurant, it was quite empty, but that's understandable considering it was only 3:30pm. However, I was surprised when the hostess chose to sit us down at the very back of the restaurant, far from the kitchen or any human interaction. It wasn't a big deal, because we were together in a big group, but I found it to be kind of odd..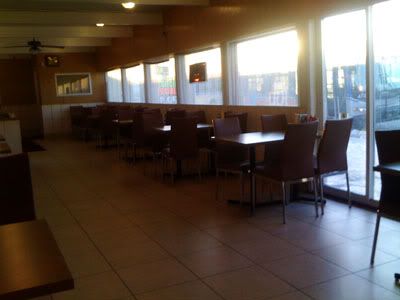 so empty..
Opening up the menu, it was decent sized with a variety of options to choose from. One thing I liked was the fact that you were able to choose exactly what you wanted in your pho, and they didn't pre-determine options for you. I ordered pho just the way I like it, with raw beef and tripe! I was excited to see how it would turn out.

the menu
After what seemed to be forever (weird because we were the only customers..), our dishes arrived at the table, and I was a little disappointed just looking at it. It was obvious there wasn't a big portion of noodles inside the bowl, cause I couldn't even see anything in it but the meat floating on top! My observations were correct as I dug through the bowl, to find a little ball of noodles sitting at the bottom.

sad little bowl of pho
Putting that aside, the broth was lacking depth. It was very watery, and comparing it to the tom yum noodle soup that Jobin ordered.. our soups tasted exactly the same. Her's had a trace of spiciness, but no lemongrass flavours or spiciness one would associate with tom yum soup. For the first time ever, I wasn't full after indulging in a bowl of pho. Vince was pretty much still starving, haha.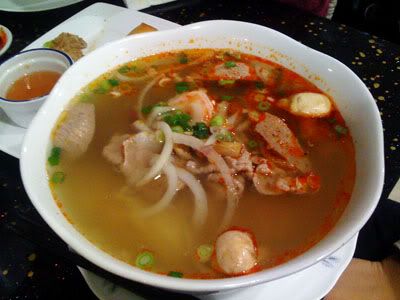 tom yum noodle soup
Philippe ordered their skewers, which were quite flavourful. The meat wasn't too tough, and the peppers & onions still crisp. This is one option on the menu that isn't bad.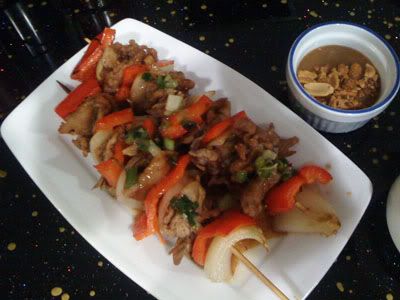 skewers!
I guess I really was lured into this restaurant by the little Asian boy. Maybe when he's a little more grown up, I'll stop by and give this restaurant another shot. Looking at Urbanspoon, they have a pretty high rating of 85%, so hopefully this was just an off day for them.
mmm...PHO!
8205 83 Street
Edmonton AB