Beard Papa's!!!!
January 19, 2011
The day has finally come!! Beard Papa's has officially opened here at West Edmonton Mall. They are located near the body shop, straight across from McDonald's, and one location down from Edo Japan.

Everytime I go to Vancouver, I will hit up Aberdeen Mall in Richmond and pick up one of these delicious cream puffs. With the variety of fillings, its always fun to try out their different and unique flavours that you can't find in normal cream puffs.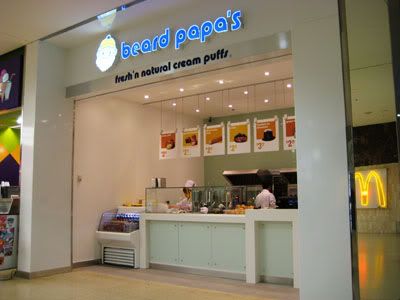 After class, Vince and I headed to the mall to check this place out. Upon our arrival, we found out that it was their second day open, and we had really high hopes for this place! They had all their flavours listed out on the board, so he chose green tea, while I chose mango. But upon ordering, we were told that they only have two flavours available each day. Vanilla, which is going to be offered year round, and the other will be the feature flavour of the day. On this particular day, it happened to be strawberry. So we purchased both, and were on our way home to enjoy them.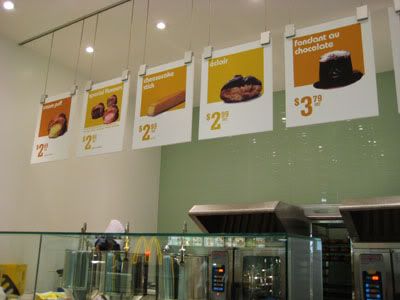 menu options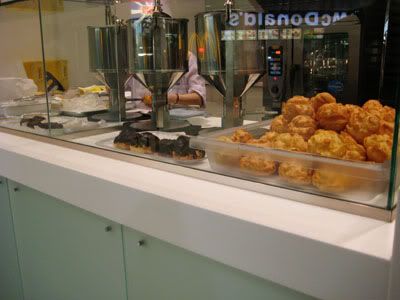 prep area
Once I got home, I was thoroughly disappointed :( The filling on the inside was so runny, had a powdery/clumpy texture, and just made a big huge mess everywhere. This was completely different from the cream puffs that I had in Vancouver, but I'm hoping that the problems will be fixed and the experience I had was just a result of some issues happening during their first couple days open.
I do highly recommend their cream puffs because they are delicious, but maybe give them some time before checking them out, so that they can fix up their minor errors!
Beard Papa
8882 170 Street
Edmonton AB
ETA - this past weekend, a coworker picked up some creampuffs for everyone on shift, and they were MUCH better! The filling was smooth and held together, so I think it's safe to check them out now!